Posted: September 22, 2019
Families of Shortreed,
We have an exciting week coming up this week as we have our Terry Fox Foundation coin drive and Terry Fox Run, as well as our Welcome Back BBQ and Meet the Teacher night AND school photos!  Please see below for the important information regarding all of these events.
We hope you take a moment to read about all the good things happening at our school as well as some reminders and info about the week and month ahead.  Don't forget that you can use the translate button in the top right corner.
Good Things to Talk About
Naturally, Fall Art – Division 4 made some beautiful fall art based on the leaves they collected and drew and coloured. They also chose words that characterized how they should be and these words surrounded their art display in the halls. Check them out outside the classroom.
A Special Place – Mrs Kirk's students recently read the book "Shi-Shi-Etko" about a young girl forced to leave her family to go to residential school. In the story, she talks about her "special places" that she cherishes.  Each student in Div 3 came up with places around Shortreed that are special to them, created a puzzle artwork of this place, and they then fit all the pieces of their community together! Be sure to see this beautiful display across the hall from Mrs Manhas's classroom.
I Was.. RUNNING – Our cross-country team had their first practice of the season last week as they prepare for their first meet this Wednesday after school. The team consists of grade 4 and 5 students and will practice again this week on Tuesday at lunch.
Thinking of Terry -Division 5 spent some time this past week reflecting on the qualities demonstrated by Terry Fox. They then took these qualities and wrote them on an outline of Terry for some inspirational artwork. Don't forget to bring in your coins for Terry Fox Foundation this week!
Setting Them Up For Success – One of the best ways to help students to be successful in their learning is to help them know what success looks like! Mr D's class has spent some time over the past week learning more about success criteria and how this can be used to improve writing and art (and other areas of learning). By showing "what good looks like", students know where and what to aim for.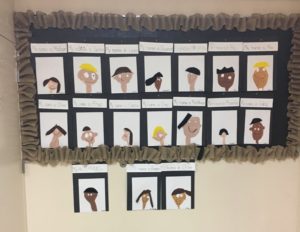 An Artistic Selfie Mrs Kelly's class took some time to "reflect" on themselves as they did their own self-portraits and then painted them for that abstract art feel! Be sure to check out the masterpieces of our little artists on display outside their classrooms.
Get Em Writing!  Ms Coghill's students have already started their journal writing this year. A literacy routine helps in so many ways and these little kindies love the chance to start writing and drawing in their journals!
Meet Them Where They Are At Our teachers have been spending time assessing students, especially in the area of reading. By using last year's assessments and combining these with assessments from this year, teachers can effectively plan their instruction to meet their students where they are at and guide them from there. Ms Petersen has been using an online program called ESGI to efficiently capture where her K students are with their letter recognition, letter sounds, and numbers.
I Was SO Mad! Mrs Manhas read the Little Critters book, "I Was SO Mad", to her class last week to introduce a discussion about emotions. Students got to share a few things that make them frustrated or angry and then were able to explore solutions to help. Gotta love learning about self-regulation of emotions right from the start of each year!
Chalk Talk With the 5s – Our grade 5s have plans to help lead a portion of our learning on Orange Shirt Day (Sept 30). To reflect on their learning so far about the lives of students attending residential schools, they participated in a Chalk Talk activity where they had to answer 4 questions (without talking to each other). Thank you to Ms Bedard and Mrs Parsons for their leadership with this important topic.
Dancing in the Rain – On of my favourite quotes is: "Life isn't about waiting for the storm to pass… it is about learning to dance in the rain" (you can find this up on my office wall). Well, we are gettings some practice with what to do in the rain as it appears "Wetember" is here to stay!  Every day is an outside day at our school so thank you to all those families who made sure their children had umbrellas and raincoats and boots so they could be out there smiling… and even dancing… in the rain.
Values, Vision, and Reading!  For School Improvement Day, our staff worked together to reflect upon and focus on our core values and vision for Shortreed. Stay tuned for more info coming out to families on this. We also spent time collaborating on reading assessment and instruction. I continue to be inspired by the effort, dedication, and professionalism the Shortreed staff demonstrates at all times… and we even know how to have a few laughs sometimes too. 😉
---
The Week Ahead:
Monday-Friday  Terry Fox Foundation Coin Drive Fundraiser. Please donate by bringing in the denominations listed in the image. We raised close to $800 last year so let's see if we can beat that this year, Shortreed! Please note that you will also be able to donate (optional) online through School Cash Online.
Tuesday, Sept 24  PAC Meeting at 7:00. All parents/caregivers welcome!
Wednesday, Sept 25  Grade 4/5 Cross-Country Meet at the Aldergrove Bowl.
Thursday, Sept 26  Terry Fox Run (and assembly) at 1:15. Supervisors are needed some please email me if you can help out on our community run!
Thursday, Sept 26  Welcome Back BBQ and Meet the Teacher Night. Stop by between 5-6pm for a BBQ put on by our PAC and then head to the classrooms to meet your child's teacher (teachers will be available from 6-7pm).
Friday, Sept 27  Say CHEEEEEESE! School Photo Day
---
Important Reminders and Updates
Student Information Package – an extremely important package was sent home with your child last week. This contains documents that help us to communicate with you, keep your child safe, and provide the best educational environment. Please check, sign, and return all forms ASAP.
Parking – Our parking lot is closed from 8:15-8:45 and from 2:15-2:45. We only have enough space for our staff and drivers with a disability. The parking area is only open for staff, school district buses, and daycare transportation during these times. Please park along 28th Ave or in the Catholic Church across the street who have once again graciously donated their lot to us.
Pick Up and Drop Off – To ensure our students have appropriate supervision and are safe, please do not drop off your students before 8:20. Also, unless there are extenuating circumstances, please do not pick up your child before the bell nor after 2:45 (as we do not have supervision past 2:45).
Nut Aware – A reminder that we are a "nut aware" school and have some students with life-threatening allergies to nuts. Please avoid packing snacks or lunches with nuts as the oil from a student's hands can be enough to create a significant medical incident.
West Coast Recess – As we have done over the past few years, every day is an outside day at Shortreed. Unless there is a severe rainstorm (or snowstorm), we will be heading outside. As the forecast this week calls for rain, please make sure your child has a coat to wear outside.
Juice Boxes – We all know kids love juice boxes… but these are often extremely high in sugar and can cause a sticky mess in classrooms. Please opt for water as much as you can.
School Calendar – Do you use a digital calendar on your device(s)? Good news! You can add the Shortreed School Calendar to your device by clicking here while using your device. You can also view the calendar here. Please note that it only goes 6 months ahead right now but the district is working on a solution to this.
Shortreed Spirit Day – Every Friday, we are encouraging students to wear some Shortreed Wear or something blue to show our Shortreed school spirit! We will be providing students and families with the chance to order more clothing over the next month or so.
---
Month at a Glance
Monday, September 30 – Orange Shirt Day. Students are encouraged to wear orange to honour residential school survivors and those who never came home.
Thursday, October 2 – Shortreed/ACSS Consultation regarding the option of combining ACSS and DW Poppy Schools (DWP would be the middle school for both regions, ACSS would be the secondary school). Please watch for an email regarding this meeting. 6:00-8:00 at ACSS.
Friday, October 4 – Hot Lunch
Wednesday, October 9 – Club Wednesdays Start!
Monday, October 14 – Thanksgiving – schools are closed
Monday, October 21 – Federal Election Day – get out and VOTE!
Thursday, October 24 – Cultural Performance – Ache Brasil  11:00am
Friday, October 25 – Provincial Pro-D Day – no school for students
---
PAC Information
Hot lunch can now be ordered through Munchalunch. The first order is due Thursday.
Neufeld Farms order forms are due Thursday.
PAC Meeting on Tuesday, Sept 24 at 7 pm.
If you have receipts from Otter Co-op that you no longer need, please bring them in and drop them off in our box in the office. A portion of all these proofs of purchases comes back to our school in the form of gift cards!
2019/2020 school fundraisers: This year, one of our goals is to raise funds to upgrade the areas around the side of the school. We are doing different fundraisers throughout the year in hopes that you may pick and choose which ones your family would like to support.

Entertainment book: Sept
Mall shopping tickets: Oct –

Willowbrook Mall shopping event

Berry Hill blueberries: coming soon
Neufeld farm: Sept & May (in time for Thanksgiving)
Dollar Sale: Nov & Apr  –  Yes, you heard right everything is a Dollar at our sale in our gym. We are very lucky to have so many generous people in our school and community that donate some great items each year, we will accept donations soon for our sale in Nov.
Purdys: Dec & Mar
Movie Nights:  We show age-appropriate movies in our gym with a concession for purchasing treats, pre-sales for pizza are sent home a week prior. (All children must be supervised by someone 16 or older, all school rules apply. Please no running in the qym.)
Hot Lunches and snack days: Snack days are when the PAC sells, popcorn or chips or other treat items.
Krispy Kreme doughnuts: spring
Don't follow the rules week (more details will be sent home before this fundraiser begins)
Fun Fair: May 25th – Every year our school hosts this wonderful community event. There will once again be many fun attractions, rides and games. Wristbands go on sale a month before. Please invite your friends and family.

There may be a few more fundraisers added throughout the year. If you have any ideas for new fundraisers please contact the PAC.

There also are many opportunities to volunteer, from small jobs to big throughout the year. Jobs that can be done in the PAC room and from home. Please contact the PAC executive at shortreedpac@gmail.com if you are interested in helping throughout the year or if you have any questions or comments. Thank you again for all your support.
---
Community Events
Tween & Me parent/child strengthening program starting Oct. 9th in Aldergrove out of Betty Gilbert Middle. Register on Eventbrite here.
Click here to view a variety of awesome opportunities for kids and families in our community.