Posted: September 19, 2021
Families of Shortreed,
We hope your children all had an awesome first week in their "official" classes for 2021-2022 (and all our K students had an awesome first week)!
For those who are new to the school, each Sunday night, I send out our newsletter that shares some good things from around the school (some that I capture and others that are sent to me by staff) as well as some important updates and reminders for the week ahead (and other items). It does take a few minutes to read but the hope is that this will be almost a "one-stop-shop" for information so we do not need to send out too many emails throughout the week. Although I try to share one thing for each class, I am not always to meaningfully get into each class each week so if a class is missed this week, they will be in there next week!
With the ability to have grade 5s enter classrooms again this year (in masks), we have the opportunity to have them help as some "good things finders" to be shared in the newsletter.
With National Day for Truth and Reconciliation approaching at the end of this month, many classes started reviewing, learning, and reading stories about the impact of life at residential schools. This is an important journey for all of us in Canada and one that our school has been on for a few years. We encourage you to have some reflective conversations at home about the truth as well as some actions of reconciliation that can take place in our homes and beyond.
An email was sent last week with some information regarding Meet the Teacher evening on Wednesday. Please read the email carefully as this year's event is different than previous years. A reminder there is no school for students on Friday.
We hope you take a few minutes to read the newsletter on a Sunday night or Monday morning each week.
As always, we do our important learning and work on the unceded ancestral lands of Matsqui, Kwantlen, Katzie, and Semiahmoo First Nations.
Good Things to Talk About
Running With KM Club – Mrs. Zelter and staff are starting up our KM Club again this year. Check out the promo video that she created.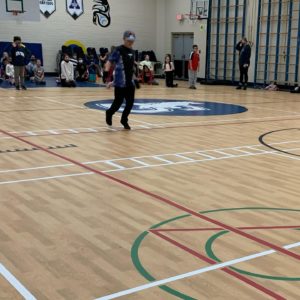 Getting Together and Getting Active – Each Friday, our grade 5s will get together to participate in fitness stations to move toward the goals they will be setting this year. This past week, they started off with some fun fundamental movement relays to have some fun and get moving!
Learning From Olemaun – Ms. Fenech's class has been reading the book, Fatty Legs, to learn from the late Olemaun (Margaret Pokiak-Fenton) and her experiences of being sent to residential school in Northern Canada. This is a powerful read that is suitable for intermediate students as they learn about some of the harsh experiences faced by students at these horrible institutions.
Creativity in Centre Time – Our kindergarten students were learning new school routines this past week, including learning through centres in Mrs. Dhaliwal's class. Play-based centres help build social skills and creativity as students often choose an area of interest to explore and play in a classroom. The class also had a chance to head out to the forest last week for some exploring time in nature.
Learning the Truth – Our grade 5s have been spending much of their time reviewing and learning more about the truth and the impact of residential schools on Indigenous Peoples of Canada. Mrs. Parsons' class watched some videos on Friday including a message from the Honourable Justice Murray Sinclair who has been a judge, a senator, and a leader of the Truth and Reconciliation Commission of Canada.
Learning Through Stories – Mr. D's class is reading Shi-Shi-Etko to deepen their understanding of the impact of residential schools. National Day for Truth and Reconciliation (Orange Shirt Day) is September 30 and we will honour this at Shortreed on the 29th.
Lego Self-Portraits – Students in Mrs. Creech/Mrs. Tarasoff's class created self-portraits of themselves in lego characters to share a bit about themselves. The first week in class is an important time for students to get the chance to share who they are and learn the strengths, stretches, and interests of others. The class also started to explore 3-D shapes through exploring pattern blocks/tiles with Mrs. Tarasoff.
Mmmmmm…. Books – It was a Book Tasting Day this past week in Mrs. Zelter's class. Students had a chance to explore different genres of books and write down titles they would like to read this year. Book Tasting is a great way to get students interested in genres, authors, and series and help to encourage that love for reading.
Poetry and Math – Students in Ms. Kaur's class were reviewing and learning number facts and number sense through repetition and even poetry! Students shared some number poems and nursery rhymes to create some interest in numbers.
Writing Who They Are – Mrs. Graham's class had some time to write a little bit about themselves in a comic book-style writing activity. Students shared bits of information that helps the staff and peers to get to know them a bit better. Creating connections through writing!
Full Body Writing – Mrs. Datema knows the secret to reading, writing, and spelling is practice! (Ok, this is not really a secret…). Students started their spelling/writing routines this past week as they started to spell some common words and practice some important blends in words. Not only did they practice these on the whiteboard but they also got up out of their seats and spelled the words with their fingers, arms, noses, and feet!
Sharing With a Sundae – Sometimes you need to get to know each other with a delicious sundae. Students in Ms. Holmes' class created these sundaes to share a bit about themselves as they get to know each other to start the year. These will be up in the class for the students to read and learn about each other.
The Kissing Hand – One of the beautiful stories that many kindergarten teachers read to new students as they leave the arms of their parents/caregivers is "The Kissing Hand". Miss Petersen's class created their own Kissing Hand tracing with a heart sticker telling how they felt on their first day of Kindergarten.
First Steps in Journals – Ms. Coghill's students have started their journey into journal writing! Students had a chance to share some of their experiences from the summer through pictures they drew. They drew the pictures and then verbally shared their thoughts with Ms. Coghill. We can't wait to see these little writers develop this year.
Those Start of Year Feelings – Ms. McFarland's students also read "The Kissing Hand" and took time to explore their feelings… especially the start of the school year feelings.  For kindergarten and grade 1, these conversations provide the base for our students' self-regulation and social-emotional journey at Shortreed.
A Place to Breathe – Our library is not only a place for students to develop (or enhance) that love for reading but it can also be a place to breathe. Mrs. Kirk has invited teachers to have students experience some calm or collaborative or creative activities for students as needed through the week.
---
The Week Ahead
Monday – Voting Day – Shortreed is a polling station so expect heavier traffic. Also, Monday is the first full day for our kindergarten students.
Tuesday – PAC Meeting 7pm in the library. All are welcome!
Wednesday – Meet the Teacher Evening – please check your email (or click here) for important information regarding this event.
Friday – School Improvement Day – no school for students as staff members collaborate and learn together with a focus on school action plans.
---
Month at a Glance
September 29 – Orange Shirt Day – School National Day for Truth and Reconciliation.
September 30 – National Day for Truth and Reconciliation – No school
October 5 – World Teachers' Day
October 8 – Terry Fox Run
October 11 – Thanksgiving Day – No School
October 20 – Photo Day
October 20-21 – Parent-Teacher Conferences – Dismissal at 1:33pm.
October 22 – Pro-D Day – no school for students
You can subscribe to the online Shortreed School Calendar here. 
---
PAC Info
Our first PAC meeting is Tuesday, September 21 at 7:00pm. All parents are welcome!
It's that time of the year for our Neufeld Farms Fall Fundraising. It's being done differently this year: It's now all done online using this link.  If you want to order, the deadline to order and submit payment into the school (cash or cheques over $25 made out to Shortreed PAC) is Tuesday Sept 28 at 2:30pm. Please make sure you include your name and order number with the payment. If someone else is grabbing your order, please put their name down under "Order Notes". If you share this link with others, please let them know this as well! Order pick up is Friday, October 8 at 2:30 at the school. Just in time for Thanksgiving!
---
Important Information and Reminders
Due to the change in bell schedule this year, the morning is shorter. To help create more time for instruction in the morning, classes will now be eating lunch after playtime (at approx 12:35). They will have the opportunity for a decent snack in the morning. Click here for our bell schedule.
Click here to read our district's response to "Frequently Asked Questions" regarding Covid-19.
Please complete the BC K-12 Daily Health Check each day. You do not need to actually do it online each day but please do it a few times so you know when your child should stay home. Please also send them with a clean mask each day as we encourage mask-wearing indoors in grades K-3 and require mask-wearing in grades 4-5.
Many of our consent forms are being sent digitally this year. Some of you will have received them last week while others will receive them this week. The forms will come from SD35. Please complete the forms as soon as you can.
If your family needs some financial support for breakfast before school, our breakfast program runs from 8:20-8:35 each day. Students must register. Please see the email that was sent out on Friday.
Our school parking lot is closed between 8:15-9:00 and 2:00-2:45 (other than daycare, buses, and vehicles for people with a disability). The church across the street graciously allows us to use their parking lot so please park there or along 28th Ave. Do not park in the "no parking" (coned) areas along the yellow curbs.
West Coast Recess – As we have done over the past few years, every day is an outside day at Shortreed. Unless there is a severe rainstorm (or snowstorm), we will be heading outside. As the forecast this week calls for rain this week, please make sure your child has a coat to wear outside. We have a good selection of coats in our FREE Coat Exchange near the office so come on by and check them out.
We all know kids love juice boxes… but these are often extremely high in sugar and can cause a sticky mess in classrooms. Please opt for water as much as you can.
If your child will be absent, please call the school at 604-856-4167 or email shortreedabsent@sd35.bc.ca.
A reminder that we are a "nut aware" school and have some students with life-threatening allergies to nuts. Please avoid packing snacks or lunches with nuts as the oil from a student's hands can be enough to create a significant medical incident.
Please bring inside shoes for your child. This helps to keep our school clean and dry. If you need some help with shoes, check out our FREE Shoe and Boot Exchange at the office.
Family Accident Reimbursement Plan – In past years, the District used to send enrolment forms to schools for coverage under the Kids Plus Voluntary Insurance Plan. The Kids Plus Voluntary Insurance Plan was cancelled in 2019 by the supplier and was replaced by the Family Accident Reimbursement Plan Voluntary Insurance. The plan is voluntary but I would encourage you to share the following information (and in the FARP newsletter attached) with the parents of your students as soon as you can so they have an opportunity to enroll as early in the school year as possible. There are significant benefits of this accident insurance coverage and every year it seems we have a student or two who lose teeth for example and have no coverage.Please note that going forward, enrolment in the program will be done online only, through https://www.solutionsinsurance.com/aonbc. This information can be provided to parents through the school's/District websites, e-newsletters and social media. The website provides information about the program including pricing and coverage. Parents and students should be able to locate all the information they need online to make an application for coverage.
For regular updates and sharing of daily life at Shortreed, please follow us on Facebook, Instagram, and/or Twitter. You can also join the Shortreed Parent Information Group on Facebook. 
BC Vaccination Status Reporting Regulation for Students – Fraser Health is sharing information with families regarding the BC Vaccination Status Reporting Regulation for Students. Vaccine reporting, which is a regulation that has been in effect since 2019, supports the gathering of immunization data and to offer immunizations in school settings. Examples of routine immunizations offered to grade 6/7 and 9/10 students may include Chickenpox (varicella) vaccine, Hepatitis B vaccine, and Meningococcal Quadrivalent vaccine. These in-school immunizations do not include the COVID-19 vaccine. The District will continue to assist Fraser Health in this process including distributing and collecting information and accommodating public health staff on school sites. As always, our schools will continue to follow all COVID-19 health and safety protocols. Please read this letter from Fraser Health

 

here

.

On Monday September 20, many of our school gyms across the District will be used as federal election polling stations from 7am – 7pm. As guided by Section 81 of the Election Act:

"

accommodation in a school that is the property of a board of school trustees under the School Act must be made available by the board for use as a voting place."

As always, the health and safety of our students, staff and school community is a priority. With COVID-19, we understand this may raise some questions and concerns about the use of District property. In an effort to be transparent with our families, we want you to know the following:

28 school sites will be used. Please see full list on our District website

 

Gymnasiums will be used. No public access to other parts of the school.
Set-up will occur early morning on election day.
Elections Canada staff will follow their own cleaning protocols on election day.
District custodial staff will be cleaning sites prior to school opening on Tuesday.
Please take note of extra traffic in the area of these sites on election day. It may be helpful for families to give yourself extra time for drop-off and pick-up, or consider walking to and from school to avoid congestion, and to keep everyone safe.
---
Community Events
Click here to view our District's Community Bulletin Board with some great opportunities for families.
Get on Board! Kids Ride Free!
Starting Wednesday, September 1, children 12 and under will be able to ride TransLink services free of charge as part of a new provincial program. The program will make transit more affordable for families and help to encourage children to become lifelong transit riders. 
Here's what you need to know about children 12 and under riding our different services: 
Riding the bus
Children 12 and under will be able to ride buses free of charge without requiring a transit pass, identification or an accompanying fare paying customer. 
Riding SkyTrain, SeaBus, and West Coast Express
Children 12 and under will be able to ride on SkyTrain, SeaBus, and West Coast Express free of charge only if accompanied by a fare paying customer. A fare paying customer can accompany up to a maximum of four children through the fare gates. 
Children 12 and under will continue to be able to access the gated system by themselves with the purchase of a fare to tap through fare gates. 
Riding HandyDART 
Children 12 and under who are registered HandyDART customers or children who are accompanying a registered HandyDART customer will be able to travel for free on HandyDART without requiring a fare product or identification. 
 While travel for children 12 and under will be free, parents and guardians are responsible for educating and making decisions about the safety and care of their children whenever travelling on transit. This includes when children are travelling unaccompanied where permitted and determining if their children can or should take transit independently. 
Please visit translink.ca/kidsridefree for more information about the program. For resources and youth travel initiatives, please visit the TravelSmart page under the "TravelSmart for Schools" section.