Posted: September 29, 2019
Families of Shortreed,
It was so great to see so many of you this week at our Welcome Back BBQ and Meet the Teacher Night! We spent some important time discussing cancer research and the role of Terry Fox last week; we have another important day this week with Monday being Orange Shirt Day – a day to honour those survivors of residential schools as well as those who sadly never came home.
Please take a moment to read about a few good things happening at Shortreed as well as some reminders and updates for the week and month ahead.
---
Good Things to Talk About
Bringing the Community Together – We had close to 500 people come out to our Welcome Back BBQ and Meet the Teacher Night. Thank you so much to all those who came out and a special thank you to all those parents and grandparents who helped with shopping, cooking, and distributing the food! An additional thank you to the teachers for sticking around and making the night another positive event at Shortreed.
Terry Fox Would be Proud – We have been doing community runs over the past year at Shortreed. On Thursday, students ran with a different purpose; they ran for someone close to them affected by cancer… and they ran for Terry Fox. We had way more students decide to run our community-run route for our Terry Fox Run; we also had way more students challenge themselves to run that 2nd lap. Congratulations, Shortreed, on a great run! Thank you to all those volunteers who came to supervise, cheer us on, and run with us during this important event.
Quarters, Loonies, and Twoonies… oh MY! Our Terry Fox Foundation coin drive was a huge success. Students brought in a different denomination of coin each day and our total quickly built to over $1000!!! Donations were still coming on Friday so I will share the grand total with you next week. Thank you so much to all those who brought in coins or donated through school cash online! Also, thank you to Division 1 for collecting, sorting and counting the coins.
The Qualities of a Hero  Our grade 5 classes (Ms Bedard and Mrs Parsons') came up with qualities that would characterize Terry Fox. They then created some awesome posters of each character strength. Be sure to check these out on display across from the Eagles' Nest and outside Mrs Parsons' classroom.
Inspired by Terry Conversations about Terry Fox happened throughout our school this past week. Mrs Zelter asked her grade 2 students to share how Terry inspired them. They then wrote about this and some even shared on video. Never give up!
Patterns with Parts  Ms Bain's students were practicing their simple (AB) and increasing patters with loose parts this past week. Some students got very creative with their patterns as they made pyramids (increasing by 1 each level) and longer repeating patterns with some complex sequences!
Loosey-Goosey It is definitely not loosey-goosey in the area of organization but students love exploring their creative sides with Loose Parts in Ms Petersen's class. They recently had a chance to tinker and explore with fall-themed loose parts. These fall items can be used to organize into patterns, create artwork, and inspire stories (to promote oral language as well as early writing skills).
Learning Tub Time! Mrs Kelly's students spent time with the classroom learning tubs this past week. These tubs are full of opportunities to practice literacy, numeracy, and fine motor skills!
Running the Bowl  Our cross-country team had their first meet of the year as they travelled to Aldergrove Park to run with over 200 students from around the district. Our Eagles ran hard and even had a couple of top 10 finishes!
Learning from Nimoshom In the theme of Orange Shirt Day and the importance of language and culture, Mr. D's class read the story "Nimoshom and His Bus" about an elder who drives a bus and teaches the students some Cree language and shares stories of his life. When I popped in the class, our students were teaching me some Cree words as well!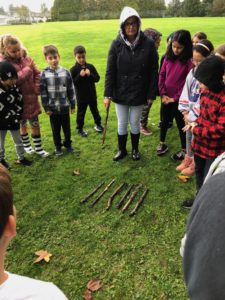 A Traditional Tool to Help With Discussions  Ms Elson worked with Mrs Kirk's students recently to teach them about the importance of the talking stick in peaceful problem-solving and group discussions. They then went out to the forest to choose their classroom talking stick. In the next few weeks, they will each have a coloured ribbon and bead so that every student has ownership of the stick. When class discussions take place, the person holding the stick does the talking while everyone else does the listening.
Go Giants!  Blair Barnert from Acculine Service Ltd. was here with Jack the Giant and Brian from the Vancouver Giants to share some exciting news with us. Acculine donated 4 tickets to 26 different Giants games this year! Later this week, we will send out a schedule so families can choose which games they are available and then those names will go in a draw. Families will be notified well in advance of the games. Thank you, Acculine Services!
Arrr… Pirate Math! Mrs Parsons' students were practising and demonstrating their graphing skills as they played a math game called Buried Treasure. Similar to the board game, Battleship, students had to "hide" their treasure and then try to guess where their partner's treasure was… but only by saying the coordinates (x,y) used in graphing.
---
The Week Ahead
Monday, September 30 – Orange Shirt Day – we encourage our school to wear Orange Shirts to honour the survivors of Residential Schools (and those who sadly never came home). If you do not have an orange shirt, please do not stress as we will still honour the same way with or without the orange shirt.
Wednesday, October 2 – Fire Drill – 11:45 am. This is our first of 6 fire drills this year.
Wednesday, October 2 – Cross-Country Meet #2 – our grade 4/5 team travels to Aldergrove Park for their 2nd race of the year.
ACSS/DWP Consultation – 6-8pm at ACSS – come out to hear the latest updates and provide your voice on the DWP Middle School transition and the potential amalgamation of DW Poppy and Aldergrove catchment areas.
Friday, October 4 – Hot Lunch day
Friday, October 4 – World Teachers Day – at Shortreed, we celebrate our entire staff. Please make sure you thank a staff member for the amazing work they do!
---
Important Reminders and Updates
Did you know we have a flexible, low-cost option for an after school program at our school? The Township of Langley offers "Active Beyond the Bell" each day from 2:45-4:45 in our gym! Click here to get more info and call the Aldergrove Credit Union Community Centre to register.
HEAD LICE – with the summer vacation over, cooler weather coming, and more jackets coming to school, all schools see an increased risk of head lice spreading through classes. These little critters can be a huge nuisance to students and families and the itching can cause a lack of sleep, agitation, and ongoing distractions for those who are affected. Please make sure you are regularly checking your child's hair (especially after sleepovers with friends) and remind your child to place their jacket in their backpack (or a plastic bag) before hanging up and never share hats or coats. If you find lice in your child's hair, please let us know.  To check for lice, here is the method recommended by Fraser Health:

To check for head lice, you will need:

a bright light

A regular comb

Hair clips for longer hair

Paper towels

a metal lice comb (optional)

Then follow these steps:

Explain to your child/family member what you are going to do. Have them sit in a comfortable spot under bright light.

Untangle long hair using a regular comb. Divide the hair into four sections and check one section at a time.

You are looking for live lice and nits. Nits are the lice eggs that cement to the hair near the scalp. Nits are white, grey or yellowish and can be confused with fluff, dandruff or dirt however a nit will not move until you dislodge it.

If using a lice comb, comb it through the hair close to the scalp and then wipe on a paper towel. Look at the paper towel for lice or nits.

You must look through the entire head. Use hair clips to hold longer hair in place.

Parking – Our parking lot is closed from 8:15-8:45 and from 2:15-2:45. We only have enough space for our staff and drivers with a disability. The parking area is only open for staff, school district buses, and daycare transportation during these times. Please park along 28th Ave or in the Catholic Church across the street who have once again graciously donated their lot to us.
Pick Up and Drop Off – To ensure our students have appropriate supervision and are safe, please do not drop off your students before 8:20. Also, unless there are extenuating circumstances, please do not pick up your child before the bell nor after 2:45 (as we do not have supervision past 2:45).
Nut Aware – A reminder that we are a "nut aware" school and have some students with life-threatening allergies to nuts. Please avoid packing snacks or lunches with nuts as the oil from a student's hands can be enough to create a significant medical incident.
West Coast Recess – As we have done over the past few years, every day is an outside day at Shortreed. Unless there is a severe rainstorm (or snowstorm), we will be heading outside. As the forecast this week calls for rain, please make sure your child has a coat to wear outside.
School Calendar – Do you use a digital calendar on your device(s)? Good news! You can add the Shortreed School Calendar to your device by clicking here while using your device. You can also view the calendar here. Please note that it only goes 6 months ahead right now but the district is working on a solution to this.
Shortreed Spirit Day – Every Friday, we are encouraging students to wear some Shortreed Wear or something blue to show our Shortreed school spirit! We will be providing students and families with the chance to order more clothing over the next month or so.
---
Month at a Glance
Wednesday, October 9 – Club Wednesdays Start!
Monday, October 14 – Thanksgiving – schools are closed
Monday, October 21 – Federal Election Day – get out and VOTE!
Thursday, October 24 – Cultural Performance – Ache Brasil  11:00am
Friday, October 25 – Provincial Pro-D Day – no school for students
October 28-30 – Scholastic Book Fair
October 29-30 – Parent-Teacher Conferences
Thursday, October 31 – Halloween Parade!
Friday, November 1 – Hot Lunch
---
PAC Information
If you have receipts from Otter Co-op that you no longer need, please bring them in and drop them off in our box in the office. A portion of all these proofs of purchases comes back to our school in the form of gift cards!
2019/2020 school fundraisers: This year, one of our goals is to raise funds to upgrade the areas around the side of the school. We are doing different fundraisers throughout the year in hopes that you may pick and choose which ones your family would like to support.

Entertainment book: Sept
Mall shopping tickets: Oct – 

Willowbrook Mall shopping event

Berry Hill blueberries: coming soon
Neufeld farm: Sept & May (in time for Thanksgiving)
Dollar Sale: Nov & Apr  –  Yes, you heard right everything is a Dollar at our sale in our gym. We are very lucky to have so many generous people in our school and community that donate some great items each year, we will accept donations soon for our sale in Nov.
Purdys: Dec & Mar
Movie Nights:  We show age-appropriate movies in our gym with a concession for purchasing treats, pre-sales for pizza are sent home a week prior. (All children must be supervised by someone 16 or older, all school rules apply. Please no running in the qym.)
Hot Lunches and snack days: Snack days are when the PAC sells, popcorn or chips or other treat items.
Krispy Kreme doughnuts: spring
Don't follow the rules week (more details will be sent home before this fundraiser begins)
Fun Fair: May 25th – Every year our school hosts this wonderful community event. There will once again be many fun attractions, rides and games. Wristbands go on sale a month before. Please invite your friends and family.

There may be a few more fundraisers added throughout the year. If you have any ideas for new fundraisers please contact the PAC.

There also are many opportunities to volunteer, from small jobs to big throughout the year. Jobs that can be done in the PAC room and from home. Please contact the PAC executive at shortreedpac@gmail.com if you are interested in helping throughout the year or if you have any questions or comments. Thank you again for all your support.
---
Community Events
Tween & Me parent/child strengthening program starting Oct. 9th in Aldergrove out of Betty Gilbert Middle. Register on Eventbrite here.
Click here to view other awesome opportunities for kids and families in our community.