Posted: October 7, 2019
Families of Shortreed,
We have been so proud of the efforts of our students, staff, and community over the past few weeks as they have supported important events like the Terry Fox Run (Terry Fox Foundation) and Orange Shirt Day. This support does not stop after these events end… we continue to live, inspired by Terry Fox, with determination and hope and we continue our learning of the truth on our journey of reconciliation. Be sure to check out the incredible video embedded below that was made for Orange Shirt Day by our grade 5 classes (it is well worth the 11 minutes!).
---
Good Things to Talk About
Continuing Our Journey Orange Shirt Day is such an important day at Shortreed as we take the time to remember and honour those former students (survivors and those who sadly never came home) who were forced to attend Residential Schools. As part of our commitment to reconciliation, teachers read books and discussed (in an age-appropriate manner) the impact of those who had to attend these schools. For Orange Shirt Day, each class completed a banner with each student creating a heart in the themes of Love, Sense of Belonging, Family, Language and Culture, and Safety. These are themes that we can be grateful we have at our school but also think of those students who were robbed of this at residential schools. For our assembly, we gathered to view all the banners, reflect on the meaning of Orange Shirt Day, and then we all gathered on the field to take part in a school-wide round dance. We are so honoured to have staff members Mrs Elson, Ms Rafighi, and Ms Bedard to nudge and lead us so we can walk together on this journey.
UnbeLEAFable Artwork Mrs Datema's class took advantage of the beautiful fall colours out there and created some lovely artwork to go with it. Fresh leaves were brought into the classroom, students chose some, and then placed paper over the leaves. They then shaded the paper in fall colours and the veins and structure of the leaf caused the paper to look like a fall display of leaves. Check them out on display across from the classroom.
A Community of Care A student was having a really rough week… so a crew of Shortreed staff members came out to support and cheer on the student as well as many other Shortreed soccer players on an early Saturday morning. Just another example of how care and belonging are at the forefront of so many staff and families in our community.
Celebrating Shortreed Staff With World Teachers' Day occurring on Saturday, we celebrated each teacher AND support staff member at Shortreed. We are so thankful for the incredible team we have that work so hard, work together so well, and have so much fun doing all they can to make sure every child and adult in our community knows that they belong here.
Supporting a Classroom in Need One of our classrooms is still without a permanent teacher. While the district and school admin are doing all they can to find a teacher, the staff at Shortreed are stepping up in a big way to make sure the students get as much of a grade 4 Shortreed experience as they can. Mrs Kirk has been not only planning for her own class but also planning every day last week for the teachers on call (as well as Mr Wejr and Mr Touzeau) who have been teaching the class. She has also been combining all the grade 4s together for some language arts and social studies each day. Mr Touzeau has been helping to cover when the class is short a teacher-on-call, helping with completing reading assessments and even helping to decorate the classroom with some new lighting. Ms Ward has been helping with reading assessments and ensuring the students in there have their needs met as best they can. Mrs Campbell and Mrs Burnell have been in there each day to make sure the class has their routines and that all students are supported. Mrs Ulmer, a retired principal and teacher on call, has also been planning and assessing learning and decorating the classroom. I have been at schools before when we have been short a teacher and this kind of community effort has not occurred. We realize how frustrating it can be for families and students to be waiting for their permanent teacher so please know that our Shortreed team is putting in many extra hours to try to help out the class.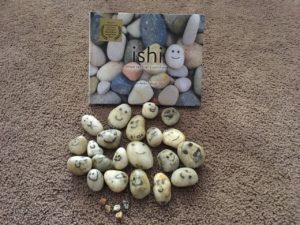 Introducing… Ishi! Recently, a new friend came to visit Mrs Manhas' classroom… welcome, Ishi. Ishi helps the students to find a way to be happy when they are sad, nervous, worried, anxious, or confused. They go visit Ishi when they have one of these feelings and spending some calm time there makes them feel better. This activity not only helps with emotions but also helps to build a positive community in the classroom.
Reading With the Big Kids Mrs North's students teamed up with the students in Mrs Parsons' class for their first Buddy Reading activity of the year. Buddy reading helps both students to practice their reading and also helps younger readers to hear a reader with more fluency. Of course, it also creates wonderful connections with kids from other grades in the school.
Learning From Nursing Students Nursing students from KPU have been here each Thursday to observe a few classrooms. This past week, they taught 5 different classes about the importance of sleep and cutting back on screen time.
Making Big Strides Our cross-country team made "huge strides" (see what I did there) in their times and results at the 2nd cross-country meet. It was great to see the students put forth and even better effort this time. Our final race of the year is this week with the championships next week (for the top finishers through the season). Go Eagles!
Race to Trace! Fine motor is always a key aspect of growth and learning in our younger years. Ms Petersen's students have been practising their number sense and fine motor with their Race to Trace activities. A big shoutout to Ariel from Ms Petersen's class who is doing some of the learning activities from home and the oncology wing of BC Children's hospital for the next few weeks – please send her all the virtual hugs we can!
Fun Family Reading Reading with family is so important to creating a love for reading. Some of our teachers have parents and families come into read with them. In Ms Coghill's class, for Family Reading Fridays, they had a special family reading moment with 3 Shortreed students who are family members (plus a future student) all reading together. 🙂 Be sure to check out our new website designed to support families with home reading.
Lil' Writers Mrs Kelly and Mrs Vleeming's students have started their writing journey at Shortreed. With their writing workshop, students were given clear criteria of how to get started with their journal writing – including ideas like adding letter sounds and letters they know about the picture they chose. With time, they will move to writing sentences. Such an exciting phase of learning!
Exploring the Sunflower Mrs Zelter's students started off their science unit on life cycles by exploring a massive sunflower that one of the students' families brought in for them. They quickly realized that those seeds aren't just for cracking and spitting out the shells at a baseball game!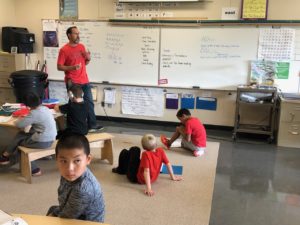 It's Going Down! Mr Davidson's students have been practising their skills in patterns… but this time working on DECREASING patterns. By using real-life examples, the students were excited to work on Mr. D's decreasing pattern challenges.
Intense Times at Shortreed If you happened to walk by the library last Tuesday and noticed a very intense meeting going on… it was our Shortreed teachers and some support staff trying to assign students to the clubs they chose! With Club Wednesdays starting this week, staff did their best to get all students in clubs that they will love and learn.
Sharing A Bit About Who We Are To belong in a class, a student needs to feel like they matter and they are seen. Division 4 (inspired by Div 3) has been using the "5 in a bag" activity in which a student brings in 5 small items that help to share a little bit about who they are. Students can then connect and ask questions.
Working With Words Division and 3 and 4 combined a few days last week to practice their word work. Students were given a collection of letters and then had to create words in partners based on hints from the teacher. This helps practice vocabulary and spelling.
Safety First! We had our first of six fire drills on Wednesday and the students all evacuated in a timely and orderly fashion. Fire drills at school are always a good reminder to chat with your families about fire safety in your home too. Do your smoke alarms work? Do your children know the evacuation plan for your home?
---
The Week Ahead
Wednesday, October 9 – Club Wednesdays start
Monday, October 14 – Thanksgiving Monday – no school – enjoy the long weekend!
---
Important Reminders and Updates
A reminder that we have a great breakfast program run by local volunteers. If you would like your child to access this program, you can find the form here. Also, please let us know if you would like to volunteer!
Did you know we have a flexible, low-cost option for an after school program at our school? The Township of Langley offers "Active Beyond the Bell" each day from 2:45-4:45 in our gym! Click here to get more info and call the Aldergrove Credit Union Community Centre to register.
HEAD LICE – with the summer vacation over, cooler weather coming, and more jackets coming to school, all schools see an increased risk of head lice spreading through classes. These little critters can be a huge nuisance to students and families and the itching can cause a lack of sleep, agitation, and ongoing distractions for those who are affected. Please make sure you are regularly checking your child's hair (especially after sleepovers with friends) and remind your child to place their jacket in their backpack (or a plastic bag) before hanging up and never share hats or coats. If you find lice in your child's hair, please let us know.  To check for lice, here is the method recommended by Fraser Health:

To check for head lice, you will need:

a bright light
A regular comb
Hair clips for longer hair
Paper towels
a metal lice comb (optional)

Then follow these steps:

Explain to your child/family member what you are going to do. Have them sit in a comfortable spot under bright light.
Untangle long hair using a regular comb. Divide the hair into four sections and check one section at a time.
You are looking for live lice and nits. Nits are the lice eggs that cement to the hair near the scalp. Nits are white, grey or yellowish and can be confused with fluff, dandruff or dirt however a nit will not move until you dislodge it.
If using a lice comb, comb it through the hair close to the scalp and then wipe on a paper towel. Look at the paper towel for lice or nits.
You must look through the entire head. Use hair clips to hold longer hair in place.

Parking – Our parking lot is closed from 8:15-8:45 and from 2:15-2:45. We only have enough space for our staff and drivers with a disability. The parking area is only open for staff, school district buses, and daycare transportation during these times. Please park along 28th Ave or in the Catholic Church across the street who have once again graciously donated their lot to us.
Pick Up and Drop Off – To ensure our students have appropriate supervision and are safe, please do not drop off your students before 8:20. Also, unless there are extenuating circumstances, please do not pick up your child before the bell nor after 2:45 (as we do not have supervision past 2:45).
Nut Aware – A reminder that we are a "nut aware" school and have some students with life-threatening allergies to nuts. Please avoid packing snacks or lunches with nuts as the oil from a student's hands can be enough to create a significant medical incident.
West Coast Recess – As we have done over the past few years, every day is an outside day at Shortreed. Unless there is a severe rainstorm (or snowstorm), we will be heading outside. As the forecast this week calls for rain, please make sure your child has a coat to wear outside.
School Calendar – Do you use a digital calendar on your device(s)? Good news! You can add the Shortreed School Calendar to your device by clicking here while using your device. You can also view the calendar here.
Shortreed Spirit Day – Every Friday, we are encouraging students to wear some Shortreed Wear or something blue to show our Shortreed school spirit! We will be providing students and families with the chance to order more clothing over the next month or so.
---
Month at a Glance
Thursday, October 17 – Great Canadian Shakeout Earthquake Drill
Monday, October 21 – Federal Election Day – get out and VOTE!
Thursday, October 24 – Cultural Performance – Ache Brasil 11:00am
Friday, October 25 – Provincial Pro-D Day – no school for students
October 28-30 – Scholastic Book Fair
October 29-30 – Parent-Teacher Conferences
Thursday, October 31 – Halloween Parade!
Friday, November 1 – Hot Lunch
Monday, November 4 – Fire Drill #2
Tuesday, November 5 – Photo Retakes
Thursday, November 7 – Remembrance Day Assembly
Friday, November 8 – Day not in session
---
PAC Information
If you have receipts from Otter Co-op that you no longer need, please bring them in and drop them off in our box in the office. A portion of all these proofs of purchases comes back to our school in the form of gift cards!
---
Community Events
Tween & Me parent/child strengthening program starting Oct. 9th in Aldergrove out of Betty Gilbert Middle. Register on Eventbrite here.
Click here to view other awesome opportunities for kids and families in our community.