Posted: October 4, 2020
Families of Shortreed,
We made it through the craziest September we have had in a long time! Happy October!
Students are becoming more comfortable with the many new protocols and routines we have put in place and this means more learning can take place. Check out the many good things that have been happening in the classes in the text below.
As we are not able to do our Meet the Teacher night as we typically do, later this week, you will receive a video from the school that will introduce each staff member. Teachers will then send home an introductory letter/email that will share a little bit about them and the classroom. Stay tuned for more info!
Don't forget that individual school photos are happening on Tuesday in the gym. If students in the transition support model would like to have their photo taken, please email me (Mr. Wejr) to let me know. TSM students can have their photos taken between 8:30-8:45.
Tomorrow (Monday) is World Teachers' Day but at Shortreed, we celebrate all our staff as they ALL make a huge positive difference in the lives of our students.
---
Good Things to Talk About
Every Child Deserves…  Every class in the school took time over the past couple of weeks to learn and discuss the impact of residential schools. For Orange Shirt Day, each class made a banner that shared one significant example of what every child deserves (and what was taken away from students in residential schools). The banners were created and displayed with the themes of love, family, sense of belonging, speaking their language, and equity in education. Check out our social media for pictures of all the banners.
A Ribbon to Reflect and Remember  Prior to Orange Shirt Day, every student had a chance to tie an orange ribbon onto a class rope; while they tied, they were to reflect, remember, and honour those survivors of residential schools as well as those children who never made it back home. On Orange Shirt Day, we were honoured to have our friend Carman McKay come to our school and drum and speak to our students about the importance of community, listening, kindness and generosity. Following the words from Carman, 2 representatives from each class tied the class rope of orange ribbons next to our Orange Shirt Day banner.
Creativity in the Outdoors – Miss Petersen's students have been exploring, learning, and creating in our forest. Students have been building nests for birds, writing letters in their names, creating teeter-totters, and building ramps for the squirrels!
Classroom in the Courtyard – Mr. Touzeau took advantage of our lovely courtyard this past week as some students went out to get their learn on in this outdoor space. They were greeted by a special guest that created a teachable moment… a grasshopper!
Natural Letter Formations – Ms. Coghill's students also took to the playground to practise their letter formations using resources they could find out there. They made letters out of woodchips, weeds, sticks, and grass.
Going Up?  Mrs. Graham's students (with the additional support of Ms. Johnson), spent some time learning more about increasing patterns. They used pattern blocks to practice and share their learning.
A BIG High 5 for Science!  Ms. Rafighi's students were learning about matter (and changes of state) by observing what happens when vinegar and baking soda are mixed inside a rubber glove. Check out the picture to see!
Every Child Matters  On Orange Shirt Day, Mrs. McDonald – our awesome student teacher from SFU who is working with Mrs. Kirk – discussed why the mantra of the day is "Every Child Matters". Students then shared why THEY matter and wrote this on an orange shirt in which they hung up in their classroom.
Reflections on Fatty Legs  Ms. Fenech's students have been reading the novel, "Fatty Legs", about the experiences of an Inuit girl as she tries to survive residential school. They headed outside this past week to take some quiet time for some important reflections on the powerful book.
A Walk to Notice  Mrs. Kirk took advantage of the gorgeous weather to head out into our neighbourhood for a community walk. Students had to use their animal senses to notice the world around them. When they returned to school, they reflected and shared what they saw with their Owl Eyes, heard with their Deer Ears, smelled with their Bear Nose, and felt with their Spider Touch.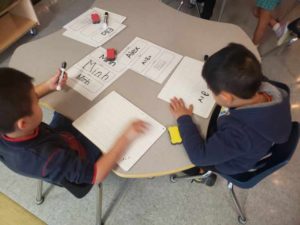 Practice with a Personal Touch  Ms. Toby's students have been practicing their letter formations with their printing… and what better word to practice than their own names! They first copied an example on a sheet but then had to transfer this learning to their personal whiteboards.
The Power of Identity  Mrs. North's students have been talking about the importance of personal identity. Students came up with descriptive words for themselves and added strengths and things that make them who they are. They then created a colourful poster with their "I Am Me!" poems on them.
---
The Week Ahead
Monday – World Teachers Day (Shortreed staff day!!!)
Wednesday – pick up Neufeld Farms orders at 2:15 in the parking lot.
Thursday – Fire Drill #1 (soft bell – no bell, just announced over PA)
Friday – Terry Fox Run (12:45-2:00) – class schedule and fundraising info will be emailed.
---
Month at a Glance
Monday, October 12 – Thanksgiving Day – no school
Thursday, October 15 – The Great Shakeout – Earthquake Drill
Friday, October 23 – Pro-D Day – students not in session
Tuesday/Wednesday, October 27-28 – Parent-Teacher Conferences (1-hour early dismissal – format TBD).
Friday, October 30 – PAC Meeting (9am – ZOOM) and Halloween at Shortreed – costumes are encouraged.
Wednesday, November 4 – Photo Retake Day
Friday, November 6 – Fire Drill #2
---
PAC Information:
For PAC info, including meeting schedule, agendas and minutes, check out our PAC webpage on our website.
If you ordered items from Neufeld Farms, you can pick these up on Wednesday at 2:15 in the parking lot. Please spread out (2m apart) and they will call your name once your order is ready.
Pac is excited to share a new campaign: Fundscrip! Fundscrip is a place to buy gift cards for all sorts of different places (groceries, gas, retail, etc) with a percentage of the purchase going to our school! To get started please use this link, register, order, and share with friends and family.

---
Reminders:
Please do not park along the yellow line in front of the school. You can use this for a very brief drop-off area in the morning but if you park there, you will be asked to move (and RCMP have said they will ticket people).
Your child has received (or will receive) a facemask from the school district. Please handwash this as often as you can and send it with your child (it is used for bathrooms and common areas.
Please make sure you complete the daily health check with your child each morning. If you are unsure about whether or not to send your child, please keep them home and call the school for direction.
Our school parking lot is closed between 8:15-9:00 and 2:00-2:30 (other than daycare, buses, and vehicles for people with a disability). The church across the street generously allows us to use their parking lot so please park there or along 28th Ave. Do not park in the "no parking" (coned) area.
West Coast Recess – As we have done over the past few years, every day is an outside day at Shortreed. Unless there is a severe rainstorm (or snowstorm), we will be heading outside. As the forecast this week calls for a slight chance of rain, please make sure your child has a coat to wear outside.
Juice Boxes – We all know kids love juice boxes… but these are often extremely high in sugar and can cause a sticky mess in classrooms. Please opt for water as much as you can.
Nut Aware – A reminder that we are a "nut aware" school and have some students with life-threatening allergies to nuts. Please avoid packing snacks or lunches with nuts as the oil from a student's hands can be enough to create a significant medical incident.
For regular updates and sharing of daily life at Shortreed, please follow us on Facebook, Instagram, and/or Twitter. You can also join the Shortreed Parent Information Group on Facebook. 
---
Community Events and Information 
Check out the Community Bulletin Board here with plenty of awesome opportunities for your family.