Posted: October 28, 2019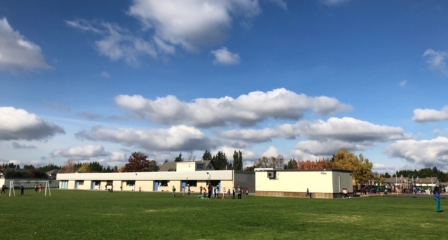 Families of Shortreed,
A reminder that parent-teacher conferences are coming up on Tuesday, October 29 and Wednesday, October 30. An email was sent out last week with a link to sign up or you can click here. Because of the conferences, we have early dismissal on Tuesday and Wednesday at 1:30.  While you are here, be sure to check out our Scholastic Book Fair in Room 109.
I hope you take a moment to read about a few of the Good Things as well some updates for the week and month ahead.
---
Good Things to Talk About
Puddles and Pumpkins at the Patch Our kindergarten classes all travelled to Willow View Farms last week to learn more about how pumpkins, apples, and other fruits and vegetables are grown. It was truly a West Coast kind of day as the rain poured all day but this made for some fun puddle-jumping opportunities too!
Pumpkin Perspective Although they didn't travel to the pumpkin patch, Division 4 recently created some beautiful pumpkin art. Using a choice of watercolours or felts, students drew and coloured a lone pumpkin in a patch with a blue sky in the background. Be sure to check their artwork out on the bulletin board outside their classroom.
A Snail's Pace Learning   When I walked into Mr. D's class last week, the students were all writing and drawing and completely engaged; when I observed more closely, they were all working on sharing their learning about SNAILS! The students had expressed interest in learning about snails after reading a book about them; Mr. D tapped into this and used this interest in science, reading, and writing. When I was there, students were busy summarizing their learning in a Draw 'n Write activity… and their learning was far beyond a snail's pace!
Before He Was Jack  Mrs Datema's students were excited to share with me their initial drawings of a pumpkin. They observed the shape and characteristics of a pumpkin and then started to draw their own.  There are so many aspects of skill development in drawing for these grade 1s and it was great to see them attempt their pumpkin drawing, self-assess, and then make some changes.
Better Spelling With Practice The days of the spelling list on Monday and the spelling test on Friday are now behind us. Teachers at Shortreed teach about the spelling of words and then practice the spelling of words almost every day. This more intentional method of spelling instruction was on display in Ms Bain's class this week as the teacher used explicit instruction and the kids practised the spelling of words on their whiteboards.
The Power of Routines Calendar time in Mrs Manhas' class is much more than simply about the date… it is ALL about math! Students spend time each day using the day of the month ("number of the day") as a chance to learn all about that number while practising different ways of expressing the number, more than and less than the number, and other different math facts that include that number. This calendar routine helps students put their math facts into long-term memory so they can continually develop other math skills over time.
Learning About Haisla  Cultural Presenter, Cecelia Reekie was here last week to share her knowledge about the traditions and cultures of the Haisla Nation (near Kitimat) with Mrs North's students. She shared stories of fishing, hunting, traditions, and education of the region, much of which she has learned from her father's teachings.
Carving Their First Pumpkin! To help students, who are new to our school and country, experience their first Canadian Halloween, Mrs Holst brought in a pumpkin she grew and she and Ms Johnson taught some students in the ELL program how to carve it. Check out those smiles in the photo!
Learning at the Local Library  Mrs Kirk organized a field trip for Division 3 and 4 students to travel to our local Fraser Valley Regional Library to learn about the many programs they offer. Students were excited to see the different books as well as opportunities for technology that the FVRL supports. Students also each received their own FVRL Card to use to borrow items in the future.
"How Do You Like Them Apples?"  Miss Petersen's students took some time to discuss what they should do with their apples that they were able to bring back from their field trip to the farm. Students shared ideas such as baking pies, making apple sauce, storing them for later, and my favourite… Apple Pizza!  In the end, the class felt that baking pies was the best idea… I guess we will have to wait for another day for an apple pizza.
Centred On Halloween Math Ms Coghill's students had some fun in their math centres this past week as they were all in the theme of Halloween. Just when math couldn't be more fun, you throw in centres with ghosts, pumpkins, and skeletons!
Connecting With Cali  Students in Ms Bedard's class were excited to meet their buddy class for the Global Read Aloud this past week. They Skyped in with each other and asked all about life in Aldergrove… and Napa Valley, California!  Students will continue to connect with the class, read the same book, and learn together for the Global Read Aloud.
Ache!  There was tons of positive energy (Ache) in our gym on Thursday as students got to experience a performance from Ache Brasil. These dedicated performers showcased traditional Brazilian dance, music, and martial arts and left our students wanting more. Ache!
Bringing It All Together A group of teachers travelled to Magee Secondary in Vancouver on Friday's pro-d day to learn more about the Science of Calm and the Dalai Lama Centre for Peace and Education's Heart-Mind Well-Being framework. The 5 aspects (pictured) of the framework align nicely with the work that has been done at Shortreed over the past few years and might be a great way to bring all of our self-regulation and social-emotional learning strategies together under one umbrella.
---
The Week Ahead
Tuesday, October 29 – Parent-Teacher Conferences – early dismissal at 1:30\
Wednesday, October 30 – Parent-Teacher Conferences – early dismissal at 1:30; no Club Wednesday this week
Thursday, October 31 – Halloween! – Students are encouraged to wear their costumes and showcase them for costume parade after lunch. PAC are also offering games and a dance party in the gym throughout the day (including animal demos from Wild Education).
Friday, November 1 – Pyjama Day!; Hot Lunch Day
---
Important Reminders and Updates
Information About School Status During Inclement Weather Snow closures and power outages are an annual occurrence in Langley School District. So where do you go to get information about the status of schools during periods of inclement weather? If you are able to access the internet via computer or smartphone, current information about Langley schools can be accessed on all school websites or www.sd35.bc.ca

. Updates are also posted to Twitter @LangleySchools and Facebook at 

www.facebook.com/langleyschooldistrict. If you don't have internet connectivity but your phone is working, call a relative or friend in an area that has not been affected by the storm and ask them to check the district website for you. Local radio stations are also informed of school status in Langley. Tune in to CKWX 1130AM, CKNW 980AM, Country Radio 107.1FM, Pulse 107.7 or CBC 690AM or 88.1FM for updates.Please note that Langley District schools are all considered 'open' until a decision to close is required. Decisions on school closures are usually made by 6:30am. As always, it is a parent's decision whether to send their child to school based on safety and individual circumstances. If you feel it is unsafe for you or your child to travel to or attend an open school for any reason, please keep your child home and report an absence to the school.
Social and Emotional Learning: Supporting Kids at Home and School
WHERE YOU ARE – Listen on Apple Podcasts Social and Emotional Learning (SEL) is a hot topic in schools and parent communities right now. Gail Markin (parent, school counsellor and District SEL Lead) and Dr. Kimberly Schonert-Reichl (Psychologist, Professor and world-renowned SEL expert) unpack what parents and caregivers can do to support SEL at home, as well as learn about the role of schools in promoting SEL. Brought to you by BC Children's Kelty Mental Health Resource Centre.
Is it Bullying?  The difference between mean behaviour and bullying is important as it has an impact on how we, as adults, support kids. Read this short article by our counsellor, Mrs Manhas, called "Is it Bullying?".
Supporting Your Child's Literacy – Parkside has invited our Shortreed Community to their K-3 Parent Literacy Nights coming up in November. Click here for more info.
Breakfast Program – A reminder that we have a great breakfast program run by local volunteers. If you would like your child to access this program, you can find the form here. Also, please let us know if you would like to volunteer as we are extremely short this year and our volunteers are burning out!
After School Program – Did you know we have a flexible, low-cost option for an after school program at our school? The Township of Langley offers "Active Beyond the Bell" each day from 2:45-4:45 in our gym! Click here to get more info and call the Aldergrove Credit Union Community Centre to register.
Home Reading Website – be sure to check out our website designed to support families in home reading.
Parking – Our parking lot is closed from 8:15-8:45 and from 2:15-2:45. We only have enough space for our staff and drivers with a disability. The parking area is only open for staff, school district buses, and daycare transportation during these times. Please park along 28th Ave or in the Catholic Church across the street who have once again graciously donated their lot to us.
Pick Up and Drop Off – To ensure our students have appropriate supervision and are safe, please do not drop off your students before 8:20. Also, unless there are extenuating circumstances, please do not pick up your child before the bell nor after 2:45 (as we do not have supervision past 2:45).
---
PAC Information
Halloween Costume Rack – If you are in need of a costume, or have one you'd like to donate, please check out our costume rack in the lobby of our school. Still some free costumes available!
PAC Halloween at Shortreed!!  Each year our PAC puts together Halloween themed games, a dance party and have The Reptile Guy with all his creepy crawlies in the gym on October 31. There will be a prize for all kids to bring back to their classroom/home. Teachers will be coming down with their classes in smaller groups throughout the day to have fun!!!
Fall Book Fair Our fall book fair is coming up on October 28-29-30. The book fair not only provides an opportunity to promote literacy but also a chance to support the purchase of books for our classrooms. Come and stop by room 109 for a little book shopping:

October 28 – 11:55-12:40; 2:20-3:00
October 29 – 11:55-12:40; 1:20-7:30
October 30 – 11:55-12:40; 1:20-4:30

The Willowbrook Mall charity shopping night is November 19th! If you are interested in tickets please contact Cashmere or Jodi. Tickets are $10. This is a adult only event. For more information here is the event details or you can email shortreedpac@gmail.com
Entertainment Books – notices will be coming out soon on how to sell/purchase and support our school!
Otter Co-op Receipts – If you have receipts from Otter Co-op that you no longer need, please bring them in and drop them off in our box in the office. A portion of all these proofs of purchases comes back to our school in the form of gift cards!
Month at a Glance
Monday, November 4 – Fire Drill #2
Tuesday, November 5 – Photo Retakes
Tuesday, November 5 – K-3 Family Literacy Night at Parkside 6:30
Thursday, November 7 – Remembrance Day Assembly 11:00
Friday, November 8 – Day not in session
Monday, November 11 – Remembrance Day – stat holiday
Friday, November 15 – Grade 5s to Vancouver Symphony Orchestra
Monday, November 18 – Report Card Prep/Design and Assessment Day – no school for students
Friday, November 22 – PAC Dollar Sale in the gym. 1-6pm
Friday, November 22 – Hot Lunch
Tuesday, November 26 – PAC Meeting 7pm
Thursday, November 28 – Lockdown Drill #1 – 11:45am
---
Community Events
Child Care Consultation: City and Township of Langley
Do you think Langley needs more childcare spaces? Are you in need of before and after school care in your neighbourhood? The City and Township of Langley want to hear from parents, guardians and providers about childcare. They are asking for your input to help planners address childcare needs in the future. Please take this survey here.
Click here to view some awesome opportunities for kids and families in our community.