Posted: October 24, 2021
Families of Shortreed,
We hope you had a lovely weekend (a long weekend for the students). Friday was a provincial Pro-D Day and Shortreed staff were busy learning and collaborating about reading and writing instruction, Indigenous teachings and perspectives, and supporting all students in an inclusive setting.
Thank you to all those parents and/or caregivers who were able to make it to parent-teacher conferences last week!
We tallied up our fundraising total for the Terry Fox Foundation and we blew our $800 goal out of the water with a total of $1300!!!  Well done, Shortreed!
We have another exciting week ahead with our spooktacular Friday as we have our Halloween parade and our PAC Haunted Gym. Our kindergarten classes are also heading to the pumpkin patch again this year. A reminder that costumes should not include weapons, glorify violence, nor be designed in a way that would scare our younger students. If you are unsure if a costume is suitable, please email Mr. Wejr.
We have a few practicum students at Shortreed over the next month or so. We want to welcome Ms. Dhaliwal and Ms. Romero who are doing their SEA practicums. We also want to welcome Ms. Graham (with Mrs. Parsons), Ms. Chisholm (with Mrs. Fox), Ms. Cheema (with Mrs. Graham/Creech), and Ms. Bouvier (with Ms. Coghill) who are all doing their teaching practicums this year.
Watch your email for a chance to order 2021-2022 Shortreed Spirit Wear later this week! Don't forget to bring your carved pumpkins in on Thursday to be on display in our haunted gym (details below in the PAC section).
As always, we want to acknowledge that the Langley School District works, learns, and plays on the unceded ancestral lands of the Matsqui, Kwantlen, Katzie, and Semiahmoo First Nations. 
We hope you take a few minutes to read about a few of the good things happening at our school along with some updates for the week and month ahead.
---
Good Things to Talk About
A Record-Breaking Book Fair!  Thank you to our Book Fair organizers and volunteers and to all those who supported the event this year. Jodi shared with us that this year's book fair broke the record for most sales made with the school fundraising close to $1000 and the classrooms receiving over $1300 worth of books! Thank you, Shortreed!
The Great Shakeout – We joined schools and organizations across the province as we participated in the Great BC Shakeout Earthquake Drill on Thursday. Students reviewed the Drop-Cover-Hold procedures and then practiced our evacuation. Whenever we do a drill at school, it is also a good time to review your level pr preparation in the home. Find some resources at the Great BC Shakeout site here.
CHEEEEESE! Our students donned their best outfits and tried to look their best for our Photo Day last week. Thank you to LifeTouch for their patience and flexibility to try to get the best shots of our kids. Proofs will arrive in the next few weeks and then you have the option of placing an order. Stay tuned!
The Importance of Instruction – One teaching strategy that has been proven in study after study is the use of Direct (Explicit) Instruction. This includes clear teaching of key topics (in full class or small group) that students need to learn. When I popped into Mrs. Fox's class, she was engaging in some full-class instruction on the key teaching points of journal writing. Following this, students went to their tables for some individual practice while others received some small group instruction with Mrs. Fox.
Small-Group Instruction… EVERY DAY! One of the biggest reasons Shortreed is a high achiever in reading results is due to the regular use of small-group instruction each and every day. Mrs. Datema, along with other teachers at Shortreed, regularly meets with her students in small groups to provide instruction at their level. Although not every student gets this every day, through the week, students get more instruction, more feedback, and achieve strong gains in reading through this daily class routine.
The Science of Spooky Skeletons – We had some excited little scientists who had a chance to observe some different animal bones (with that spooky skeleton theme) in Ms. McFarland's class. They read some books on skeletons and then took some time to closely at bones such as a femur and pelvic bone.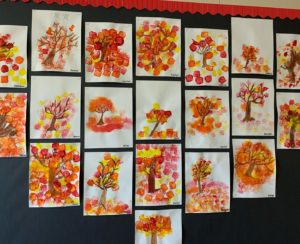 Some Festive Fall Artwork – Mrs. North's students used small sponges and fall colours to create and paint some beautiful "Happy Little Trees". Be sure to poke your head into the classroom to see these on display.
Halloween Stories – Miss Petersen's students were practicing oral language development through using loose parts to create stories. IN the picture, the student shared, "This is a pumpkin patch but the ghosts are trying to scare away all the pumpkins. Some of the pumpkins are scared!!"
Sense-ational Learning – Over the past few weeks, students in Mrs, Zelter's class have been engaged in deep learning about their five senses. Students are now researching about an animal of their choosing and comparing the animal's senses to what we know about human senses. Fun fact: humans have 2,000-4,000 tastebuds, where a catfish has over 100,000!
Neighbours Near Double – Ms. Holmes' students were practicing how to use their doubles math facts to help with the addition of numbers that are "neighbours" of doubles. For example, to add 7+8, the student can use their knowledge of doubles to say 7+7 = 14 and then add one more. This helps with computational fluency. You can see from the photo, that Ms. Holmes is also using small group instruction for math as well.
Clear Formation – One thing that has failed me as I have grown older is my letter formation in printing! Ms. Kaur's class wants to make sure that this does not happen so they were taking some time to practice the proper letter formation while combining this with a review of letter sounds. Whole students are practicing, Ms. K was working with a small group with reading instruction.
Math Market!  Ms. Mostat's class was learning some relevant math skills for math beyond school. Students were meal planning and shopping at the Math Market while they practiced their addition and subtraction of decimals.
Reflecting on a Recent Example of Bias – Students in Divisions 1 and 2 were discussing the recent (2020) incident in which a 12-year-old Indigenous girl and her grandfather were arrested and handcuffed after trying to open up an account at a bank. Students used this example to reflect on the challenges of bias and systemic racism and what can be done to change this; it was powerful to hear the students engaging in this reflective discussion.
Cracker-ing Their Way into Science – Mrs. Creech was working with her students about the properties of matter. They engaged in a "Cracker Lab" last week in which students had to observe different types of crackers and describe the characteristics and properties of each type. Some of these scientists may have had the chance for a nibble or two after the lab.
Say Then Write – Mr. D's students were observing patterns and sorting different word families last week. This "Say Then Write" routine helps students to understand spelling patterns and remember the spelling of common words as they say it out loud and then sort the words into their like lists.  Students also receive practice at their level as students can get different lists based on their different spelling skills.
---
The Week Ahead
Monday – PAC Meeting on Zoom (details below in the PAC section)
Wednesday – PAC Popcorn Day
Friday – PAC Haunted House (all day), Halloween Parade at 1:30 (outside around the school, parents welcome to watch)
---
Month at a Glance
November 4 – Diwali Celebrations
November 8 – National Indigenous Veterans Day
November 10 – Virtual Remembrance Day Ceremony 11:00am, Hot Lunch – Subway
November 11 – Remembrance Day – schools closed
November 12 – Design and Assessment Day/Report Card Prep – no school for students
November 16 – Fire Drill 2:00
November 22 – Photo Retakes
November 23 – PAC Meeting 7pm in the library
November 24 – PAC Popcorn Day
---
PAC Info
Shortreed PAC is having a Pumpkin carving contest! On Thursday, October 28, students can bring their carved pumpkins to school (please make sure their name and division is on them). If possible, please bring a battery-operated candle/glow for the inside.  There will be a table near the playground where you can drop them off in the morning and after school. There will be draw prizes so you get a chance for each pumpkin you bring! The jack-o-lanterns will be used as part of the PAC Haunted House in the gym on Friday, October 29. You can come and pick up the pumpkins at the end of the day on Friday so you have them for Halloween!

Please join us for our next PAC meeting on Monday, October 25 at 9 AM. We will be meeting via Zoom. All parents of a Shortreed student are welcome to join!  You do not need to have your camera on, or even your audio, although it's always nice to see faces 🙂 When you log in, please include your full name so that it can be included in our minutes.

To join this meeting, click the link, and if required, enter the meeting ID and password provided.
---
Important Reminders and Updates
PLEASE USE THE CROSSWALK – We understand that parking is an issue at our school; however, we have seen some scary close calls with children and adults crossing the street away from the crosswalk. It does take an extra minute but it can save a life! Please use the crosswalk to go across 28th Ave.
Contact Tracing Information – Schools in the District are continuing to assist the Fraser Health Authority in contact tracing and case management. We appreciate the ongoing cooperation from parents/guardians in this process. To help support our families, we are sharing resources from the BC Centre for Disease Control which outline the contact tracing process in schools. You can view the Contact Tracing Infographic here and Contact Tracing in Schools resource here.
Daily Health Check – Our District's procedure is for all students to complete a daily health check at home prior to entering school and/or boarding a District bus. The Ministry of Education's Daily Health Check poster has been updated to reflect new federal regulations regarding international travel. The symptoms listed remain the same. You can find the updated print version here. The updated version is being translated into multiple languages, which will be posted to the Ministry's COVID-19 Safe Schools website here. Families can also continue to use the Ministry's mobile app or online version here.
Our school parking lot is closed between 8:15-9:00 and 2:00-2:45 (other than daycare, buses, and vehicles for people with a disability). The church across the street graciously allows us to use their parking lot so please park there or along 28th Ave. Do not park in the "no parking" (coned) areas along the yellow curbs.
West Coast Recess – As we have done over the past few years, every day is an outside day at Shortreed. Unless there is a severe rainstorm (or snowstorm), we will be heading outside. As the forecast this week calls for rain this week, please make sure your child has a coat to wear outside. We have a good selection of coats in our FREE Coat Exchange near the office so come on by and check them out.
If your child will be absent, please call the school at 604-856-4167 or email shortreedabsent@sd35.bc.ca.
---
Community Events
Are you looking for events in our community? Take a look at our District's Community Bulletin Board with some great opportunities for families.