Posted: October 17, 2021
Families of Shortreed,
Although it was a shortened (and wet!) week, there was no shortage of exciting learning opportunities for our kids!  We definitely exceeded our goal ($800) for our Terry Fox Fundraiser as we approached $1000 earlier in the week. We will send out a total this week.
We have a lot going on this week with Photo Day (Wednesday), Parent-Teacher Conferences (Wed-Thurs) and a Pro-D Day on Friday. Thank you to all those who signed up for a conference already. You will have until Tuesday morning to sign up for a conference so please check your emails for signup info.
As always, the Langley School District is honoured to work, learn, and play on the unceded ancestral lands of the Matsqui, Kwantlen, Katzie, and Semiahmoo First Nations. 
We hope you take a moment to read about a few of the good things that have happened this past week along with some updates and reminders for the week(s) ahead.
---
Good Things to Talk About
Blading for Bees – We were thrilled to have Zach Choboter of Blading for Bees come to our school and speak with our Eco-Tigers last week! Zach recently returned from a cross-Canada adventure in which he rollerbladed to raise awareness of the importance of Bees! Thank you, Zach! (and thank you to Mrs. Sherwin for bringing him in!).
A Grandfather's Words – A few of our grade 3-4 students working with Mrs. Kirk in the library responding through their art to the Grandfather's words from the story "As long as the rivers flow" – "This land has always given us what we need to live."
Batty for Art – Ms. Bedard's students created some spooky Halloween artwork using pastels and bat silhouettes. Earlier in the week, students created their own beautiful images of what reconciliation means to them. Students used images of hands together, hearts, and children to show the meaning of this important term and idea.
'Boarding' School?  During their first board game afternoon, students in Mrs. Zelter's class focused on learning the rules of a new game, turn-taking and playing until the game was finished. It was a fun-filled afternoon but I don't think the students knew they were actually learning and practicing a ton of important skills!
Parts and Patterns – Miss Petersen's students have been learning about AB patterns (ABABAB…) in math. Each year, students learn about more complex patterns and this helps them to understand different aspects of mathematical relationships. Students in Division 15 were demonstrating their knowledge of patterns using fall-themed loose parts.
Writing With Wands – Earlier this week, Ms. McFarland's class was busy collecting signs of fall! They spent time examining the changing leaves and discovering their many beautiful shapes and colours. Students were then asked to collect their favourite leaves in order to create their very own "leaf wands." This took a lot of patience and fine motor work, as students carefully strung each of their leaves onto a small stick. Once the magic "leaf wands" were made, they had lots of fun playing as well as practicing their letter writing in the air!
Joy in the Green Zone – Mrs. Fox's class has been really diving deeply into learning about the different Zones of Regulation. To share their knowledge and incorporate some artwork, students did a directed draw of the Joy character from the movie "Inside Out" and used this to lead into conversations about bring in the Green Zone.
Code-a-pillars! Students in Mrs. Dhaliwal's class were learning the introductory skills of coding with their code-a-pillar friends. Students can place different segments on the code-a-pillars and make them go in different directions with these codes so they can eventually make it through a track they create.
Choosing the Perfect Stick – Mrs. Parsons' class went out to the forest with Mrs. Kirk and Ms. Elson this week to choose the perfect talking stick for Div 1. Over the next few weeks, Mrs. Elson is going to help them add more onto it to make it theirs to help them all share their ideas, thoughts and opinions respectfully in their class sharing circles.  Earlier in the week, students discussed the term "resiliency" and how this relates to Indigenous Peoples who have experienced significant challenges in our history (residential schools, potlatch laws, etc).  These are added to their Reconciliation Word Books.
Loving Literacy – Ms. Coghill's students are really loving their literacy centres. Students are learning a number of activities and games, while also getting small group instruction, to develop their reading and writing skills. They also did a directed draw of some cute little scarecrows and then painted them with watercolours.
Outdoor Math – A few of Ms. Mostat's students headed outside to collect some relevant data about traffic that they will use as part of a graphing project in math. A shoutout to Division 3 students and families (and Ms. Mostat) for working their way through some challenges over the past week!
Finding Out What "Matters" – Mrs. Creech and Mrs. Tarasoff's class started their research on matter this past week. They participated in a combination of guided lessons, partner research, and once they have some knowledge under their belts, they will do some fun experiments. Gotta love science!
Emotional BINGO! Students in Mrs. Graham's class have also been spending time learning and reviewing the different emotions and how these fit into the Zones of Regulation. They had a chance to play a fun game of "Emotional BINGO" as students were told an emotion (ex. worried), had to determine the face that matched the emotion, and then place a chip on their bingo card if they had that picture. As they were doing this, they were also discussing which zones the emotions go in.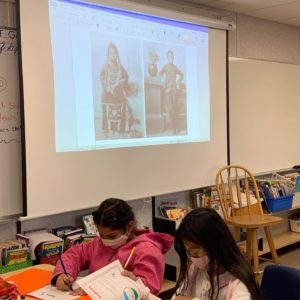 Reflecting on Cultures and Traditions – Ms. Fenech's class started learning about the Indian Act this week and looked deeper at what racism and assimilation means as well as the effects this law had on Indigenous Peoples. Students shared with each other their unique cultures and traditions and what life would be like if we were all the same and couldn't express ourselves in our own unique and personal ways.
---
The Week Ahead
Tuesday – Students' interims to come home either Tuesday or Wednesday.
Wednesday – PHOTO DAY!  Parent-teacher conferences from 2:00-7:30 (dismissal at 1:33). Please check your email for signup info.
Thursday – Parent-teacher conferences from 2:00-4:30 online (dismissal at 1:33)
Friday – Pro-D Day – no school for students.
---
Month at a Glance
October 25 – PAC Meeting – ZOOM – 9am
October 27 – PAC Popcorn Day
October 29 – Halloween Parade – 1:30pm, Kindergarten Pumpkin Patch field trip, PAC Haunted House
November 4 – Diwali Celebrations
November 8 – National Indigenous Veterans Day
November 10 – Virtual Remembrance Day Ceremony 11:00am, Hot Lunch – Subway
November 11 – Remembrance Day – schools closed
November 12 – Design and Assessment Day/Report Card Prep – no school for students
November 16 – Fire Drill 2:00
November 22 – Photo Retakes
November 23 – PAC Meeting 7pm in the library
November 24 – PAC Popcorn Day
---
PAC Info 
Scholastic Book Fair is this week! We are excited to announce we are having an in-person book fair this week in the school GYM. Things will be quite different this year as we navigate through covid protocols please read carefully.

All students are signed up for a walk-through time on Monday with their class to be able to come and look at the fair.
All classes will have the opportunity to come in during the week to purchase at the book fair. Each class has signed up for a 20-minute time slot during the day. PAC will post the day before what classes will be shopping on what days. We accept cash, debit, credit card (yes, some parents send this with their kids) as we do have tap abilities.
After school shopping the first hour after the bell: No one will be able to enter the book fair through the school and must enter through the outside gym doors. The entry door will be at the northwest gym doors, and then you will exit into the parking lot on the south side of the gym. If you are coming to shop after school with your students Tuesday will be last name starting with A-K, Wednesday will be for last names starting with L-Z; on Thursday anyone can shop. You will need to wear a mask, sanitize and sign in. We will be allowing approximately 15 people in the gym at one time.
Parent/Teacher Conferences: During P/T conferences, the book fair will be open to everyone. Please make sure to come down and see us. Masks must be worn.
Teacher Wish List Books: There are blue bins lined up against the gym wall filled with books chosen by the teachers for their classroom. This is a great opportunity to help provide to their classroom library. If you choose a book(s) from the blue bins please let us know when paying and you will receive a sticker to put inside with the student's name and the teacher's name. You can also use these books to give to the teachers as a gift during the holiday season.
Book Fair Times After School:

If you are unable to attend the book fair in person we also have a VIRTUAL FAIR! This will be open from Monday, Oct 18th – Thursday, Oct 21st. All orders are free shipping direct to the school. Please email shortreedpac@gmail.com to let us know if these books are not to be seen by the student otherwise they will be given directly to them. Here is the link to the Virtual Fair https://virtualbookfairs.scholastic.ca/pages/5163029

If you have any questions or concerns please feel free to send me a message or email PAC and we will be happy to help.

Shortreed PAC is having a Pumpkin carving contest! On Thursday, October 28, students can bring their carved pumpkins to school (please make sure their name and division is one them). If possible, please bring a battery-operated candle/glow for the inside.  There will be a table near the playground where you can drop them off in the morning and after school. There will be draw prizes so you get a chance for each pumpkin you bring! The jack-o-lanterns will be used as part of the PAC Haunted House in the gym on Friday, October 29. You can come and pick up the pumpkins at the end of the day on Friday so you have them for Halloween!
---
Important Reminders and Updates
PLEASE USE THE CROSSWALK – We understand that parking is an issue at our school; however, we have seen some scary close calls with children and adults crossing the street away from the crosswalk. It does take an extra minute but it can save a life! Please use the crosswalk to go across 28th Ave.
Contact Tracing Information – Schools in the District are continuing to assist the Fraser Health Authority in contact tracing and case management. We appreciate the ongoing cooperation from parents/guardians in this process. To help support our families, we are sharing resources from the BC Centre for Disease Control which outline the contact tracing process in schools. You can view the Contact Tracing Infographic here and Contact Tracing in Schools resource here.
Daily Health Check – Our District's procedure is for all students to complete a daily health check at home prior to entering school and/or boarding a District bus. The Ministry of Education's Daily Health Check poster has been updated to reflect new federal regulations regarding international travel. The symptoms listed remain the same. You can find the updated print version here. The updated version is being translated into multiple languages, which will be posted to the Ministry's COVID-19 Safe Schools website here. Families can also continue to use the Ministry's mobile app or online version here.
Our school parking lot is closed between 8:15-9:00 and 2:00-2:45 (other than daycare, buses, and vehicles for people with a disability). The church across the street graciously allows us to use their parking lot so please park there or along 28th Ave. Do not park in the "no parking" (coned) areas along the yellow curbs.
West Coast Recess – As we have done over the past few years, every day is an outside day at Shortreed. Unless there is a severe rainstorm (or snowstorm), we will be heading outside. As the forecast this week calls for rain this week, please make sure your child has a coat to wear outside. We have a good selection of coats in our FREE Coat Exchange near the office so come on by and check them out.
If your child will be absent, please call the school at 604-856-4167 or email shortreedabsent@sd35.bc.ca.
---
Community Events
Are you looking for events in our community? Take a look at our District's Community Bulletin Board with some great opportunities for families.