Posted: October 12, 2020
Families of Shortreed,
We hope you have had a wonderful Thanksgiving with your families.
We had another good week last week as we tried to continue to keep the classroom learning routines going while the fall head colds have hit some of our families. Classes spent time on the importance of gratitude as well as learning more about Terry Fox this past week. Thank you for your help with dropping off and picking up at the staggered bell times as this has helped with a bit more space around the classrooms at those times.
Please take a moment to read about some of the good things happening as well as some info about the weeks and month ahead.
A reminder that you can translate this newsletter by clicking on the "translate" button on the top right-hand corner.
---
Good Things to Talk About
Photo Day – Many students were out to look their best as part of that memorable Photo Day this past week. Watch for the proofs and instructions on how to order online in the coming weeks.
Two for Terry – We encouraged all our students to bring in a Twoonie for Terry last week (thank you!) and on Friday, we headed outside in the pouring rain to run two laps for Terry (with their cohorts). We asked students to think of those fighting cancer and those who have fought cancer and use this to help them on their run. Quite a few students did more than two laps and we even had a student who ran more than a lap on crutches! Well done, Shortreed! Don't forget that you can still donate online here.
Honouring the Staff – We took some very important time to honour our incredible Shortreed Staff on Monday as part of World Teachers' Day. It is no secret that our staff continually go above and beyond so it is so important to let them know how appreciated they are!
Picture Day Perfection – Ms. Coghill's class took some time to read the story "Picture Day Perfection" and talk about the ways they would NOT smile on Picture Day. They then drew pictures of these faces and smiles. 🙂
Get Active!  Mrs. Brake, one of our many talented SEAs, set up a fun obstacle course outside for Mrs. Kirk and Mrs. McDonald's class to help them practice some agility, speed, power, and soccer skills!
Practicing Proofreading – Ms. Bedard's students worked on the important skills of proofreading, editing, and peer-assessment as they worked on their reflections about the novel, "Fatty Legs". Students learned proofreading marks to make the editing process more efficient. Division 2 also started their unit on "BC Student Vote" as we draw closer to the provincial election.
Kindergarten Selfies – Ms. Dhaliwal's students drew some self-portrait sketches of themselves and these were put on display in the hallway. Ms. Dhalwal then added a photo of them with their first letter of their name that they built/created out of materials they found outside (the photo of them is not included in this image here).
Terry Fox Was…  To help inspire students this past week, Mrs. Parsons shared stories and information about Terry Fox and his Marathon of Hope. The students then came up with attributes that described Terry and made these into a colourful piece of artwork around a silhouette of Terry Fox.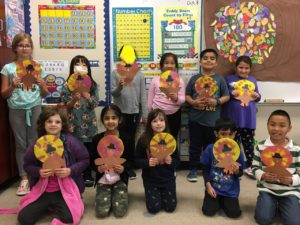 A Thankful Theme – Mrs. North took some time to reflect on what they are thankful for in the class and then created some fun turkey artwork to celebrate a thankful time of the year.
Learning With Math Games – Mrs. Datema's students were practicing their math facts with a "roll it and colour" thanksgiving math game. Math games help our students repetitively practice important math facts (counting, addition, subtraction, etc) in a fun, engaging manner.
Graphing Their Learning – Ms. Fenech's students were learning about representing data with bar graphs last week. Students also started to practice their math facts in a fun way through the Mathletics website.
Mind the Gap – If you have ever been to London, you quickly learn to "Mind the Gap" when using the subway system (you have to watch for the gap before stepping on to the subway car). This is important, too, in math… especially in patterns! Ms. Rafighi's students were determining missing numbers in a pattern (and finding the number that makes up "the gap" between 2 numbers… for example, the number it takes to go from 111-119 is +8 while the number it takes to go from 119 to 111 is -8). This skill of finding the gap number (or missing number) is so important in addition and subtraction… and safety on the subway in London! 🙂
What Does Good Look Like?  The expected criteria is SO important for students to see when starting an assignment or learning task. Ms. Manhas took some time to share some examples of a write and draw activity to go over what good looks like and when some improvement might be needed. When students have a better understanding of the criteria, it is clearer for them on how to share their learning.
Gratitude Turkeys – Ms. McCabe took some time to discuss the importance of gratitude in our lives. Her students then wrote down things they are grateful for in their lives and then added them on to some colourful gratitude turkeys.
Keeping the FUN in Music – It has not been easy this year for Mrs. Muller. Because of our increase in enrollment, we have had to use the music room for ELL and Mrs. Muller has had to take her "music teaching show on the road". This doesn't stop her from finding ways to make music fun. I stopped and observed a part of a lesson and watched all the smiles as one of our grade 3 classes played a singing game as a class.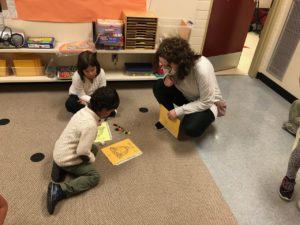 Cohort Buddies – Ms. Toby and Mrs. Creech's class are not in the same grades (K and 2) but they are in the same cohort. Because of this, they connected for some buddy time to learn some math games involving dice. They had to roll a dice and then cover the number with a chip. Students seem to love engaging in some math with their older and younger school mates.
Getting Prepared – Although we hope to never have to use this skill, students practiced our first fire drill of the year. Each year, our school practices 6 fire drills to make sure we can evacuate efficiently in case of an emergency.
Another Act of Kindness – We are so honoured to continue to be the recipients of kindness and generosity from the Church in the Valley's Acts of Kindness. On Friday, they donated 30 bags of groceries for Aldergrove families so they could have a great Thanksgiving.
A WILD Day for Mr. D's Class – Earlier in the week, Mr. D's class was discussing turtles in class. Mike from Wild Education heard about this and offered to bring in 3 tortoises and a turtle to the class!!! On Friday, students had the awesome opportunity to hold and closely observe these reptiles. Thank you to Wild Education for once again supporting our school!
Introducing the Shortreed Staff!  Because we were not able to have our "Meet the Teacher Night" this year, we created a fun video to introduce our staff. Just in case you missed it, it is embedded below.
---
The Week Ahead
Thursday, 10:45am – The Great Canadian Shakeout
Thursday, 7:00pm – Moving to Proficiency Scales – Family Info Virtual Session (on Teams) – Our Director of INstruction, Dawne Tomlinson, will share some information with families about the changes happening with report cards and how we communicate student learning. You can access the live event here. 
---
Month at a Glance
Friday, October 23 – Pro-D Day – students not in session
Tuesday/Wednesday, October 27-28 – Parent-Teacher Conferences (1-hour early dismissal – format TBD).
Friday, October 30 – PAC Meeting (9am – ZOOM) and Halloween at Shortreed – costumes are encouraged.
Wednesday, November 4 – Photo Retake Day
Friday, November 6 – Fire Drill #2 at 10:45am
Tuesday, November 10 – Remembrance Day Virtual Assembly (Teams Live Event)
Wednesday, November 11 – Remembrance Day – No School
Friday, November 13 – Lockdown Drill #1
---
PAC News
Pac is excited to share a new campaign: Fundscrip! Fundscrip is a place to buy gift cards for all sorts of different places (groceries, gas, retail, etc) with a percentage of the purchase going to our school! To get started please use this link, register, order, and share with friends and family.

---
Reminders
Please do not park along the yellow line in front of the school. You can use this for a very brief drop-off area in the morning but if you park there, you will be asked to move (and RCMP have said they will ticket people).
Please make sure you complete the daily health check with your child each morning. If you are unsure about whether or not to send your child, please keep them home and call the school for direction. The form (in various languages) can be found here.
Our school parking lot is closed between 8:15-9:00 and 2:00-2:30 (other than daycare, buses, and vehicles for people with a disability). The church across the street generously allows us to use their parking lot so please park there or along 28th Ave. Do not park in the "no parking" (coned) area.
West Coast Recess – As we have done over the past few years, every day is an outside day at Shortreed. Unless there is a severe rainstorm (or snowstorm), we will be heading outside. As the forecast this week calls for a slight chance of rain, please make sure your child has a coat to wear outside.
Juice Boxes – We all know kids love juice boxes… but these are often extremely high in sugar and can cause a sticky mess in classrooms. Please opt for water as much as you can.
Nut Aware – A reminder that we are a "nut aware" school and have some students with life-threatening allergies to nuts. Please avoid packing snacks or lunches with nuts as the oil from a student's hands can be enough to create a significant medical incident.
---
Community Events and Information 
Check out the Community Bulletin Board here with plenty of awesome opportunities for your family.