Posted: October 11, 2021
Families of Shortreed,
We hope you had a chance to enjoy some time with family and/or friends during this beautiful Thanksgiving weekend.
Thank you for all your support of our Terry Fox Run and Fundraiser! We are getting so close to meeting our goal of $800 so if you have not had a chance to donate, you still have this week! Our goal is about $2/child but if you would like to donate more than this and want a tax receipt, you can donate on the Shortreed Terry Fox Foundation website here. Mrs. Molina has also sent out an email about how to donate online through your school cash online account. If you would prefer to donate cash, please send it with your child so they can give it to their teacher.
This week, we will be sending an email with information about signing up for the Parent-Teacher Conferences that take place on October 20 (2:00-7:30) and October 21 (2:00-4:30).
Also, a reminder that Photo Day is next week Wednesday, October 20).
As you likely have heard, we have had a few cases at our school this year. Due to this, we have made some changes to some of our plans: grade groups will have a chance to mix but we are holding off on mixing beyond this; buddy classes can visit with each other outside but any inside activities are on hold; Club Wednesdays are on hold; grade 5 monitors will sit distanced from the other students (eating) and if they are needed, they must wear their mask (students will not be permitted to monitor other classes without a mask); Funtastic Fridays are on hold; and morning Bootcamp is on hold. We are hoping to get back to doing some of these activities in the future so we will keep you posted. Thank you to all of our families, students, and staff for your extra diligence in helping to keep our kids and families safe.
As always, we, in the Langley School District, are honoured to work, learn, and play on the unceded ancestral lands of the Matsqui, Kwantlen, Katzie, and Semiahmoo First Nations. 
We hope you take a few minutes to read about some of the good things happening at Shortreed as well as some reminders and updates for the week and month ahead.
Good Things to Talk About
Trying Like Terry – Our entire school ran through a portion of our community on Friday for our 2021 Terry Fox Run. We encouraged all our students to Try Like Terry and to run as much as they could. Ms. Mostat, along with 3 intermediate students, led us on the 1.5 km loop and those who could run most of the first lap were encouraged to run the 2nd lap. In my 20+ years in education, I have never seen a community come out and support a school on a run like many of you did on Friday… THANK YOU!!!  Mrs. Zelter put a short Shortreed Movie together to support the run. Take a look!

Don't Walk in the Hallways! Remember being in school and all we were allowed to do was to walk with our fingers on our lips (shhh…) in the hallways? Well, at Shortreed, we still encourage our students to be quiet but we also encourage them to jump and hop along our "Don't Walk in the Hallways" pathways. This helps students to get their wiggles out while also stimulating blood flow that helps with learning. Thank you to Mrs. Romas who set these up once again this year.
More Opportunities for ALL Students! Last year, our PAC purchased an Inclusive Swing that helps to ensure all students (including those with some physical challenges) can enjoy some swing time on the playground. Be sure to check out our video (on social media) of some giggles in the new swing. Thank you to our PAC for ordering and buying this and thank you to all of you who help with fundraising!
World Teachers Day – October 5 was World Teachers Day but we all know the importance of every staff member at Shortreed. Thank you to all Shortreed staff for always striving to be "a caring community working together to have a positive impact on the life of every child in our school." (our school Vision)
Kindergarten Gratitude – Ms. Coghill's class shared what they are thankful for this season. Many shared about family, helping others, and positive people in their lives! Students also made some creepy Frankensteins through a directed draw and then coloured them with watercolours. Check them out on display in their window.
We Are Family! One of the reasons I love being at Shortreed is that many of our staff members treat the school like a 2nd home for their families! Mrs. Zelter's 1-year-old son paid a little visit to the classroom last week to bring lots of smiles to the students.
Fall Creations – Mrs. Dhaliwal's students went out to the forest to get some materials for their fall creations. After they collected some beautiful coloured leaves, they then came back and made them into artwork in the class!
Shave Gel Spell! You may have noticed a very clean smell from the students in Mrs. Graham and Mrs. Creech's class on Friday. They were practicing some digraphs (when 2 letters represent one sound – like ch- and th-) with their fingers and shaving gel on their tables. While they were doing this, they were also practicing the sounds these make by following the teacher's directions and modeling (ex. stick your tongue between your teeth to say th-).
Fall Scenes – Students were creating their own fall scenes with fall-themed loose parts in Miss Petersen's class last week.  Loose parts are objects in the classroom that can be used to count and create! While doing this, they also worked on oral language as they had to share the story behind their creations.
West Coast Art – There is so much history and culture within the Indigenous Artwork of the West Coast First Peoples! Students in Mrs. Tarasoff's class took some time to analyze and reflect upon different examples of this West Coast artwork.
See-Think-Wonder – Mrs. Kirk spent some time in the library with the grade 5s on a thinking routine called See-Think-Wonder. Students looked at Indigenous artifacts and pictures and then had to share what they SEE (no opinions or theories… just the facts of what they see), what they THINK (theories, opinions and connections), and what they WONDER (what questions they may have). This routine is a great way to get students to slow down and think about a concept or topic.
Self-Regulation Booklets – Students in Mrs. Fox's class were working on their self-regulation booklets last week as they reflected on what it feels like and looks like to be in different zones. The Zones of Regulation provides the base of so much of what we do to help students be aware of their energy, mod, etc. Each year, teachers and support staff take time to teach and review the four different zones and what each looks, feels, and sounds like… and then teach strategies on how to get back to the green zone.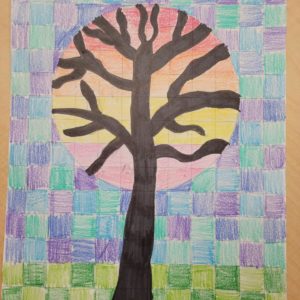 Embracing the Fall Colours – Ms. Bedard's class spent some time reflecting on the use of warm and cool colours in visual arts. They then coloured their fall scenery in these warm and cool colours. To share their learning of Terry Fox and his story, the students first wrote the qualities that best represented Terry in a picture of a shoe just like his and then coloured it in a way that resonated with them.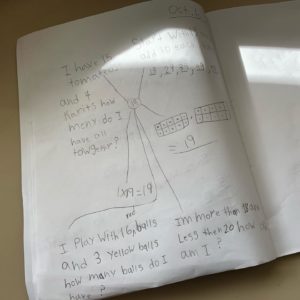 Number of the Day – One of the effective daily numeracy routines that a number of teachers use is called "Number of the Day". When I popped into Mr. D's class, his students were working on this routine. Students could choose a larger number or a smaller number. They then had to share a bunch of different number concepts related to this number (ex. place value, representations, 5 more or less, an addition sentence that equals the number, a word problem that results in the number as the answer, a pattern with the number, etc). Students can be supported and challenged based on the concepts they use and all of this helps students build number sense.
Thankful For…  Mrs. Datema's students created gratitude journals earlier this week. In their journals, these young writers shared many aspects of their lives in which they are thankful for… including family, friends, school, etc.
Meeting Students Where They Are At – Our teachers have been busy carving out one-on-one time with their students to complete their start of year reading assessments. These assessments help to guide the instruction as the teachers can learn where each student is at and then support them from there. Thank you to our staff who always places a priority on reading assessments and reading instruction. (Pictured: Mrs. Parsons finds some time in her former classroom with a student to complete a reading assessment.)
Shortreed Learns! A huge shoutout to our staff as we had 25 of us attend a late-afternoon online workshop (after school) on Building a Strong Foundation in Reading Through Phonological Awareness! This phonological awareness provides the base needed for learning to read and focuses on sounds in and of words.
---
The Week Ahead
Friday – Hot Lunch (Pizza)
---
Month at a Glance
October 20 – Photo Day
October 20 – Parent-Teacher Conferences 2:00-7:30 – Dismissal at 1:33pm.
October 21 – Parent-Teacher Conferences 2:00-4:30 – Dismissal at 1:33pm.
October 22 – Pro-D Day – no school for students
October 25 – PAC Meeting – ZOOM – 9am
October 27 – PAC Popcorn Day
October 29 – Halloween Parade – 1:30pm, Kindergarten Pumpkin Patch field trip
November 4 – Diwali Celebrations
November 8 – National Indigenous Veterans Day
November 10 – Virtual Remembrance Day Ceremony 11:00am, Hot Lunch – Subway
November 11 – Remembrance Day – schools closed
November 12 – Design and Assessment Day/Report Card Prep – no school for students
November 16 – Fire Drill 2:00
---
PAC Info
Stay tuned for info about our Scholastic Book Fair that is happening next week!
---
Important Updates and Reminders
Contact Tracing Information –

Schools in the District are continuing to assist the Fraser Health Authority in contact tracing and case management. We appreciate the ongoing cooperation from parents/guardians in this process. To help support our families, we are sharing resources from the BC Centre for Disease Control which outline the contact tracing process in schools. You can view the Contact Tracing Infographic

here

and Contact Tracing in Schools resource

here

.

Programs of Choice – Deadline to register is Monday, October 18th – Langley School District offers a rich diversity of programs that are designed to meet the specific needs and interests of students. Programs include Fine Arts, French Immersion, Fundamental, Langley Environmental Awareness Program (outdoor education), Montessori, U-Connect, and Career Education Programs (secondary). The registration deadline is October 18, 2021. For more information and instructions to register your child, visit our District website here and review our FAQ choice programs resource here.

Updated Daily Health Check – Our District's procedure is for all students to complete a daily health check at home prior to entering school and/or boarding a District bus. The Ministry of Education's Daily Health Check poster has been updated to reflect new federal regulations regarding international travel. The symptoms listed remain the same. You can find the updated print version here. The updated version is being translated into multiple languages, which will be posted to the Ministry's COVID-19 Safe Schools website here. Families can also continue to use the Ministry's mobile app or online version here.
Due to the change in bell schedule this year, the morning is shorter. To help create more time for instruction in the morning, classes will now be eating lunch after playtime (at approx 12:35). They will have the opportunity for a decent snack in the morning. Click here for our bell schedule.
Click here to read our district's response to "Frequently Asked Questions" regarding Covid-19.
If your family needs some financial support for breakfast before school, our breakfast program runs from 8:20-8:35 each day. Students must register. Please see the email that was sent out on Friday.
Our school parking lot is closed between 8:15-9:00 and 2:00-2:45 (other than daycare, buses, and vehicles for people with a disability). The church across the street graciously allows us to use their parking lot so please park there or along 28th Ave. Do not park in the "no parking" (coned) areas along the yellow curbs.
West Coast Recess – As we have done over the past few years, every day is an outside day at Shortreed. Unless there is a severe rainstorm (or snowstorm), we will be heading outside. As the forecast this week calls for rain this week, please make sure your child has a coat to wear outside. We have a good selection of coats in our FREE Coat Exchange near the office so come on by and check them out.
If your child will be absent, please call the school at 604-856-4167 or email shortreedabsent@sd35.bc.ca.
Please bring inside shoes for your child. This helps to keep our school clean and dry. If you need some help with shoes, check out our FREE Shoe and Boot Exchange at the office.
---
Community Events
Click here to view our District's Community Bulletin Board with some great opportunities for families.