Posted: November 5, 2023
Families of Shortreed,
We hope you had a good weekend and took advantage of that "extra hour"… I don't say "extra hour of sleep" because, as parents, we all know that doesn't happen!
It was quite the week at Shortreed, with many fun Hallowe'en-inspired activities and events taking place in classrooms, the gym and the school. Be sure to read up on a few of them in the section below.
A reminder that Friday is a non-instructional day (Design and Assessment and SIC Prep Day) so staff will be working, but students are not at school. Our Remembrance Day assembly will be on Thursday, Nov 9 at 11:00. Our grade 5 students will be singing a song, so we ask they wear "nicer than everyday clothes"; we will have chairs available for parents of grade 5 students and parents of those students selected as wreath-bearers. Schools are closed next Monday, November 13, because Remembrance Day falls on Saturday.
The deadline to order photos is tomorrow (Monday) evening. Retakes are on November 16.
For those who will be celebrating Diwali next weekend… Happy Diwali!
As always, we want to acknowledge that we do our important work, learning and playing on the unceded ancestral and traditional territories of the Màthxwi (Matsqui) First Nation. These words are a commitment to our learning, and one of the pieces of understanding comes this week as we honour not only Remembrance Day but also National Indigenous Veterans Day (Nov 8 each year). This day is IN ADDITION to Remembrance Day because for many years, Indigenous Veterans, even though they served our country the same as other veterans, were not allowed to be honoured on November 11. They also did not have access to the same level of support as their non-Indigenous peers after they returned from serving their country. We will recognize National Indigenous Veterans Day on Wednesday at school and at our assembly on Thursday
We hope you take a few minutes to read up on some of the good things that have been happening at our school, along with some reminders and updates for the weeks ahead. This week, we feature the even-numbered divisions.
---
Good Things to Talk About
Costumes Parade!  Shortreed staff and students were all decked out in their costumes on Tuesday for Halloween. Our entire school marched around the outside of the building so we could all see each other's costumes. We had a phenomenal turnout of families to cheer on the kids, too!
Haunted Gym – Our Shortreed PAC volunteers did it again! They pulled off another epic transformation of our gym into a Haunted Halloween Gym filled with spooky decorations, a pumpkin patch, and live "creepy" animals from Mike at Wild Education. The kids had a blast exploring and experiencing the 2023 Haunted Gym. Thank you so much to all those volunteers who made it happen.
Beading Time! Ms. Elson moved into a different room this year and this has more space for student activities. Her room has been full of grade 5 students learning and creating their own beadwork. Students love the beading and the safe space of the Wolf's Den with Ms. Elson.
Just in Case – Shortreed participated in our first Emergency Release Drill last week. In this drill, families (or assigned adults), come and sign out their child in a timely and organized manner (in case we had a significant emergency). Thank you so much to our grade 1 families for all their help.
Additional Practice – To help our students with their literacy skills, our team provides some extra support with practice in a small group setting. Focused on our grade 1s, Mrs. Detroy, Mrs. Russell, and Mrs. Tarasoff provide extra support in and out of the classroom on letter sounds/formation along with fundamental reading practice.
A Library Performance – Students had a very special Halloween read-aloud performance from our amazing team in the library! Mrs. Kirk and Mrs. Watson performed a reading of a Piggie and Gerald book for a few classes on Halloween!
Division 2 – Awesome to the Core – Ms. Cho's class was working on their core strength last week in PE class, and they likely didn't even know they were doing it! Students got to play "air hockey" against a partner in the gym, BUT they had to stay in the plank position while they were playing. This development of core strength is so important for athletics and overall posture and stability.
Division 4 – Competition and Practice – Mrs. Loverock and Mr. Li's class started using the Mathletics Program last week. In this online platform, students practice math facts and numeracy skills at their level and also have the chance to compete against kids from around the world in some fun math games. Several of our classes use this program for practice during guided math instruction (while the teacher works with small groups).
Division 6 – Elephantastic! Mr. D's class spent some time learning about elephants. They did a Know-Wonder activity in which students collaborated and shared what they already knew, as well as some questions they had about elephants. They then learned more about these fantastic mammals and followed this up by sharing their new learning with some journal writing.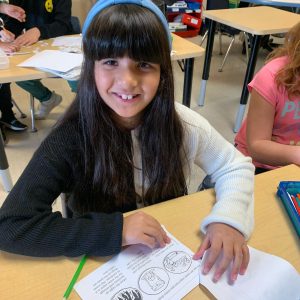 Division 8 – Completing the Cycle – Mrs. Thompson's students have been learning about the Water Cycle in Science. Through knowledge of states of matter as well as how water transitions between gas and liquid (and solid), students can see how this rain just seems to keep on coming here on the West Coast!
Division 10 – Which Zone are YOU in, Jack? Mrs. North's class took some time to review the 4 zones in the Zones of Regulation and the emotions that are involved in each zone. They then combined these zones with Halloween to make some fun Jack-o-lanterns that featured the faces of the different zones!
Division 12 – Local Authors Visit Div 12 – Actually… the local authors are FROM Division 12! A few students from Mrs. Datema's class were writing stories during centre time… so they linked up with Mrs. Kirk and made these stories into official books that can be taken out in our library! Students read them to their grade 1 peers last week. The books are contagious as more students now want to write their own books!
Division 14 – A PJ Day Challenge –  Well, PJ's had nothing to do with the challenge, but it was on PJ day! Students in Ms Anderson's had a limited amount of time and supplies and had to build the longest paper chain. It was great seeing and hearing them explain all the different strategies!
Division 16 – Tell Me a Story! Ms. Gostelow's students have been practicing their skills of re-telling a story they have just read. Using loose parts, which encourages freedom for the creative sides to shine, students showed their versions of the story they read. Students create scenes based on events and the setting of the story.
Division 18 – Take Me Outside – Ms. Bowers' students have been heading outside almost every day to explore, be active, get fresh air, and learn. This class, along with 2000 other classes across Canada, participated in Take Me Outside Day, and their pictures were featured on a Photo Mosaic commemorating the day.
---
The Week Ahead
Monday – Photo Orders Due, PAC Meeting at 6:30
Wednesday – National Indigenous Peoples Day; PAC Hot Lunch
Thursday – Remembrance Day Assembly 11:00
Friday – No school for students.
---
Month at a Glance
Monday, Nov 13 – Schools not in session (Remembrance Day stat)
Thursday, Nov 16 – Photo Retakes
Friday, Nov 17 – Fire Drill 11:00
Friday, Nov 24 – PAC Dollar Sale, PAC Treat Day
Tues-Thurs, Nov 28-30 – Scholastic Book Fair
Wednesday, Nov 29 – Student Inclusive Conference Day (only students who have conferences attend for conference time only – please see email that was sent regarding this day) and evening.
Thursday, Nov 30 – Early Dismissal at 12:33 for Student Inclusive Conferences
Friday, Dec 8 – Santa Breakfast
You can download a list of the important dates in the district for 2023-2024 by clicking here. You can also check out the PAC Facebook Group for a NEW PAC monthly calendar (see below)!
---
Information and Reminders 
Our breakfast program will be up and running on Nov 6! Please register here.

It is a long-standing tradition for schools to support our veterans and the efforts of the Royal Canadian Legion. Once again, this year, our school will be receiving a poppy for every student and distributing them to classes. We will continue to collect funds this year in support of the Legion's Poppy Campaign but kindly ask students and their families to donate online via School Cash Online: https://sd35.schoolcashonline.com/. Please do not send cash or cheques with your child to school. If you need assistance accessing School Cash Online, please contact the school office.

We appreciate your generosity. As always, our school is committed to educating our community about the meaning of the poppy and Remembrance Day.

Friday Dance Sessions starting October 27!  Does your grade 2-5 child love to move? Come to the gym at 7:45 on Friday mornings to learn Bhangra, line dance, and other forms of dance!
" I dance to bring meaning, to bring possibility, and to bring inspiration to others. I dance because it makes me whole, so would you like to try some dance moves with me on Friday mornings!"

Information About School Status During Inclement Weather

Snow closures and power outages are an annual occurrence in Langley School District. So, where do you go to get information about the status of schools during periods of inclement weather? If you are able to access the internet via computer or smartphone, current information about Langley schools can be accessed on all school websites or www.sd35.bc.ca. Updates are also posted to X (formerly Twitter) @LangleySchools and Facebook at www.facebook.com/langleyschooldistrict. If you don't have internet connectivity but your phone is working, call a relative or friend in an area that has not been affected by the storm and ask them to check the district website for you. Local radio stations are also informed of school status in Langley. Tune in to CKWX 1130AM, CKNW 980AM, Country Radio 107.1FM, Pulse 107.7 or CBC 690AM or 88.1FM for updates.

Please note that Langley District schools are all considered 'open' until a decision to close is required. Decisions on school closures are usually made by 6:30am. As always, it is a parent's decision whether to send their child to school based on safety and individual circumstances. If you feel it is unsafe for you or your child to travel to or attend an open school for any reason, please keep your child home and report an absence to the school.

Emergency Procedures & Response

Health and safety are a priority in the Langley School District. Schools follow emergency procedures to ensure students, staff, and any visitors in our schools or sites are safe when unexpected incidents or events happen. At the start of every school year, administrators, teachers, and staff review these emergency procedures. Schools practice a set number of drills annually in preparation for unexpected situations. The District encourages families to become familiar with these staff emergency procedures and the drills that are completed in our schools. You can read them in the Staff Emergency Procedures Poster here or find them posted in areas throughout our buildings. If you have any questions or concerns about emergency procedures, please get in touch with Mr. Wejr or Mrs. Tarasoff. 

As the weather cools, if you are in need of boots and/or a coat, please check out our free Boot and Coat exchange near the office and gym.

Attendance/Absence – If your child is going to be absent, arriving late, away or leaving early due to an appointment, please notify the school of your child's absence by emailing SCEAttendance@sd35.bc.ca or calling 604-856-4167.

Our school parking lot is closed between 8:15-9:00 and 2:00-2:45 (other than daycare, buses, and vehicles for people with a disability). The church across the street graciously allows us to use their parking lot for pick-up and drop-off so please park there or along 28th Ave. Do not park in the "no parking" (coned) areas along the yellow curbs. No u-turns.
West Coast Recess – As we have done over the past few years, every day is an outside day at Shortreed. Unless there is a severe rainstorm (or snowstorm), we will be heading outside. Please make sure your child has a coat to wear outside. We have a good selection of coats in our FREE Coat Exchange near the office, so come by and check them out.
Please bring inside shoes for your child. This helps to keep our school clean and dry. If you need some help with shoes, check out our FREE Shoe and Boot Exchange at the office.
Not Feeling Well? If your child has cold or flu-like symptoms, please keep them home until they have improved and they are well enough to attend school. This will help keep our staff and students as healthy as possible.
---
PAC Info
PAC Dollar Sale is Back!
Our School Dollar Sale is back on Friday, November 24th, from 1pm untill 6pm. CASH ONLY
We appreciate all the help, as every dollar goes to our kids. If you haven't heard about our dollar sale, here is how it all works.

Our school collects donations from the community, and we turn our gym into a big sale. Starting at 1pm, every item is $1, then at 4pm, it goes down to 4 things for $1, and then at 5pm, it goes to 10 things for $1. We have some fantastic things that are donated each year. Please come see what treasures you can find, and invite your family and friends to shop or ask them if they have any donations they would like to give.

We will be accepting donations starting November 6th until the day before the sale; please drop off your donations at the PAC office during school hours ( 9am to 2pm) , if you have lots to donate, please get in touch with the PAC to arrange for a drop-off time at shortreedpac@gmail.com or send us a message.
We have limited storage and volunteers. Please only donate usable items. Many hours are spent organizing and sorting donations, and unfortunately, we end up with items that can not be sold or donated again due to their condition. This includes used candles, used bath products, dirty/stained clothing ( we do not expect clothing to be folded but clean would be nice, if possible tie shoes together), broken toys, and other broken/damaged items. Our volunteers would very much appreciate the help!! With everyone's support, we can make this another great fundraiser.
Please, no large items such as large furniture or mattresses.
Thank you again for supporting our school!
---
Community Events and Information
Check out events and activities around Langley by clicking on the Community Bulletin Board here!
Canadian University Men's Rugby Championship
Trinity Western University is proud to be hosting the Canadian University Men's Rugby Championship. Featuring the top 8 university men's teams from across the country, the CUMRC is being held at the Willoughby Park Stadium from November 15th through 19th. Come watch future stars playing exciting, fast-paced rugby by buying your tickets here.
Erase Family Sessions: Establishing Safe, Caring, and Respectful Digital Communities
Three virtual Erase learning sessions for families will be held on November 8th, 28th, and 30th, focusing on establishing safe, caring, and respectful digital communities. These sessions are best suited for families and youth aged 10 and above. Please see the form here for links to register for these sessions.