Posted: November 20, 2022
Families of Shortreed,
We hope you enjoyed that November sunshine this past weekend!
With our final full week of November coming up, it means we can start thinking about all the excitement of December! We are SO pumped to be able to share that we will once again be having a Shortreed Family Santa Breakfast this year! As we have not had one since 2019, I will share a little bit about this awesome event. On Friday, December 2, Shortreed staff will come in way before school to cook pancakes and sausages for all our students and families! Families are invited to come to the school between 7:00 and 8:45 to enjoy some yummy breakfast (put on entirely by our staff) AND get to see the one… the only… Santa Claus! We only ask that you bring a donation of cash or non-perishable food items that we can donate to Sources Food Bank (cash is preferred as the food bank has triple the buying power that most people have). If you are coming early so you can get to work, we will have our library set up with some holiday movies for kids who will need supervision from 7:30-8:20, Santa does get a big lineup so if you would like your child to have a moment with the jolly old elf, please come earlier so you can leave some time to meet him. Please note that the Santa Breakfast is for Shortreed families only.
We also have our Christmas concerts coming up on Tuesday, December 13th! This is what was shared in the newsletter last week: Students (and staff) are asked to wear their nicest clothes to school that day.  They will not be going outside for recess or lunch, to keep their clothes looking nice.  There will be an afternoon performance for parents at 1:00 pm and then again in the evening at 6:30 pm.  All students are part of the concert and are expected to be at all performances, including the evening one.  Students should arrive back at school at 6:00 pm and go to their classrooms (Divisions 1 & 2 will meet in the library and Div 3 will meet in the MP room). Doors to the gym will open at 6 pm.  Performance will be over by 8 pm.  If students can't make it because of sickness or a very good reason, they need to call the school or give a note to their teacher/Mrs. Muller.
This week, we start our Student Inclusive Conferences (SIC)! Students and staff have been working hard to meet with students and prepare for the conferences. The vast majority of families have signed up for a conference but if you have not, please contact your child's teacher to find a time that works. A reminder that our Student Inclusive Conference day is this Wednesday so there is no school (unless you have a conference and you just come at the scheduled time). Some of our staff worked with Parkside staff on Friday to help them start their journey into SIC which they will be doing term 2. This means that next term, both Aldergrove schools will be doing SIC!
Our Book Fair also runs this week in the gym! Be sure to check it out during the scheduled times (listed below).
As always we share in this newsletter that we, in Langley Schools, do our work, learning, and playing on the unceded ancestral lands of the Matsqui, Kwantlen, Katzie and Semiahmoo First Nations. 
We hope you take a few minutes to read about some of the good things happening at our school as well as some updates for the weeks ahead.
---
Good Things to Talk About
Flyin' In to Impress! Frisbee Rob was here on Thursday to impress us all with his world-record-holding tricks and tips with his frisbees! He dazzled us with tricks like hitting a shot in the basketball hoop from one end of the gym to the other (with a frisbee), juggling, spinning and many different types of throws. He also shared the importance of determination and hard work.
Preparing for Conferences – One of the many things that teachers do in preparation for the conferences is to sit with and chat with their students. During this time, students share some of their strengths and stretches of the students as well as some goals they may have for term 2.
Hearts of Encouragement – Mrs. Soares and Ms. Rowbotham's students practiced their writing by leaving kind words of encouragement on hearts around the school for others to see. Students were all smiles when they were read what was written on the hearts.
Write the Room! Mrs. Southcott's class had some fun "writing the room" last week. As a way to practice, their writing, students had to go around the room and write objects/posters that were placed in the classroom. They also had some fun heading out to the forest in the beautiful weather.
They Are A-Changin! In Science, Mrs. Graham's students were learning about the differences between chemical and physical changes. Students were given a number of examples and had to to discuss and sort them into chemical and physical changes.
A New Pet… Dinosaur??? Mrs. Datema's students were showcasing their exceptional growth in writing and creativity as they wrote about what they were going to do with their pet dinosaurs! Students were each given a different dinosaur and the students had to write about what they would do with their new pet.
Lego Identity – Ms. Cho's class created their own Lego characters to reflect a bit of their identity… and then they added these to their digital portfolios with some self-reflections!  The class has started to explore the platform "Spaces" to help with communicating student learning between school and home.
Knowing Their Place – Although Mr. D was home due to illness last week, this did not stop his class from practicing their math skills. Students reviewed and practiced place value in math and then had some fun (more practice!) with math games that involve place value.
Doin' the Daily 5 – Mrs. Gandouin's students were participating in their Daily 5 literacy activities when Mrs. Tarasoff popped in the class last week. Daily 5 involves 5 literacy stations that students go to – including different reading activities, word study, and writing (with small group instruction with the teacher). Students rotate through these stations to practice their skills.
Movement Skill of the Week! 
Here is a movement skill to try at home to help build leg and core strengths. Check out the video and get LUNGING!
---
The Week Ahead
Monday – Book Fair Starts – class walkthroughs, PAC Meeting at 6:30
Tuesday – Book Fair – 8:50-4:00
Wednesday – Student Inclusive Conferences – no school for students, Book Fair 8:50-4:00, Poinsettia Orders due
Thursday – SIC Evening, Book Fair – 8:50 – 7:30
Friday – Spirit Day – Jersey Day, Hot Lunch, Aboriginal Winter Solstice Family Gathering at LSS
---
Month at a Glance
Friday, Dec 2 – Santa Breakfast 7-9am
Wednesday, Dec 7 – Popcorn Day,
Saturday, Dec 10 – Christmas Parade
Tuesday, Dec 13 – Christmas Concerts!
Wednesday, Dec 14 – PAC Milk and Cookies Day, Pyjama Day
Friday, Dec 16 – Shortreed Carolling Assembly, Red/Green/White Day, Last day before winter break
---
Important Updates and Reminders
For our Student Inclusive Conferences, we will be using a similar document to what we used last year. Here are some screenshots of the document that will be used for Communicating Student Learning. Half of the document will be filled out at or following the conference
Information About School Status During Inclement Weather 

Snow closures and power outages are an annual occurrence in Langley School District. So, where do you go to get information about the status of schools during periods of inclement weather? If you are able to access the internet via computer or smartphone, current information about Langley schools can be accessed on all school websites or 

www.sd35.bc.ca

. Updates are also posted to Twitter @LangleySchools and Facebook at 

www.facebook.com/langleyschooldistrict

. If you don't have internet connectivity but your phone is working, call a relative or friend in an area that has not been affected by the storm and ask them to check the district website for you. Local radio stations are also informed of school status in Langley. Tune in to CKWX 1130AM, CKNW 980AM, Country Radio 107.1FM, Pulse 107.7 or CBC 690AM or 88.1FM for updates.
Please note that Langley District schools are all considered 'open' until a decision to close is required. Decisions on school closures are usually made by 6:30am. As always, it is a parent's decision whether to send their child to school based on safety and individual circumstances. If you feel it is unsafe for you or your child to travel to or attend an open school for any reason, please keep your child home and report an absence to the school.
The Lucky Langley 50/50 – It's a Win-Win! (supporting the Langley School District Foundation)
You could win thousands of dollars while supporting mental wellness, literacy, student opportunities & food programming in our community!
Tickets on sale now! Get yours at https://lsdf.rafflenexus.com/a/digital-ads
If your family needs some support for breakfast before school, our breakfast program runs at 8:20 each day. Students must come every day and be on time. Please register online.
Our school parking lot is closed between 8:15-9:00 and 2:00-2:45 (other than daycare, buses, and vehicles for people with a disability). The church across the street graciously allows us to use their parking lot for pick-up and drop-off so please park there or along 28th Ave. Do not park in the "no parking" (coned) areas along the yellow curbs. No u-turns.
---
PAC Info
Scholastic Book Fair!

Our book fair starts this week. All students will have the opportunity to have a walk though with their classes tomorrow (Monday) and will have an opportunity to have a "class buying time". We will also be open after school and all through Student Inclusive Conference times. We will be open during the following times:
Tuesday from 8:50am – 4:00pm
Wednesday from 8:50am – 4:30pm
Thursday from 8:50am – 7:30pm
Christmas Poinsettias, Wreaths, Planter Sale!
Click 
here
 to order and support our school. More info was sent home with your child last week.
---
Community Events and Information
Check out all the community events and opportunities on the Langley School District Community Bulletin Board!
Aboriginal Winter Solstice Family Gathering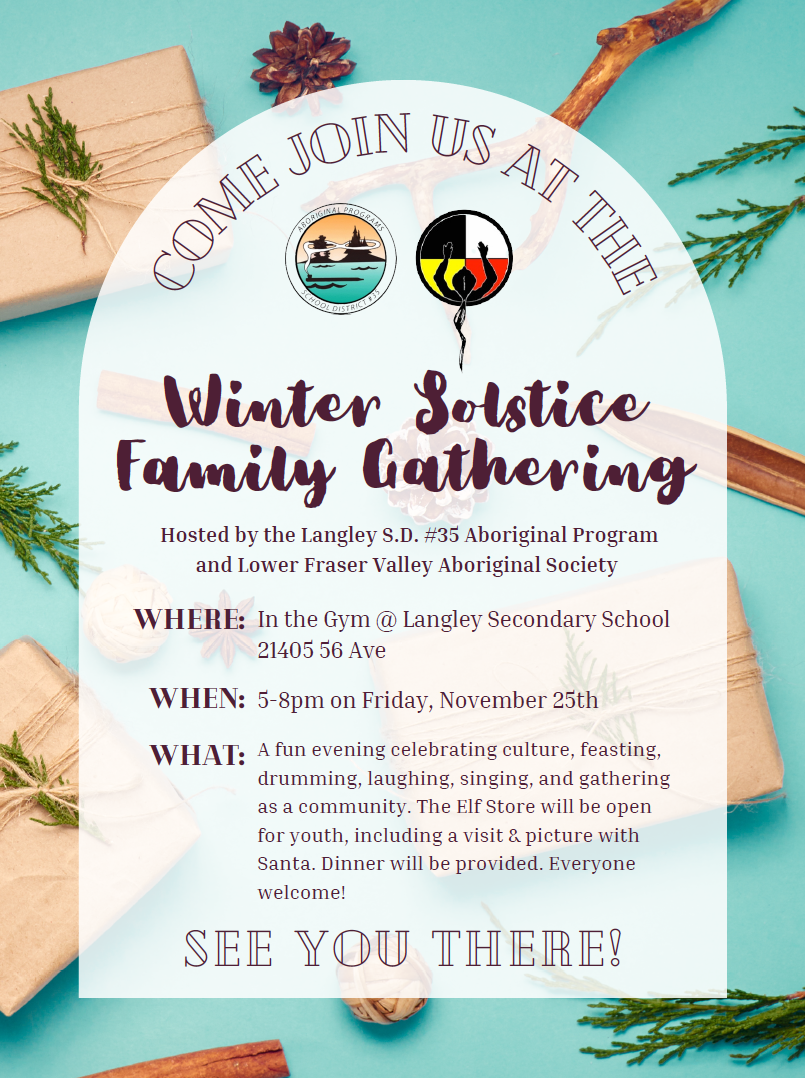 PacificSport Fraser Valley is hosting a Winter Break XploreSportZ program at the Langley Events Centre. As we have had much success in the SD35 area working directly with a variety of schools, we wanted to continue to offer opportunities for the kids of SD35. I have attached our promotional poster as well as listing the program information below.
Location: Langley Events Centre – 7888 200th Street, Langley, BC V2Y 3J4
Dates: December 19-22
Times: 8:30am to 3:00pm
Ages: 7-12 years old
Who: Open to anyone fitting the above age category!
Registration Link: https://www.eventbrite.ca/e/winter-break-xploresportz-coed-ages-7-12-tickets-416339451507