Posted: November 15, 2020
Families of Shortreed,
Happy Diwali! We have had no shortage of teachings and celebrations of the Festival of Light this past week in our classrooms. Be sure to read about a few of them in the "Good Things" portion below.
Thank you to all those who supported and participated in our Virtual Remembrance Day ceremony. Although it looked different than a typical year, we hope it was as meaningful. Stay tuned for information coming out about our Virtual Christmas Concerts this year as well.
I sent a very important email this evening about safety (Covid-related and traffic-related). Please make sure you take the time to read it and put it into practice so we can ensure that our children and school community are as safe as possible.
I made an error on our calendar with regards to term 1 report cards. Please adjust your calendars that term 1 report cards will be coming home on Friday, December 11 (not December 4). Don't forget that next Monday (23rd) is a Design/Assessment and Report Card Prep Day for staff but no school for students.
If you are in need of a coat, boots, or shoes for your child, please come by the gym (exterior doors near the parking lot) after the first bell (8:34) and after the final bell (2:20) and grab some free items. Masks must be worn and physical distancing protocols are in place. This will only be available for Monday, November 16.
Please take a moment to read about a few of the Good Things happening at our school along with some info and reminders for the week and month ahead.
---
Good Things to Talk About
A Time to Remember – Our entire school, along with some members of our community, joined together online to participate in our 2020 Remembrance Day assembly. Students and classes all reflected on and honoured those who served our country (and continue to serve our country), honoured Indigenous Veterans Day, listened to messages about the importance of peace, participated in the moment of silence (after listening to the Last Post), and watched our student wreath bearers lay classroom wreaths. If you would like to watch the assembly, click here (password is: youbelonghere).
Nature Art – Mr. Touzeau's class has been exploring nature art. Starting with an artist study of sculptor Andy Goldsworthy, then working on group outdoor art pieces, and using leaves to create found creatures! Check out more of their creativity on FB and IG.
Divas and Diwali – Diwali is the Indian Festival of Lights and is celebrated by people of different faiths in India and all around the world. One of the ways people celebrate Diwali is by lighting diyas/divas, which are small oil lamps that are placed at the front door and around the house to guide good luck into your home. Mrs. Dhaliwal has helped teach us all about the importance of Diwali and her students made playdough divas, painted clay divas, and learned Bhangra dancing in PE! They even helped teach Ms. Ratzlaff's class to dance Bhangra over the computer through Teams! (check out the videos on FB and IG).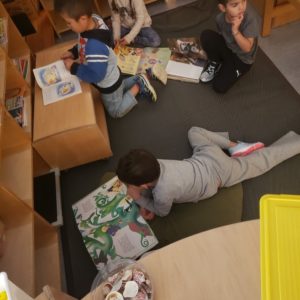 Drop Everything and Read! Ms. Toby's students are working on building up their "read-to-self" reading stamina. Each week, they try to increase the amount of time they can read during their DEAR (Drop Everything and Read" time. They also took a fall walk outside to notice what is happening to the leaves (falling to the ground and changing colours). They explored a fall poem and then created their own fall leaves.
Don't Stop… Be-LEAF-ing  Miss Petersen's class recently read Leaf Man by Lois Ehlert and then went out to the forest and collected their own leaves to build leaf people. They also took time this past week to practice their patterns by colouring Rangoli's – which people use to decorate their homes during Diwali.
Don't Forget About Phonics! Phonics is such an important part of literacy. Mrs. North's students were building words with a variety of letters to build up their skills. They also coloured diyas and rangolis and learned about Diwali, including through stories shared by students.
Sand Rangolis – Ms. Bain's class read Binny's Diwali together to learn more about the Festival of Light. They then used coloured sand to create their own beautiful rangoli designs.
Diwali in Division 13!  In addition to painting clay diyas, Ms. Manhas's students had big plans to create some beautiful rangoli designs with ground chalk in our courtyard but the weather did not cooperate. They even worked with Mr. Troy to clean up all the leaves there! Instead of creating these in the courtyard, they did one together on a large piece of black paper. They also shared this for our staff as a decorative item on the table when we picked up our delicious lunch of Indian food in the staff room on Friday. Ms. Manhas has also been a huge help to our school (along with Ms. Deol and Ms. Randhawa) in helping to spread the important teachings about Diwali throughout Shortreed.
Patterns and Paper Weaving – Ms. Bedard's students first used a template to create a paper weaving pattern inspired by Coast Salish Indigenous weaving. The next step is to use their math skills around patterns to create their own designs for paper weaving before moving onto spool weaving in the coming weeks. Students also created comics to share their learning of Indigenous Veteran and hero, Alex Decoteau who was not only a veteran who bravely fought and died in WWI but also the first Indigenous police officer in Canada and a representative of Canada at the 1912 Olympic Games… and he did all of this after being forced to attend Residential School!
If I Had a Pet Dinosaur… – Mrs. Datema's students have been learning about dinosaurs and using this learning to inspire some writing. Students were given a particular type of dinosaur (ex. triceratops or stegosaurus) and had to write about what they would do if that dinosaur was their pet! I loved reading their ideas and seeing their little creative minds at work!
Extreme Writing!  Mrs. Parsons' class started their 2 weeks of Extreme Writing! Ewach day, they are given an interesting photo as a prompt to start their writing. The kids have done an amazing job of pushing their writing stamina, each day trying to beat their own independent goals. Students have been so excited about it and they've been able to focus well on writing.
Big Moments with Olemaun – Mrs. McDonad's students (Div 4) took some time to reflect and discuss the "big moments" of Fatty Legs. They then used a rubric to help guide their sharing of their big moment from the story. It has been great to see the depth that our students have gone to with reading this story.
Fluency Strips – Mrs. Creech's class continued to work on their reading fluency and expression with their fluency phones but this time using fluency strips that include sight words and sentences geared to their reading abilities. They also played a "Roll and Take" math game to begin grouping by 10s and 1s and made rangoli designs with sand.
Weaving With Yarn – Ms. Rafighi's students were also practicing their patterns but they were using yarn and other materials. They first designed their pattern on paper, then gathered their materials, and then starting weaving! I can't wait to see how these turn out.
Contrasting Experiences – Ms. Fenech's students have recently finished reading Fatty Legs so they took some time to really discuss and share the differences between Olemaun's (residential school) and their own experiences at school. Again, it is so great to see these students also going deep with connections to this story!
---
The Week Ahead
Monday, November 16 – Free Coats, Boots, Shoes – come to the gym after the morning bell (8:34) and dismissal bell (2:20) to see a selection of free used coats, shoes, and boots. Masks are mandatory and physical distancing protocols are in place.
Tuesday, November 17 – Spirit Day – Crazy Hat, Hair, Socks Day – create a crazy hairdo… or wear a crazy hat… and/or throw on some crazy socks for some Shortreed fun!
Friday, November 20 – Payment and forms due for poinsettia and wreath fundraiser (see below)
---
The Month at a Glance
Monday, November 23 – Design and Assessment Day and Report Card Prep – No school for students.
Tuesday, November 24 – Fire Drill #3 at 10:45 and PAC Meeting at 7 pm in the Shortreed Gym.
Friday, November 27 – Pyjama Day!
Wednesday, December 9 – Spirit Day – Backwards Day!
Friday, December 11 – Term 1 Report Cards
---
PAC News
Our school's Book Fair is going online, so save the date! From November 16th to November 25th, discover the newest books hot off the press, from the comfort of your home. Bonus: Every purchase supports our school and keeps kids reading. Take this opportunity to refresh your home libraries, grab some meaningful gifts (always great as a Christmas gift for teachers), or find your next read
!
We miss having Family Nights with everyone, so here's an idea! On November 18th and November 25th from 6-8pm let's all log into the Virtual Book Fair together with our comfiest PJs so we can browse the newest titles. During this time all orders will be FREE shipping. We'll be together but apart.
Don't forget starting on Monday you can invite your friends and family to our book fair.
PAC has some special announcements that will be coming on Monday so stay tuned.
This year our PAC has chosen to do 
Christmas poinsettias,
wreaths, and other plante
rs for winter. The website is up to do online orders with a Credit Card option. You can still pay by cash; (please say your order number and name when handed into the teacher), Cheque; (payable to Shortreed PAC) or EMT; (sent to SRPACFundraising@gmail.com Password Eagles also please indicate what fundraiser it's for). Forms are being sent home Monday. Payments are due November 20 and Pick up is December 4. All pickups are going to be outside in the parking lot with safety protocols in place. Click here to view and order!
Our 
Purdy's fundraiser
 is now OPEN. You can order online or by sending the order form (they will be sent home). Payment options are Credit Card (with online purchases), Cash, Cheque made out to Shortreed PAC or by E-Transfer using the following information (srpacfundraising@gmail.com PASSWORD Eagles
PLEASE NOTE if you use the E-Transfer option you must note what fundraiser this is for and the Child's name and Division. Order forms must be sent in with this option or placed online. The more information you give the easier is made for PAC. Click 
here
 to order!
PAC is excited to share a new campaign: Fundscrip!
Fundscrip is a place to buy gift cards for all sorts of different places (groceries, gas, retail, etc) with a percentage of the purchase going to our school! To get started please click here, register, order, and share with friends and family.

---
Information and Reminders
IMPORTANT SAFETY REMINDER – please do not make any u-turns across the double yellow line along 28th Ave (the road the school is on). Also, please use the crosswalk instead of walking across 28th through traffic. Our kids are watching so please remember to follow pedestrian and driving rules… especially near the school.

Student Safety Around Schools – Weather With the days growing shorter and the weather changing to rain, fog, and frost, Shortreed is reminding all our students to take extra precautions when walking to and from school. Please be aware of your surroundings, walk on the sidewalk and with someone whenever possible, and avoid wearing headphones. We also ask drivers in our school community to be vigilant on our roads. Student safety is our priority. Thank you for your cooperation and support in keeping everyone safe.

If your child will be absent, please email shortreedabsent@sd35.bc.ca or call the school. The Daily Health Check form can be found here.
Information About School Status During Inclement WeatherSnow closures and power outages are an annual occurrence in Langley School District. So, where do you go to get information about the status of schools during periods of inclement weather? If you are able to access the internet via computer or smartphone, current information about Langley schools can be accessed on all school websites or www.sd35.bc.ca. Updates are also posted to Twitter @LangleySchools and Facebook at www.facebook.com/langleyschooldistrict. If you don't have internet connectivity but your phone is working, call a relative or friend in an area that has not been affected by the storm and ask them to check the district website for you. Local radio stations are also informed of school status in Langley. Tune in to CKWX 1130AM, CKNW 980AM, Country Radio 107.1FM, Pulse 107.7 or CBC 690AM or 88.1FM for updates.Please note that Langley District schools are all considered 'open' until a decision to close is required. Decisions on school closures are usually made by 6:30am. As always, it is a parent's decision whether to send their child to school based on safety and individual circumstances. If you feel it is unsafe for you or your child to travel to or attend an open school for any reason, please keep your child home and report an absence to the school.
Please do not park along the yellow line in front of the school. You can use this for a very brief drop-off area in the morning but if you park there, you will be asked to move (and RCMP have said they will ticket people).
Our school parking lot is closed between 8:15-9:00 and 2:00-2:30 (other than daycare, buses, and vehicles for people with a disability). The church across the street generously allows us to use their parking lot so please park there or along 28th Ave. Do not park in the "no parking" (coned) area.
---
Community Events and Information
Check out the Community Bulletin Board for plenty of awesome opportunities for your family.