Posted: May 29, 2022
Families of Shortreed,
Wow… what an exciting week it was! We had our grade 3-5 regional track meet on Wednesday and our PAC Fun Fair on Friday! It was absolutely wonderful to see so many of you at the Fun Fair!
Things are definitely continuing to ramp up at Shortreed as we move into June this week (with 4.5 weeks of school left!). Be sure to read the upcoming dates below to make sure you don't miss out! Don't forget it is Bike/Roll to School Week this week (please see email that was sent on Sunday).
Our grade 5's in Division 1 were back at it last week with their news videos so be sure to check them out below.
As always, we are honoured to work, learn, and play on the unceded ancestral lands of the Matsqui, Kwantlen, Katzie and Semiahmoo First Nations. We are so thankful to be able to walk gently on this land and work to create a place where every child feels safe and every child belongs. 
We hope you take a few minutes to read about some of the good things that have been happening at Shortreed along with some updates for the week and month ahead.
---
Good Things to Talk About
Tons of Fun at the Fun Fair! What an amazing community event!!! It warmed all our hearts to see over 500 Shortreed peeps all together, having a blast at our 2022 PAC Fun Fair. Students got to participate in cake-walks, the legendary jar game, games of skill, rides, face-painting, and a chance to hang out with tortoises, snakes, and geckos (thanks to Wild Education), and play in some HUGE bouncy castles in the gym! Thank you to the organizer Cashmere Roder and EVERYONE who helped make this happen… parents, grandparents, staff, and ACSS students all working together as volunteers for the kids
Huge Success at the Track!  The Regional Track Meet was a great way to finish off the track season with some huge success. Although there were a few regional champs from Shortreed, there were a TON of top 3 finishes. Shortreed excelled across the board, especially in the sprints, long jump, shot put and ball throw! The cheering went to a whole different level of excitement as we moved to the team relay events. The Eagles once again finished strong with almost all teams finishing in the top 3 and our grade 3 girls winning by a significant margin. The smiles, camaraderie, sportsmanship, and cheers were what made the day truly memorable! Thank you to Mrs. Zelter and Ms. Mostat for coaching and to many others who helped in so many different ways.
Kids Helping Kids Clothing Drive. Thank you to everyone who brought in bags and boxes (and more bags) of clothing for the clothing drive. The TOL and COL Firefighters collected these from a number of schools and will use these donations to fund snack programs in our school.
FEELING the Music! Mrs. Creech and the kids had some fun in music last week. They listened to different compositions and discussed the elements of the music that made them feel certain emotions.  The k's expressed their feelings in movement/dance and the other classes reflected with art. In the picture, grade 2 students drew how they felt comparing "Flight of the Bumblebee" with Chopin's "Nocturne No. 20".
Looking at the Solution – Mrs. Parsons' class did some solution experiments this week as they tested out the solubility of different solutes in a water solvent. They also did some colourful artwork to explain their learning (check it out on display in the hallway near Mr. D's class.
B Says… A significant foundation in learning to read is the learning of all the letter sounds. Mrs. Marno works with her class each day on this and I recently popped in to watch her working in small groups to get some targeted practice time on letter sounds. While she worked with a group, the other students read books and participated in some other letter-sound activities.
Collaborative Writing – Mr. D's class was learning about the mountain caribou from Northern BC/Alberta. They then worked together as a class to practice their descriptive words and writing skills by writing a paragraph about these amazing (and endangered) animals.
Excited Journal Writers!  Miss Peterson's students were so excited to show me the journals they have been writing! With daily practice on letters and chunks of sound, students have not only developed their reading skills but now they are using these skills as writers!
Animals of the Pacific Northwest – Ms. McFarland's class was learning about the different animals that are important to the Coast Salish People. They first read the colourful book "Sharing Our World", which spoke about the different animals; they then discussed the animals and coloured them in their own way.
Bridging the Gap in Math – Students in Ms. Holmes' class have been learning different ways to subtract numbers in math. Adults who are quick with numbers often use mental math strategies like bridging to 10. In the "bridging to 10" strategy, we add/subtract to move a number to a multiple of 10 and then go from there. For example, from the picture, if we start with 25-8, it is harder to subtract 8 but we can easily subtract 10. So we add 2 to 8 to get 10 and then what you do to one number, you must do to the other number… so we add 2 to 25 to get 27. 27-10 is 17. As we get older, we use bigger numbers like 94-48 and we do the same thing… add 2 to both numbers and go 96-50=46. Mental math strategies like these help students with math fluency in the long run; for parents who went through school and were successful in math, you likely figured out mental math tricks like this on your own so that is why we now teach kids these strategies early on.
Small-Group Instruction for the WIN! Quite a few of Ms. Coghill's students are really starting to write like grade 1 students! They are writing in their journals many times a week and also getting small group instruction with the teacher at the rainbow table. Because of this small-group instruction and practice, kids are seeing a ton of success!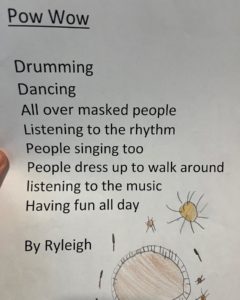 Poet and You Know It! Division 10 students worked on an introductory poetry lesson last week! These poems required no structure, just the chance to play with language and ideas. Some were fun… some were very powerful poems. Topics they chose included culture and identity, being a new student and coming to a new school without a friend, soccer, dreams, ocean, dinosaurs, and even chicken nuggets! Be sure to check out their work on our social media feeds.
Learning From 'Round the World! Div 7 has been continuing their learning about Indigenous peoples from around the world! They recently "travelled" to Chile to learn about the Mapuche Indigenous Peoples.
Commas Matter! There are some great memes out there like the one with the dinosaur saying "Let's eat kids!  vs   Let's eat, kids…    Commas save lives!"  Commas certainly do matter in our writing and Mrs. North's class has been working on where and when to use them. They have also been learning about the circulatory system for science (and health) as they talk about becoming HeartSmart kids!
---
The Week Ahead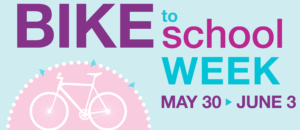 This week is Bike/Roll to School Week!
Monday – Grade 4 soccer after school
Tuesday – Grade 5 volleyball at lunch; Grade 4 soccer after school (final practice)
Wednesday – Club Wednesdays – final day! Talent Show participants meet at lunch.
Friday – Gifts and Gatherings 1:00
---
Month at a Glance
T-Th, June 7-8-9 – iRide for Grades 4-5
Wednesday, June 8 – Kindergarten Welcome Event (afternoon)
Friday, June 10 – Shortreed's Got Talent
Wednesday, June 15 – PAC Meeting 9am, Gr. 5s visit BGMS 9:30-11:30
Friday, June 17 – Bike Parade and Sports Day!
Monday, June 20 – ACSS Grad Walk 1:30
Tuesday, June 21 – National Indigenous Peoples Day
Wednesday, June 22 – Grade 5 Waterpark Celebration
Friday, June 24 – PAC Ice Cream Party
Monday, June 27 – Grade 5 Farewell Assembly (pm)
Wednesday, June 29 – Report Cards and Final Day of School
---
Important Updates and Reminders
Juice Boxes – we strongly encourage families to send their children with water (rather than juice). Juice boxes contain a lot of sugar and really attract ants. Thank you for your help with this.
Transportation  registration  for 2022-23 is now open. Please note the instructions to register are different for each category of rider. To help in our planning and creation of bus routes, registrations must be submitted by May 16 (eligible riders) and June 6 (courtesy riders). The District cannot guarantee approval after the deadline. New and existing riders can find more information on our Transportation Registration webpage here.
Are you moving or leaving the District? The District is reminding families to ensure they have accurate and updated information in the MyEDBC parent portal. Information such as parent/guardian contact details and home address are examples of data required by staff to plan enrolment, transportation services and other programs. Please contact your school office if you have questions about updating student information. The District appreciates your cooperation as this helps plan the next school year.
A reminder that our parking lot is closed for pickup and dropoffs (except for vehicles with a handicap tag, buses, and those picking up/dropping off for daycares).
Are you interested in some tips for reading at home with your child? Click here to check out our Home Reading Website
Attendance – if your child will be away, please email the attendance email (shortreedabsent@sd35.bc.ca) or call the school. If you do not call, you will receive an automated message at about 9:30am.
---
Community Events
Are you looking for events in our community? Take a look at our District's Community Bulletin Board here for some great opportunities for families.
Be sure to check out Family Smart's website for some excellent opportunities coming up this month.