Posted: May 23, 2022
Families of Shortreed,
Well, we finally got some sunshine!!! I hope you had a chance to get outside this past (long) weekend as it looks like it might be pretty limited in the days ahead.
We have an exciting week coming up as close to 60 Eagle Athletes are travelling to McLeod Stadium to compete against students from 6 other schools (LSS and ACSS families of schools) in the 2022 LSS/ACSS Regional Track Meet!  We also have our PAC Fun Fair happening this Friday after school! (see below for more info). Our clothing drive happens on Friday as well (more info below).
Classes have started the audition process for Shortreed's Got Talent; if your child would like to audition, please let your child's teacher know. Thank you to Mrs. Graham, Mrs. Fox, and Mrs. Zelter for leading this.
Class Photos arrived late last week so they will be coming home this week. Some classes are short a few photos so there may be a delay in receiving them. Note that we are not satisfied with the quality of the class photos but we look forward to working with our new photographer, Darby Photos, next year.
Oil those chains and pump those tires! Next week is Bike/Roll to School Week!
With the shortened week, Div 1 did not get a chance to record and share their news videos so we look forward to them this week.
As we approach the one-year anniversary of the discovery of the 215 unmarked graves at the former site of the Kamloops Indian Residential School, it is important that we take a moment to reflect on what we have learned and how we have changed on our journeys of Truth and Reconciliation. Our thoughts go out to all those families affected by the generational trauma of residential schools. 
As always, we want to share that we do our important learning, working, and playing on the unceded, ancestral lands of the Matsqui, Kwantlen, Katzie, and Semiahmoo First Nations. 
Please take a few minutes to read about some of the good things happening at our school along with some updates for the week/month ahead.
---
Good Things to Talk About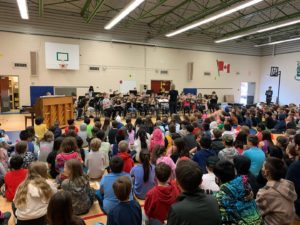 Raptors Rock the House – We had the pleasure of having the grade 6 band from BGMS come and play for our entire school last week; they were also joined by the grade 6-8 choir!  They played beautifully and it was so wonderful to see all the former Shortreed students in the band/choir! Thank you to Mrs. Mills for working so hard with our students to continue to grow a passion for music in our community.
You Belong Here – We always want to make sure we are doing (and learning) all that we can to include every child at our school. On Friday, we learned from our SOGI Team (Mrs. Romas, Ms, Elson, Mrs. Creech, Ms. Campbell, and Ms. Mostat) about the importance of stories and the powerful impact we can have when students, staff, and families in the LGTBQIA2S+ community feel like they are safe and they belong in our school. They shared ideas and resources on how we can strive to make sure ALL students belong and we live our school mantra of "You Belong Here".
Exploring Their Artistic Sides – As we were not able to get a music teacher to replace Mrs. Muller (who is on leave until the end of the year), our newest staff member, Ms. Boehmer has offered to teach our Monday and Tuesday (music) students different opportunities of Visual Arts! We are thankful to have Ms. Boehmer join our staff and share her passion for Visual Arts with our students!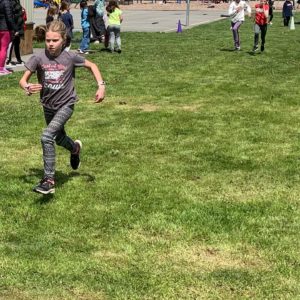 A Gruelling Run – Some students in grades 3-5 challenged themselves by competing in our 800m run on Monday.  This is not an easy run as it is not a light jog and is not a sprint. We had a great turnout with the top 2 (or 3) getting a chance to go to the Regionals.
LBOY Winners – Mrs. Kirk has been helping to promote the reading of the Langley Book of the Year nominees. A few students read close to all of the books so were awarded some gift cards for their accomplishments! Congrats to the three grade 5 students in the picture!
Good Question! If you have ever had a chat with a grade 1 group of students and asked for questions, you know how it can be a challenge to understand the difference between a question and a comment. Mrs. Datema's students have been learning to ask GOOD questions in class. They have been learning about life on a farm so paused to write down their good questions so they could enhance their learning and focus on what they would love to know!
Mon Autobiographie – Mrs. Parsons' class has been working on their writing… en francais. They recently wrote their own autobiographies in French (that included how to introduce themselves and share their attributes). They then did a self-portrait of them holding the paper!
Mindset – Mrs. Graham's students have been learning about "Growth Mindset" in class; this is an important approach from the research of Carol Dweck that helps people to develop more resiliency and determination in their learning. Students then took a look at their goals from Student Inclusive Conferences and re-wrote them with more of a growth mindset focus. If you would like to learn more about Mindset, check out this short video from educator John Spencer.
Baby Graphs – Mrs. Fox's class has been learning about data collection and graphing. Mrs. Fox tapped into the curiosity and interest of the students and ask them to guess if her baby will be a boy or a girl. They then collected the data and made a graph!
Blast Off! Ms. Kaur's students have been shifting their learning into high gear with their inquiry into the solar system. Students shared many of the questions they had about our solar system (planets, stars, moons, etc) and then learned about all of this together as a class. They also made their own version of the solar system on display outside their classroom!
Comic Books for Buddies – Division 3 was working with Mrs. Kirk in the library last week to create their own comic books to read to their little buddies (using Book Creator). They had criteria for the stories to make sure they created some quality work! They then got to read them to their buddies in Ms. Kaur's class.
National Summer Sport – Do you know what the National Summer Sport of Canada is? Students in Divisions 3 and 4 had a chance to learn from a high school PE teacher about the sport of Lacrosse!  Ms. Dawson, a practicum teacher, volunteered to come to teach the students the basic skills and rules of our National Summer Sport.
Come on, Sunshine! Ms. Bedard's class created some beautiful summer art last week. They used chalk pastels to create a piece, inspired by artist Robin Mead, of colourful landscapes that included the sun, land, and water. Maybe their artwork inspired our sunny weekend!
---
The Week Ahead
Tuesday – Grade 5 Volleyball at Lunch; Track Relay Practices at Lunch, PAC Meeting in library at 7
Wednesday – Grade 3-5 Regional Track Meet at McLeod Park
Friday – Lockdown Drill, Kids Helping Kids Clothing Drive, PAC Fun Fair 3:30-7:30
---
Month at a Glance
M-F May 30-June 3 – Bike/Roll to School Week
Thursday, June 2 – Gifts and Gathering 1pm
T-Th, June 7-8-9 – iRide for Grades 4-5
Wednesday, June 8 – Kindergarten Welcome Event (afternoon)
Friday, June 10 – Shortreed's Got Talent
Wednesday, June 15 – PAC Meeting 9am, Gr. 5s visit BGMS 9:30-11:30
Friday, June 17 – Bike Parade and Sports Day!
Monday, June 20 – ACSS Grad Walk
Tuesday, June 21 – National Indigenous Peoples Day
Wednesday, June 22 – Grade 5 Waterpark Celebration
Friday, June 24 – PAC Ice Cream Party
Monday, June 27 – Grade 5 Farewell Assembly (pm)
Wednesday, June 29 – Report Cards and Final Day of School

---
PAC News
Our AGM is Tuesday at 7 pm in the library. All parents are welcome! We will be voting on our budget for next year, our scholarship recipient, and our 2022-23 Executive team as well.
Nominations are still open for all positions on the Executive! If you have any questions about what's involved please feel free to email shortreedpac@gmail.com
Did you know…
there are lots of ways to be involved that do not involve being on the Executive? Events such as movie nights, book fairs, ice-cream days, etc. Many hands make light work!
you are welcome to bring your toddlers/younger siblings with you to any PAC event you are helping with. We have toys we specifically keep aside for our "PAC Babies" to play with (and suckers to use as incentives if need be )
our Executive group is super friendly and fun! Some amazing friendships have come from volunteering with PAC. We work as a team and no one has to go at it alone
if you aren't able to give up your time to volunteer, that's totally okay! You can just come to a meeting to hear what's being planned and have your voice heard. No one is ever pressured to volunteer.
PAC Fun Fair is coming on May 27th!!!
Our Fun Fair is only a few weeks away. We are looking for volunteers for the day of the fair. We need help at Will Call, Concession, and other stations.

Please take a look at our sign up page and volunteer if you can. There are 1 hour time slots. You can even sign up for two if you're available! A member of the Fun Fair Committee will be at each station and will show you what to do/ be there to help.

The PAC appreciates the Shortreed staff and families at our school. Events like this could not happen without your support. Thank you for your help.

We would also like to thank the students from the High School (ACSS) who volunteer their time to run our Carnival Games and Face Painting.

This year's Fun Fair is going to be great!\

Here is the link to our Volunteer sign up:

Thank you,

Shortreed PAC
---
Important Updates and Reminders
We are participating in this year's Township of Langley Firefighters Kids Helping Kids Clothing Drive. All proceeds will go towards the School Snack Program benefiting Langley Students! Bring your clean, gently used clothing to your school on (or before) May 27th between 7am-10am. Firefighters will pick up our school's clothing donation and have it weighed. The school that collects the most on a pounds-per-student basis will be treated to a BBQ Lunch served by firefighters!
Transportation  registration  for 2022-23 is now open. Please note the instructions to register are different for each category of rider. To help in our planning and creation of bus routes, registrations must be submitted by May 16 (eligible riders) and June 6 (courtesy riders). The District cannot guarantee approval after the deadline. New and existing riders can find more information on our Transportation Registration webpage here.
Are you moving or leaving the District? The District is reminding families to ensure they have accurate and updated information in the MyEDBC parent portal. Information such as parent/guardian contact details and home address are examples of data required by staff to plan enrolment, transportation services and other programs. Please contact your school office if you have questions about updating student information. The District appreciates your cooperation as this helps plan the next school year.
A reminder that our parking lot is closed for pickup and dropoffs (except for vehicles with a handicap tag, buses, and those picking up/dropping off for daycares).
Are you interested in some tips for reading at home with your child? Click here to check out our Home Reading Website
Attendance – if your child will be away, please email the attendance email (shortreedabsent@sd35.bc.ca) or call the school. If you do not call, you will receive an automated message at about 9:30am.
---
Community Events
Are you looking for events in our community? Take a look at our District's Community Bulletin Board here for some great opportunities for families.