Posted: May 1, 2022
Families of Shortreed,
We hope you had a great weekend and enjoyed the little bit of sunshine that was out there! We have had another busy and successful week at Shortreed. Our parent volunteers ran our Book Fair, Track and Field practices started, and students smiled with their classmates as Class Photos occurred. We also heard that the construction over the gym is near completion and should be completed later this week (or early next week).
We sadly had to say farewell to our wonderful admin assistant. Mrs. Molina, as she worked her last day and moves on to her new role at the University of the Fraser Valley. The heavy loss of her leaving was lightened when we learned that Mrs. Engele (pronounced "angle) has accepted the position! She has filled in for Mrs. Molina a few times and has a warm quality and smile that will fit right into our community. Please take a moment to welcome her if you are at the school this week.
To our families who have been celebrating Ramadan this past month, we now wish you Eid Mubarak! Eid is the commemoration of the ending of Ramadan and will happen over the next few days.
As always, we want to acknowledge that we, in Langley Schools, work, learn, and play on the unceded ancestral lands of the Matsqui, Kwantlen, Katzie, and Semiahmoo First Nations. We also acknowledge that Shortreed is on the unceded ancestral lands of the Matsqui First Nation. 
Division 1 has returned to their duties as Shortreed News Reporters so be sure to watch their latest report below. I hope you take a few minutes to read up on some of the good things happening at our school along with some important updates for the week ahead.
C. Wejr
Proud Principal
---
Good Things to Talk About
Our Reporters Are Back!  Check out a few students from Mrs. Parsons' class interview students and share news from around the school. For some reason, it will not embed so please click here to watch!
Back in Person! It felt so great to have our first Slideshow Assembly since November of 2019. We started small with 2 grades coming in per assembly but it was so awesome to have our community back together. Our grade 5s were excited to sit on the benches! Be sure to check out the slideshow that was emailed to you.
Books and More Books! Our 2022 Scholastic Book Fair was a huge success with close to $6000 in sales! Thank you to all those parents who helped volunteer to make it happen and to all those students and families who supported the event. A nice portion of the sales comes to our school in the form of books and money for other PAC projects.
Rolling Like Our SEAs! It is no secret that we have some AHHH-MAZING SEAs at Shortreed. Ms. Morissey was demonstrating how she meets the students at their level and connects with them so well as she took a turn on one of the Shortreed Bikes!
All Hail Soccer! A whole lot of hail and rain didn't stop our dedicated grade 4 soccer players and coaches from working on their "football" skills! On Monday, the skies poured down on the players for about 15 minutes but they stuck with it through the practice and even came out on Tuesday for the next one!
Let It Grow! Ms. Graham, one of our student teachers, has moved from Macrame Club with some grade 5s to a gardening club! Students were busy weeding and mulching the gardens in the courtyard at lunchtime on Thursday. They meet again this Thursday at lunch.
Hitting the Track (and Field) – Lunchtime practices (Wednesdays and Thursdays) have started for grade 3-5 students. Students worked with Mr. Wejr on their shotput and ball throw skills. This week, students will work on some long jump and sprint skills.
Mathlympians in the House! Ms. Graham's (Parsons') class was so pumped to participate in their class Mathlympics on Friday! Students have spent the past 2 weeks creating and preparing math games on the topics covered in class. They had a chance to rotate through the class games and even participate in a Mathlympics medal ceremony.
Spuds in Tubs! Ms. Kaur's class has been learning all about how to plant and grow potatoes! Students put soil in the tubs and then used the seed potatoes to grow some potato plants of their own! They moved them into the courtyard along the sunny side and will now water and watch them grow.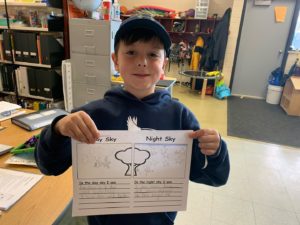 Learning Day and Night – Ms. Chisholm (Mrs. Fox's class) was teaching and exploring the sun and moon (and day/night skies) with her class today. Students observed, reflected, and discussed objects that were in the sky and then wrote about their ideas regarding day and night skies.
Little Researchers – Ms. Cheema (Mrs. Graham's class) worked with her students as they completed research and writing about Orca Whales. Students start with reading and then writing out some "dash facts" about the topic. They then expand these dash facts into writing sentences.
Space Jam!  Ms. Bouvier/Coghill's class celebrated the end of their solar system unit with a space party! Students participated in some writing and learning activities (and had some treats) under the black lights!
Saving Up! One of Mrs. Zelter's favourite parts of her class "buck bucks" is watching students develop their financial literacy knowledge and use the skills taught in class to keep track of their savings and pool their money to make purchases!
Survey Says! Mrs. Creech's class (Div 7) played a fun game on the app "Kahoot" to finish up their biodiversity unit. The teacher creates questions and the app is like a game show style way of having some fun with a review of their learning.
Design Thinking in the Library – A few little engineers from Mr. D's class have been working with Mrs. Kirk to create and design something in their area of interest. Students are creating improved chicken coops, a book drum, a parts catalogue for a cordless phone, and some Lego designs.
Inspired by our Trees – Miss Petersen and Ms. Bedard's classes used the beautiful cherry blossoms around our school as some inspiration for their latest artwork! Be sure to check them out on display outside Miss Petersen's classroom and across from the library for Ms. Bedard's class.
Right Before Their Eyes – Mrs. North's students have been learning about the stages of the water cycle. Last week, they used a jar with a permeable lid and water and ice to observe the water cycle right in front of them!
The Great Divide – Ms. Mostat's students have been learning about division and remainders in math and they seem to love it! Students were working with math manipulatives to understand the idea of putting things into groups when dividing (and seeing how many are left over (remainder)).
---
The Week Ahead
Monday – Fire Drill 10:45, Gr. 4 soccer after school
Tuesday – Gr. 5 volleyball at lunch
Wednesday – Star Wars Day "May the Fourth Be With You", Mrs. Fox and Eco-Tigers field trip to salmon hatchery, Gr. 3-5 Track at lunch, Club Wednesdays start
Thursday – Gr. 3-5 track practice at lunch
Friday – Metaphor (hip hop group) Performance Assembly 9am
---
Month at a Glance
Tuesday, May 10 – Neufeld Orders due 
Thursday, May 12 – Shortreed Grade 3-5 Track Meet
Tuesday, May 17 – BGMS gr. 6 band performs for grades 3-5
Thursday, May 19 – Neufeld orders delivered
Friday, May 20 – Pro-D Day
Monday, May 23 – Victoria Day (no school)
Wednesday, May 25 – Regional Track Meet (grades 3-5 who qualify)
Friday, May 27 – Lockdown Drill 1:45, PAC Fun Fair – 3:30-7:30
M-F May 30-June 3 – Bike/Roll to School Week
Thursday, June 2 – Gifts and Gathering 1pm

---
PAC News
Neufeld Farms Fundraiser
Neufeld Farms Fundraising ordering is only going to be online using this link.
Payment is going to be Pre-Authorized Debit, Cash or Cheque Payable to Shortreed PAC.
Details are online. Please, when handing in payment, include your name, student's name, phone number and order number on a piece of paper so we know how to keep track. Also, if you're emailing the link to others, they click "Customer write in seller" after placing an order. Seller should be the child's full name. Orders are due Tuesday, May 10 and delivery is Thursday, May 19 at 2:30 at the school.
PAC Fun Fair is coming on May 27th!!!
---
Important Updates and Reminders
Are you moving or leaving the District? The District is reminding families to ensure they have accurate and updated information in the MyEDBC parent portal. Information such as parent/guardian contact details and home address are examples of data required by staff to plan enrolment, transportation services and other programs. Please contact your school office if you have questions about updating student information. The District appreciates your cooperation as this helps plan the next school year.
With ongoing construction taking place, we have fewer parking spaces for staff and a need for more parking for workers. This means that more parking spaces along the streets around the school will be occupied. The church is still allowing parents to part there for pick up and drop off.
A reminder that our parking lot is closed for pickup and dropoffs (except for vehicles with a handicap tag, buses, and those picking up/dropping off for daycares).
Are you interested in some tips for reading at home with your child? Click here to check out our Home Reading Website!
Attendance – if your child will be away, please email the attendance email (shortreedabsent@sd35.bc.ca) or call the school. If you do not call, you will receive an automated message at about 9:30am.
---
Community Events
Are you looking for events in our community? Take a look at our District's Community Bulletin Board for some great opportunities for families.
FamilySmart Events

May 7 is about building caring connections between young people and the caring adults in their lives.  We know having caring, connected conversations can have a big impact on the mental health of children and youth.  As Founders of National Child & Youth Mental Health day in 2007, FamilySmart has been leading May 7th and creating opportunities for home, schools, communities and organizations to connect around our "I care about you" message. We hope you will be able to join us.
May 7 day events; to register please go here: familysmart Our webpage dedicated to May 7 and lots of activities and ideas: may7icare
Ready Set Learn – Gifts and Gatherings – Check out this FREE Ready, Set, Learn opportunity for parents and their children aged 0-5!  Parents and children from Aldergrove and beyond can come to any/all of the sessions. At each session, we will honour a certain age group but the engaging learning activities are designed for all children aged 0-5 (and their parents). Register for one more sessions! Check out the flyer below and register online.
Note from C. Wejr – I worked with Sam Collie and she is amazing with kids and families so the sessions should be awesome!