Posted: March 6, 2022
Families of Shortreed,
We hope you had a wonderful weekend in that sunshine! We have entered our final week before Spring Break!
Our teachers have been spending MANY hours preparing for and participating in Student Inclusive Conferences. Thank you to all those who have made it in for a conference. We hope that it has given you a better picture (and a bigger voice) of where your child is at and where they need to go with their learning than what you would get in a traditional report card. I have heard a lot of positive feedback from families as well as some ideas to make things better. After they are completed, families and staff will have a chance to provide feedback on how they have gone as well as some ideas to make them better. I have been able to sit in a few conferences both as a principal and as a parent so I am looking forward to reading the feedback after the conference window is completed (March 10). Stay tuned for a chance to share your thoughts and ideas. A huge thank you to staff for all their extra hours spent at the school to create opportunities for families to attend. A reminder that dismissal is at 1:33 on Wednesday/Thursday this week for conferences. 
We found out on Friday that our heating system within the main school structure (not the portables) is not functional right now. We are waiting for a part and we will not have this for up to a week. Please send your child in a sweater/hoodie to make sure they are warm enough throughout the day.
Mrs. Kirk would love to be able to have students take out books for Spring Break; however, there are a number of students with overdue books. Please make sure all books are brought back this week; those students with overdue books will not be able to take out some new ones to enjoy over the break.
Don't forget that the last day to register for kindergarten is on March 31. This will ensure that you have the best chance of getting a spot at Shortreed.
Our Division 1 newscasters took to the field to report on some key learning happening in Shortreed again this week – be sure to watch it below.
As always, we are honoured to work, learn, and play on the unceded ancestral lands of the Matsqui, Kwantlen, Katzie and Semiahmoo First Nations. 
We hope you take a few minutes to read about a few of the good things happening as well as some updates for the Week and Month ahead.
---
Good Things to Talk About
Shortreed News Reporters – check out the latest from our Division 1 reporters!
Student Inclusive Conferences – Teachers, students, and families have been meeting throughout this past week (and this week) to share where students are at with their learning and where they need to go. Some students have really taken the lead on the sharing and it has been great to hear many parents say they have had a positive experience to better understand their child's learning.
Precipitation in the Forecast – Mrs. Graham/Mrs. Creech's class spent some time predicting how many drops of "water vapour" will suspend in the "cloud" before it gets too dense and we see "precipitation". They also reviewed the different stages of the water cycle.
Blades of Steel! Mr. D and Mrs. Zelter's students hit the ice at our local arena for some good times in skates! We are so lucky to have this facility in our community so our students can walk to and enjoy.
Plus Plus Blocks – Mrs. North's students had some fun creating with Plus Plus Blocks. The little building supplies are in the shape of "2 plus signs" and give kids the option of creating colourful 2D or 3D shapes.
Literacy to Start Each Day – After some soft start activities, Miss Petersen's students move into literacy activities like Word Works Daily and focusing on specific letter sounds. These repetitions help to ensure we get as many kids as possible leaving kindergarten knowing all of their letter sounds.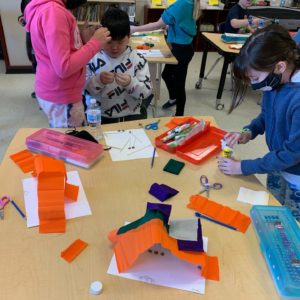 Life in the Desert – Mrs. Tarasoff/Mrs. Creech's class has been learning about the life and culture of Bedouin peoples. To help them share their learning about life in the desert, students had a chance to make their own Bedouin-style tents in class.
Options to Share Their Learning – Mrs. Zelter's class was recently showing their learning with their Biome Inquiry project.  Students have the option to present their learning through a Kahoot (trivia game), drawing or diorama.
Budding Artists at Work – Mrs. Marno recently brought in some art easels for her students and they are loving the chance to show their creative sides. When I popped by the classroom, students were very focused as they worked on their latest paint creation.
Sharing Love Bugs! Ms. McFarland's class has been studying kindness and friendship during the month of February. One of their final projects was creating a "Love Bug" with a special message inside. They will be taking a walk to deliver them to Jackman Manor in order to spread kindness into our local community.
How Big is Your Problem? Ms. Mostat's class has been learning about measuring the size of a problem and how to match the size of a reaction to a problem. They looked at a 5-Point Scale of problems and discussed responses to each level. It's so important to understand our emotions and acknowledge how certain situations make us feel.
Just a Number? Students in Mrs. Datema's class were participating in their "number of the day" math routine. Students were looking at the number 3 and coming up with MANY ways that they can relate to the number 3. Students shared addition and subtraction sentences, number stories, more than, less than, and even some multiplication and "groups of" statements! Understanding how numbers related to each other can help build a strong foundation for math skills.
So Much Growth!  Ms. Coghill and Ms. Bouvier have been so excited to share the growth of the writing skills in the class. Small and large group instruction combined with daily practice has helped to create some awesome little writers in kindergarten.
Buddy Walk for the Win – Ms. Kaur and Ms. Mostat's classes finished the week in the beautiful sunshine with a buddy community walk. Ms. Kaur's class has been so resilient dealing with moving classes and construction noise overhead so it was a great way to finish the week.
Capturing Learning – Learning to take a decent photo is an important skill. Ms. Fenech's students were learning how to capture photos with the iPads as they prepare to learn to use Explain Everything as another way to share their learning.
---
The Week Ahead
Monday – Gr. 5 Basketball 7:45
Tuesday – Gr. 5 Basketball (optional) 8:00; Gifts and Gatherings 1:00 (ages 0-5 and parents – see below for more info); Gr. 5 Basketball Team 2 vs Douglas Park (home game) 3:00
Wednesday – Early dismissal for conferences 1:33
Thursday – Early dismissal for conferences 1:33
Friday – Last day before spring break; Pyjama Day; Release the Rhythm Workshops
---
Month at a Glance
Friday, March 25 – Purdy's Online orders due
Monday, March 28 – Schools Re-Open after Spring Break
Wednesday, March 30 – Gr, 5 Basketball Game – Team 1 Vs James Hill 3:00-4:00
Tuesday, April 5 – Gr. 5 Basketball Playday at ACSS 3:00-5:00
Wednesday, April 6 – Fire Drill 2:00
Monday, April 11 – Purdy Orders PickUp
Tuesday, April 12 – Young Entrepreneur Show
Friday, April 15 – Good Friday (no school)
---
PAC News
Who's ready for some Purdy's? I know we are….. Catalogues will be coming home next week. They are really pushing to move to online ordering so check out this link and order online. The catalogues do not have order forms anymore if you need a paper form please email shortreedpac@gmail.com and one will be given to the students. 
Orders are due March 25th and the pick-up date is April 11th.
---
Important Updates and Reminders
Langley Schools are seeking Homestay Families
With ongoing construction taking place, we have fewer parking spaces for staff and a need for more parking for workers. This means that more parking spaces along the streets around the school will be occupied. The church is still allowing parents to part there for pick up and drop off.
A reminder that our parking lot is closed for pickup and dropoffs (except for vehicles with a handicap tag, buses, and those picking up/dropping off for daycares).
Are you interested in some tips for reading at home with your child? Check out our Home Reading Website here!
Attendance – if your child will be away, please email the attendance email (shortreedabsent@sd35.bc.ca) or call the school. If you do not call, you will receive an automated message at about 9:30am.
---
Community Events
Are you looking for events in our community? Take a look at our District's Community Bulletin Board for some great opportunities for families.
Happy March from your Community School Coordinator
Check out this month's newsletter that includes information about spring break camps, a food hub, and more!
Langley Children's Choir is just starting their second term of singing together and new singers from grades 4 – 7 are welcome to try out the choir.  We meet on Tuesdays from 4:30 – 6 pm at Langley Secondary.  Tuition fee is $100 for the remainder of the year (we will finish in May) Please contact pthorpe@sd35.bc.ca for more information.
In The Know!
Aldergrove Minor Baseball – registration is now open and the season starts in April. Click here to register and read more info.
Langley Thunder Box Lacrosse – registration for the 2022 season is open! Click here for more info.
Aldergrove Youth Soccer – 2022 Spring Season
Ready Set Learn – Gifts and Gatherings – Check out this FREE Ready, Set, Learn opportunity for parents and their children aged 0-5!  Parents and children from Aldergrove and beyond can come to any/all of the sessions. At each session, we will honour a certain age group but the engaging learning activities are designed for all children aged 0-5 (and their parents). Register for one more sessions! Check out the flyer below and register here. 
Note from C. Wejr – I worked with Sam Collie and she is amazing with kids and families so the sessions should be awesome!