Posted: June 5, 2022
Families of Shortreed,
Happy June!
We are still waiting for the real June weather to show up but we have been able to spend time outside… even with a little bit of sunshine! Students braved the rain and biked/rolled to school as part of Bike To School Week while the kindergarten crew went to the water park on Friday and there was as much falling from the sky as there was coming out of the nozzles at the water park!
June is Pride Month and National Indigenous History Month so it is an important reminder for us to make sure every single student feels like they belong at Shortreed.
The construction crews have moved onto Phase 4 (of 6) of the school which means they have started putting up scaffolding over the K (and K/1) classes. This will continue until the end of the school year so parents of Div 14, 16, and 17 will continue to pick up their children from the area that has been shared by the teacher (and not the outside classroom doors). The good news is that the classes will not need to move!
Students who have been selected for our Shortreed's Got Talent show on Friday will have a rehearsal this Wednesday morning. We cannot wait to see some of our students shine in the show on Friday!
We had our final session for Club Wednesdays this year so I want to say THANK YOU to all the staff for their extra efforts in making this happen! Also, thank you to Mike at Wild Education, Mrs. Macklin, and Mrs. Sherwin for coming in and helping with sessions for Club Wednesdays. These clubs are so important to our school culture and identity so we are so thankful we were able to make it happen before the end of the year!
As we enter the month of June, the summer holidays are just around the corner. Have you considered Summer Session for your kids? There are many classes offered from skill builders to enrichment. Registrations close on June 15th. Summer session information is available at www.sd35summersession.ca. They have also added a PHE session in Walnut Grove that is focused on basketball. Please see info below.
Our grade 5 reporters from Division 1 were cruising the school gathering stories last week so please be sure to watch their video below.
As always, we acknowledge that we are honoured to work, learn, and play on the unceded ancestral lands of the Matsqui, Kwantlen, Katzie, and Semiahmoo First Nations. 
We hope you take a few minutes to get caught up on a few of the good things that have happened at our school this past week!
---
Good Things to Talk About
Shortreed Newscast for last week – Check out the latest edition of Shortreed News from Mrs. Parsons' class.
Bike 2 School Week! Even though the weather wasn't great, we had students take close to 400 bike/roll trips to the school with some doing this each day! Thank you to Cranky's Bike Shop who donated gift certificates and prizes that were given out randomly to students who biked/rolled at least once to school (each time a student did this, their name was entered).
Club Wednesday Finale – As we shared above, this past week was the final week. We have loved the buzz around our school every Wednesday over the past 4-5 weeks and we cannot wait to get this going again in the fall. Be sure to check out all the pictures and videos on social media. We are one of the few schools that do this and Covid really made sure we knew how important Club Wednesdays are to our school and our kids! Thank you again to everyone who helped make it happen.
A Season to Remember – Our grade 4 soccer season wrapped up this past week. This was the first time we have had soccer at Shortreed in MANY years! The students did not have a league to play in and focused on skill development and fun! A huge thank you to Ms. Mostat, Mrs. Littlejohn, Mrs. Baker, and Mrs. Zelter for their coaching efforts.
Grade 5 Basketball Wrap Up – Our grade 5 basketball team finally had a chance to have their pizza party and shooting contest on Friday. Mr. Hunter stopped by to receive his coaching gift from the kids and the students enjoyed competing and cheering each other on in the shooting contest. Congrats to our 3 finalists (pictured). Thank you to Ms. Mostat and Mr. Hunter for helping me with coaching this year!
Poets and Pilots! Mrs. Tarasoff and Mrs. Creech's class has been learning about different kinds of poetry. They have been creating their own poetry book and had a chance to share their poems with each other last week. For ADST, they took some time to design their best paper airplane prototype and then put it to the test with the paper airplane challenge!
Pride Month! Ms. Mostat's class took some time to take a look at the Pride flag and what each colour represents (harmony, life, nature, etc) as well as some other inclusive flags out there. They then made their own rainbows and put them on display in the hall. The class also spent some time tracking how their zones and emotions change throughout the day. They discussed how understanding our zones helps us communicate our needs and feelings.
Learning Through Doing – Our wonderful Aboriginal Support Worker, Ms. Elson, is a master at working alongside her students and teaching them as they participate in meaningful activities. One activity students love to do with Ms. Elson is beading. As they bead together, they enjoy conversations and teach and learn with each other. We love how her room is such a safe and calm place for so many!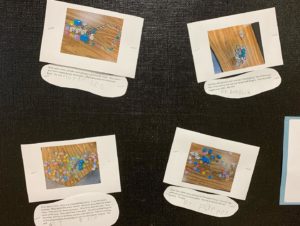 Little Story Tellers – An important component of kindergarten development in writing is oral story-telling. Miss Petersen recently did a Story Workshop in which students had the chance to use loose parts to create a picture. They then told a story inspired by the picture while Miss Petersen typed it out for them. Be sure to check them out on display outside their classroom.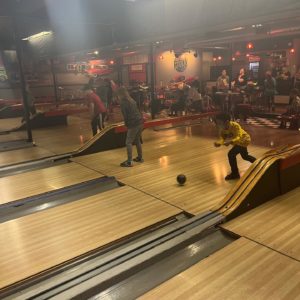 Strike! Students from Divisions 7 and 8 walked to our local bowling alley, Alder Alley, for a fun morning of bowling! We are so thankful to live in a community that has so many resources within walking distance of our school!
Math Fact Fun! Mrs. North's class worked on practicing some addition math facts using the spinner activity. They have to spin twice, read the numbers from the 10-frames, and then add them together on the whiteboard. They also created some beautiful "trees" artwork inspired by Emily Carr.
---
The Week Ahead
Monday-Friday – Operation Waterproof Water Safety Program (grade 5s online) at Al Anderson Pool 9:30-10:30
Monday – BGMS admin and WEB leaders visit our Grade 5s – 1:00
Tuesday-Thursday – iRide Cycling Program (grade 4/5 students); Gr. 5 Volleyball at lunch
Wednesday – Talent Show Rehearsal 9:30-12:00 (approx); Kindergarten Welcome 12:45-4:15
Friday – Shortreed's Got Talent – 12:45-2:25
---
Month at a Glance
Wednesday, June 15 – PAC Meeting 9am, Gr. 5s visit BGMS 9:30-11:30
Friday, June 17 – Bike Parade and Sports Day!
Monday, June 20 – ACSS Grad Walk 1:30
Tuesday, June 21 – National Indigenous Peoples Day
Wednesday, June 22 – Grade 5 Waterpark Celebration
Friday, June 24 – PAC Ice Cream Party
Monday, June 27 – Grade 5 Farewell Assembly (1:15 pm)
Wednesday, June 29 – Report Cards and Final Day of School
---
Important Updates and Reminders
This week is the last week for checking out library books. All books must be back by June 16.
Summer PHE Program – We have an exciting new opportunity for a summer PHE program. The program is focused on PHE: Fundamental Movement Skill development, with a specific focus on basketball. The program will run July 4th – 15th from 9:00am-1:00pm at Walnut Grove Secondary. This opportunity is open to all Langley students in grades 4-7.

The goals of the program are to:
· increase the level of confidence and competence of students in their fundamental movement skills
· use physical activity to support student mental well-being
· identify basketball skills that students can improve upon
· learn new skills
· have fun
Please register at https://www.sd35.bc.ca/schools/summer-session/

Juice Boxes – we strongly encourage families to send their children with water (rather than juice). Juice boxes contain a lot of sugar and really attract ants. Thank you for your help with this.
Transportation  registration  for 2022-23 is now open. Please note the instructions to register are different for each category of rider. To help in our planning and creation of bus routes, registrations must be submitted by May 16 (eligible riders) and June 6 (courtesy riders). The District cannot guarantee approval after the deadline. New and existing riders can find more information on our Transportation Registration webpage here.
Are you moving or leaving the District? The District is reminding families to ensure they have accurate and updated information in the MyEDBC parent portal. Information such as parent/guardian contact details and home address are examples of data required by staff to plan enrolment, transportation services and other programs. Please contact your school office if you have questions about updating student information. The District appreciates your cooperation as this helps plan the next school year.
A reminder that our parking lot is closed for pickup and dropoffs (except for vehicles with a handicap tag, buses, and those picking up/dropping off for daycares).
Are you interested in some tips for reading at home with your child? Check out our Home Reading Website
Attendance – if your child will be away, please email the attendance email (shortreedabsent@sd35.bc.ca) or call the school. If you do not call, you will receive an automated message at about 9:30am.
---
Community Events
Are you looking for events in our community? Take a look at our District's Community Bulletin Board here for some great opportunities for families.
Be sure to check out Family Smart's website for some excellent opportunities coming up this month.
Aldergrove Youth Soccer – Evaluations
Aldergrove Youth Soccer – Fall Registration
National Indigenous Peoples Day celebration!
Langley Children's Choir