Posted: June 20, 2021
Families of Shortreed,
We hope you had a chance to celebrate today with a father and/or someone who plays a fatherly role!
Here we go… our last full week of 2020-2021… and what a year it has been!
For the many changes that have occurred this past year, it was awesome to feel "almost normal" during our 2021 Sports Day on Friday. Everything was the same for the students except for the huge aspect of not having families there. We did our best to run the day without the help of BGMS students and take some photos and videos that were shared on our social media. Search our social media using the hashtag #shortreedsportsday and the pictures and videos will all come up to view. Thank you for sending your kids in their colours and cheering on behind the scenes – we can't wait to have you there next year.
Speaking of next year, it sounds like we are on a path for some normalcy next year. No cohorts and different variables to consider but handwashing and illness protocols (health checks) will remain. We will keep you posted as more updates come out.
Monday is the first day of summer; this also means that Summer Solstice is occurring AND tomorrow is National Indigenous Peoples' Day!  Classes will take some time to reflect, celebrate, and honour our learning and the strength and resiliency of Indigenous Peoples in Canada. Ms. McKay reminded us of a great book by Wab Kinew called "Show the World" that highlights some incredible people, accomplishments, and efforts of some Indigenous Peoples in Canada. There are some read-alouds of this story on Youtube that you can watch with your child.
As always, it is so important that we acknowledge that we are in the Langley School District and we do our important work, learning, and playing on the unceded ancestral lands of the Matsqui, Kwantlen, Katzie, and Semiahmoo First Nations. 
I started an online Indigenous Awareness course last night (it is free this month and I highly recommend it) and it reminded me that most of us are not aware of the definition of the term "unceded". The term is a complex one but, in its simplest form, it means that the land was never given up (or ceded) by First Nation People so colonizers used all sorts of unethical methods to simply take the land. Almost all of BC's land is on unceded ancestral lands as our province does not have treaties like some other parts of Canada. Check out the 101 course linked above to learn about myths, land rights, languages and much more.
---
Good Things to Talk About
Sports Day!  Our staff added some new fun games this year for the students to be active, wear their colours, and have a blast at our Sports Day. The weather was beautiful and there was even a moment where 3 eagles gracefully flew above us to share some love to us on the field. When students started to get a bit fatigued closer to lunch, dance parties started to form! Following the activities in the morning, students were treated to a hot dog lunch and popcorn and then got to watch the grade 5s battle in a Tug of War contents… with Div 1/3 moving on to face the (STILL) undefeated Shortreed Super Staff! Thank you to PAC for donating freezies for all the students to enjoy at recess and a thank you to ALL staff for their efforts in making this day a huge success.
A Huge Opportunity! Earlier this week. we were excited to finally announce that Shortreed is a recipient of this year's Indigo Love of Reading Foundation #LiteracyFundGrant!!! With their help, we've been able to provide vital reading resources to our students to ensure every child has access to diverse and enriching books in our library and classrooms. We were able to spend about 1/3 of the grant this year so we are excited to see where this leads us over the next 2 years. A HUGE thank you to Ms. McKay for her efforts (and determination) in applying for the grant.
Welcoming Future Eagles – Our future kindies were at the school on Wednesday for our 2021 Kindergarten Welcome (Walk-Through) Event. Although families were not permitted to come into the school, they were able to peek into the classrooms, meet some of the teachers and staff, get some Shortreed learning swag and even take home some popcorn!  We can't wait to have these students and families join us in the fall.
Some Lucky Readers – 10 lucky grade 4 students were chosen to receive 10 brand new books from the Langley School District for their home libraries! Students were invited into the library and got to do some awesome book shopping! The best quote was from a student when they shared, "I can't believe this… I've never won anything like this before!!!"
Taking the Learning Outdoors – Our brand new outdoor classroom was installed on Wednesday! A portion of this was paid for by the district and an additional portion was paid for by our PAC! It is a beautiful area where classes can learn together outside. There are benches in a circle along with 4 tables and a bench around the outside. Check it out at the south side (backfield) of our school.
A Great Catch! Many of our classes had a chance to learn from Mackenzie Coyle from Pacific Sport Fraser Valley for our 3rd mentorship session for Fundamental Movement Skills. This session focused on teaching and practicing throwing and catching in a fun PE environment. We are so thankful for our relationship with Pacific Sport and we look forward to this continuing into next year!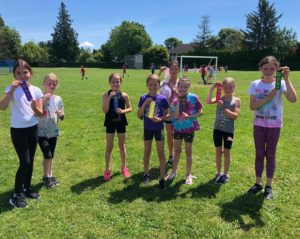 800m Race!  Our grade 4/5s chose to compete in the 800m race on Thursday afternoon. This is a gruelling run as it requires a mix of a paced run with a sprint at the end. We had a huge participation rate with close to 40 grade 4/5s choosing to run. In my 14 years of being part of elementary track and field (in 3 different schools), I have NEVER seen participation like this for the 800m. Congratulations to all those who ran!
Off to Middle!  Our grade 5s walked over to BGMS to visit their new school, play some games, listen to the BGMS Band, and get a BGMS T-shirt! They were not permitted to enter the building due to health protocols but the visit helped to add some excitement to their upcoming transition!
Escaping the Library? Ok, maybe students are not technically escaping the library but they were testing their skills in the library with some challenges as part of their digital Escape Rooms that Ms. McKay created. Students worked in teams to complete library-based challenges to try to "escape the room"!
Positive Words – Mrs. Graham spent some time discussing the many adults that are in our students' lives and different words that could be used to describe them in their writing. Some students chose to share words about their father while others chose to share about the other important adults in their lives.
The Criteria for Success – Mrs. Datema's students were very focused on their journal writing when I popped into the class. Some shared the different success criteria (what is needed to do well with their writing) and how they met the criteria. It is always so great to see how far students can go in one year of writing development!
A Tenth of Their Learning? Ms. Rafighoi's class has been learning about tenths and hundreds decimal place value in math. Students had a chance to practice their learning using worksheets, online with Mathletics, and also get some all-important instruction and feedback in a small group setting!
Camp Day! Division 10 had a fun day of learning with a camping theme! They started the day out "around the fire" and then read with flashlights and sleeping bags. They moved outside to sing camp songs with Mr. T… and even finished the day off with s'mores baked using solar energy!!!
Meeting an Aldergrove Legend – On their community walk last week. Div 4 met Jack. He is 98 years old and encouraged the kids to keep walking every day! He also warned them about some stinging nettles up ahead. (And he said they could take his picture.
) The students were so respectful and took the time to congratulate him on his milestone of 98 years! They later found out that Jack is a WWII veteran and has been married to his first girlfriend for 72 years!!! What an amazing man to meet on their walk.
A Family is a Family – Div 17 wrapped up their identity unit, with the support of Ms. Elson, by creating popsicle stick houses of their unique families and reading the book: A Family Is A Family Is A Family. This is a great book that reminds us all of the many different family dynamics in our community and how they are all equally important to the lives of our students!
Learning to Fly – It was an exciting day in Mrs. Dhaliwal's class last week as they released the butterflies they raised in their classrooms! After watching these insects go through all the stages of the life cycle, they observed them fly way in our courtyard and some flew right out over the roof and into the world beyond!
Analyzing Discriminatory Practices – Ms. Bedard's class has been learning, analyzing, and reflecitng on some different discriminatory acts by the Canadian government in our history. This past week, they explored the Indian Act and Ms. Bedard was able to share some lived experiences of living in a country and being directly affect by the policies embedded within this act. The journey of understanding Truth and Reconciliation this year for many of the students in Division 2 has been truly inspiring!
Supporting the Animals – Mr. D and his class spent some time researching and deciding which organization to give their $470 in recycling funds. They selected Critter Care and LAPS but were having a good debate on how much to donate to each one. The money raised is from the juice boxes and cans that are in the school and brought in to help with the cause.
The Spindle Whorl – Ms. Fenech's class spent Monday morning reading Susan Point's book on the Spindle Whorl and focused on a traditional story from the Central Coast Salish People. They took a deeper look at the traditions of Spindle Whorls and students then focused on designing their own with unique colours that represent them.
---
The Week (and a bit) Ahead
Monday – National Indigenous People's Day
Thursday – Grade 5 Fun Afternoon
Friday – PAC Fun day
Monday, June 28 – Grade 5 Farewell 3:00-5:00
Tuesday, June 29 – Last day, Year-end Assembly, Report Cards, Dismissal at 11:30
---
Updates and Reminders
School Supplies – You can now order supplies online and/or download the lists and shop on your own. All the info is here.
Summer Sessions in Langley Schools – SD35 is offering its Summer Sessions again this summer. Registration started on Monday, May 10 so be sure to register early. You will need your child's Personal Education Number and this can be found on the Report Card or MyEDBC Portal. More info on the Summer Session is here.
Please use the crosswalk to cross over 28th Avenue. We know it saves time to jaywalk but it also puts both pedestrians and drivers in danger. If you have others who pick up/drop off, please let them know.
Updated Daily Health Check Form – Digital and Print Version

Thank you for continuing to conduct a daily health check with your child. It is an important measure to help keep our school community healthy and safe. To better assist families, the Ministry of Education has developed an online K to 12 Health Check which can be found here.

A mobile phone app version can also be downloaded, called K to 12 Health Checker.

Print versions are available in multiple languages on our District website here.
---
Community Events and Information
Summer Reading Club – Crack the Case! Join FVRL's 2021 Summer Reading Club online or in person starting June 21st. There's a club for everyone, with activities, weekly draws and great prizes!
Aldergrove Minor Hockey – registration started last week. Click here to visit their website.
Langley Thunder Lacrosse – visit their website here.
For some great opportunities in the community, click here