Posted: June 19, 2022
Families of Shortreed,
Happy Father's Day to all those dads and father figures out there!
We hope your child(ren) had an awesome time at Sports Day on Friday! It was so wonderful to have families back at Sports Day and to see everyone smiling, dancing, playing, and having a blast… as that is what Sports Day is all about! Thank you to staff for setting the day up, to our WEB Leaders from BGMS for running the stations, to PAC for running the concession, and to all the students and families for all the laughs.
Can you believe we are moving into the final full week of the year??? The weather certainly doesn't make it feel like we should be at the end of June but here we are! We have the ACSS grad walk tomorrow after lunch and this is such an amazing tradition in Langley Schools whereby graduates walk the halls of their former schools and students cheer them on!
Tuesday is National Indigenous Peoples' Day and our school will be showcasing many aspects of Indigenous culture, strength, and history throughout our hallways. Classes will go on a gallery walk to take a look at each division's bulletin board to learn more about language, foods, drumming, sports, artists, and changemakers!
As always, we are honoured to work, learn, and play on the unceded ancestral lands of the Matsqui, Kwantlen, Katzie, and Semiahmoo First Nations.
We hope you take a few minutes to read up on a few of the good things happening in and around our school as well as some updates for the last part of June.
---
Good Things to Talk About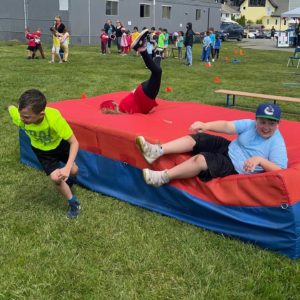 Best Day of the Year??? Sports Day, baby!!! For many of us, it IS the best day of the year! Students wore their team colours and worked together with their teammates to race in various activities like carrying pizza boxes and other items, snooshing, playing lacrosse, carrying water, racing in a potato sack, and running through various courses. The sun was out all morning, the music was pumping, and the smiles could be seen all around the field.
Rollin, Rollin, Rollin! We had a great turnout of students in our Wheels Parade this year. They decorated their bikes and scooters in their team colours… with one student even having his wagon decorated as a plane! Thank you to all those family members (and staff) who helped decorate and keep this fun tradition going.
Pull! Pull! Pull! The grade 5s went against each other in the annual Shortreed Tug of War with Div 1 (and 3) defeating Div 2 (and 3) in the best 2/3 match. They pulled hard in these first matches which clearly tuckered them out because neither class was any match against the Super Staff (even with the 5s having Cst Moe and Mr. Wejr!).
Slam Dunk! We had about 20 brave grade 5s volunteer to be in the Dunk Tank at the end of the day as well. Their classmates had a chance to line up for a throw to see if the students in the tank could last 5 minutes before getting dunked 4 times. Every single student (who volunteered) was dunked 4 times (or more!). Those students who got dunked also had a chance for some revenge on Mr. Wejr as he went in the tank at the end… little did he know, a group of staff members would storm the target to get him dunked within seconds of climbing up there!
Staff vs Students! Our grade 5s have been learning the basic skills of volleyball over the past few months and this past week, finally had a chance for some fun in a game against the Super Staff! It was a fun game with a few rallies and a lot of smiles. Thank you to Mrs. Tarasoff, Ms. Ward, Mrs. Parsons, and Ms. Romas for their help with volleyball!
You BELONG Here – It is our Shortreed mantra but what does it actually mean? Mrs. Parsons' class has been talking about the importance of that sense of belonging and how it relates to Pride Month. A student had the idea to create a rainbow banner by using their handprints… so that is what they did!
All Fun and Games – Wednesday was Game Day in Mrs. Zelter's class! Students set up their games, explained the rules, played the game they created and then discussed what worked well and what things they would change or fix. A lot of parents were able to join in on the fun and see how creative these students are.
Morning Messengers – Ms. Coghill's students have started to write the morning message each day and they love it! Students come in and take turns being the writer for the message about the date and the name of the special helper. They also had some excitement in the class as their baby chicks hatched!
Bringing Back the Language – Mr. D's class has been reading some picture books about Indigenous languages (Nimoshom and His Bus, Stolen Words) and how so much has been lost (and discussed how Indigenous Peoples are working so hard to bring it back!). A student started to draw a fractured heart representing what was lost at residential school and a complete heart from home; Mr. D built off this idea and asked the students to create their own visual art of the impact of residential schools. We love when powerful ideas come from our kids!
Future Raptors – Our grade 5s walked up to their next school last week to learn all about life at BGMS! Students were given a tour and taken on a scavenger hunt by grade 8 WEB leaders and then played some fun games in the gym. Students came back even more excited to become a Raptor next year.
Land Rights – Last week, Ms. Fenech's class learned and discussed the history of Treaties in Canada and how they affected First Nation Peoples. The class then broke into groups and debated… if given the option to sign a Treaty and give up their land and keep the peace… or stay and fight for their rights…..what would they do? When we say "unceded land", this means that local First Nations never actually signed away the land to the crown… and no treaties were ever signed here.
We Built This City! Mrs. Datema's class has been having some fun with some structure-building challenges for ADST. Students had to use some of the resources in the classroom to build tall and sturdy towers and other structures.
Dear Future Grade 5s – Ms. Bedard's class was challenged to pass on some advice to next year's Division 2 class. Students shared the importance of working hard, being respectful, having fun… and buying Ms. Bedard SweetTarts! 😉
A-MAZE-ing – Mrs. North's students were given the challenge to create their own Marble Run Mazes last week. They had to design the maze and then use the resources provided (straws, glue, and scissors) to create the maze. They finished it up by giving them, and their classmate's mazes a try!
Little Engineers – Mrs. Kirk's 'little engineers' group had a chance to share their designs, ideas, and creations in the library with their peers last week. Some students from Ms. Holmes and Mr. D's class have been working with Mrs. Kirk on some creations in the library. Students chose an area of interest and then explored, designed, and created! Students shared their designs and products for things like a chicken coop, a drum book, a parts catalogue for a phone, and many other cool ideas!
All Growns Up! Ms. Holmes' students were excited to be able to head outside and release their butterflies that have grown up right in front of them over the past few weeks. They have been observing and studying the life cycle of these beautiful insects right in the classroom.
---
The Week Ahead
Monday, June 20 – ACSS Grad Walk at 1:15pm
Tuesday, June 21 – National Indigenous Peoples Day
Wednesday, June 22 – Grade 5s at the Waterpark, Gr. 5 (Parents and Students) Open House at BGMS at 6:30pm
Friday, June 24 – Pow Wow dancing in the gym (am); PAC Ice Cream Party (pm)
---
Month at a Glance
Monday, June 27 – Grade 5 Farewell 1:15-2:30 (grade 5s and families invited to stay after school for photos)
Wednesday, June 29 – Report Cards home; Last day of school (dismissal at 11:30)
Friday, July 8 – Last day the office is open
Tuesday, Sept 6 – First Day of school
---
Important Updates and Reminders
U-Connect – Distributed Learning Programs  In recent years, the District has seen growth in programming at U-Connect. U-Connect is our K-12 school offering a distributed learning program which focuses on blended learning. Students in the program attend in person two days per week and learn online at home for the rest of the week. At the grade 10-12 level, there is also a full online option available for those students that thrive in a remote learning environment. The school takes pride in its ability to offer flexibility, connection, and a sense of community. Our staff works diligently with students and families on helping meet the needs of all learners. To learn more about student successes, opportunities and how you can meet your child's education goals, visit the U-Connect website here. To express interest in an information session, please fill out the online form here.

Summer PHE Program – We have an exciting new opportunity for a summer PHE program. The program is focused on PHE: Fundamental Movement Skill development, with a specific focus on basketball. The program will run July 4th – 15th from 9:00am-1:00pm at Walnut Grove Secondary. This opportunity is open to all Langley students in grades 4-7.

The goals of the program are to:
· increase the level of confidence and competence of students in their fundamental movement skills
· use physical activity to support student mental well-being
· identify basketball skills that students can improve upon
· learn new skills
· have fun
Please register at https://www.sd35.bc.ca/schools/summer-session/
Are you moving or leaving the District? The District is reminding families to ensure they have accurate and updated information in the MyEDBC parent portal. Information such as parent/guardian contact details and home address are examples of data required by staff to plan enrolment, transportation services and other programs. Please contact your school office if you have questions about updating student information. The District appreciates your cooperation as this helps plan the next school year.
A reminder that our parking lot is closed for pickup and dropoffs (except for vehicles with a handicap tag, buses, and those picking up/dropping off for daycares).
Attendance – if your child will be away, please email the attendance email (shortreedabsent@sd35.bc.ca) or call the school. If you do not call, you will receive an automated message at about 9:30am.
---
Community Events
Are you looking for events in our community? Take a look at our District's Community Bulletin Board here for some great opportunities for families.
Be sure to check out Family Smart's website for some excellent opportunities coming up this month.
Summer Youth Group – Summer is almost here and we want to add some opportunities for fun! Join us up to four different times for games, activities, and snacks!
1:00-3:00pm for ages 10-15 years
July 14 – Big Games & Making Snacks
July 28 – Tie Dye & Board Games
Aug 11 – Sports Day
Aug 25 – Camp Out Smores & Hot Dogs
Meet outside the front portable at ACSS (closest to 29 Ave)
Registration required: Summer Youth Days Tickets, Multiple Dates | Eventbrite
Aldergrove Youth Soccer – Fall Registration