Posted: June 17, 2019
Families of Shortreed,
We hope you had a wonderful weekend and took some time to celebrate a father (or a few fathers) in your lives. Here we go… the 2nd last "Good Things and the Week Ahead" of the year! We have had another awesome week at the school so please read up on the Good Things as well as take note of the important events coming up this week (especially Grad Walk and Sports Day).
Good Things to Talk About
It's the Climb!  On Wednesday, our school district completed the inspection and moved all the woodchips back so our students had an opportunity to play on the new climbing wall, 2 new standing teeter-totters and 2 climbing archways! We are so thankful for all the fundraising efforts over the past few years to help us get one of the best playgrounds around!
Shortreed's [DEFINITELY] Got Talent!  24 awesome acts performed in front of our entire school and close to 100 family and friends in a packed (and hot) gym on Thursday. The event featured students showcasing their talent as gymnasts (and cheer), singers, musicians, comedians, dancers, and even a hula hooper and a tarantula walker! The acts were supportively judged by 3 "interesting" judges: the crazy cat lady, Wendy (friend of Waldo… whom we could not find), and Old Man Wejr (who got scared of the tarantula and had to leave due to an "accident"… so was replaced by "Cousin Billy Ray"). The event was MC'd by Jessica and Teresa and organized by Mr Touzea and Miss Bain. We are so thankful for everyone's efforts! For a surprise performance of Shortreed's version of Old Town Road featuring "Lil Touz" and "Billy Ray Wejr", watch the video below.
Who Brought the Goat? Mr Wejr made the mistake of bragging to Mrs Romas and Ms Campbell about being the Agassiz Fall Fair "Celebrity" Goat-Milking Champion for 2 years in a row while he was principal at Kent Elementary. He also shared how disappointed he was not to get the threepeat because his goat kicked over his bucket. So what did these two fine ladies do? They somehow organized for a live goat to brought it at the end of the talent show to be milked by Mr Wejr for a little redemption! With the pressure on, unfortunately, this goat knocked over the bucket as well but in the end there was some milk and so redemption occurred! Who finishes off a talent show with a goat-milking demo… when you have Mrs Romas and Ms Campbell on staff… Shortreed does!
A Final Community Lunch  We were treated to our final SEVA BC lunch this past week as the SEVA volunteers all brought in Fresh Slice Pizza for our whole school to enjoy. This group has been incredible to our school with the meals and the mentorship and we are so thankful to have them a part of our school community!
Hello World!  Mrs Rutter's students were treated to an awesome viewing of metamorphosis in action as they watched a butterfly emerge from the cocoon and begin to unfold its wings! The students (and principal!) were so fascinated and excited to see this.
Butterfly Kisses Goodbye Miss Petersen's students had a number of butterflies ready to be released so they went out into our courtyard and said goodbye to their friends as they were released into the trees and up into the sky. These butterflies were later seen on our backfield checking out their new environment.
Future Raptors  Our grade 5 students walked over to the middle school (and secondary school) to learn all about life as a Betty Gilbert Middle School Raptor. Students had a chance to check out the explorations program (arts, tech, trades, athletics) that they get to experience as well as the many positive aspects of middle school that they can look forward to next year. At the end, they were treated to a lunch from the school and the BGMS PAC.
Builders and Designers Students continued to showcase their creativity and building talents in the learning commons area as they worked with Ms McKay with a variety of materials. Students were excited to use Keva planks and other materials to build some awesome huts and towers.
Changing Colours? Miss Petersen's class are looking at plant growth and they have placed some white carnations into coloured water. The students made some bold hypotheses about what will happen!
Learning From the Experts  Mrs Kirk's class has been dipping their toes into the weaving skills needed to convert 1000 plastic bags into a bed. Last week, they had some representatives from the local Bags to Bedzzz group come and work with the students to help them on their journey to creating their first bed! In addition to this, they might have finally reached the "highest point" of their learning in science this week as their phases of the moon science assignments were all displayed… on the ceiling!
Beach Day  Mrs Shears and Ms Coghill's classes have been buddying up all year so they decided to celebrate their fun learning relationship with a trip to Crescent Beach. The weather was beautiful and the kids had a chance to explore the tidal areas for invertebrates, swim in the ocean… and even do a little mudding!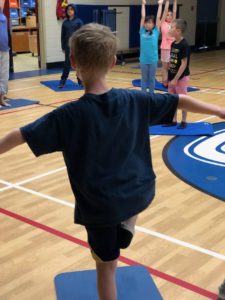 Calming in the Gym Sometimes our bodies need to run around in the gym while other times they need a chance to calm. Ms Rafighi's students used some of their gym time last week to practise balance, core strength, and breathing with some yoga poses. Nameste!
Which Way Do We Go?  We had a number of classes participate in the May Movement Challenge. To celebrate this, Pacific Sport brought in a team to teach our students about map-reading and physical movement fun through some orienteering. Students were given maps, taught how to read them and then sent out to track down the clues and destinations they were looking for. Thank you to Miss Bain for organizing this.
Dear Future Grade 4 Student…  Ms Bedard's students took some time work on their letter-writing skills as they penned a letter to a future grade 4 student. They included some opinions of their year in grade 4 while also adding some (often funny) advice about how to be successful. This was my favourite: "Ms Bedard's not too strict… unless you are in her personal bubble!". Love it!
Learning Local Language  Mr Touzeau's students have been learning the traditional language of First Nation Peoples from Langley through to the Squamish areas. This "downriver language" Hun'qumi'num, was almost completely lost due to residential schools but local elders and Indigenous learners have worked hard to bring it back. Div 5 spent time learning the Hun'qumi'num names for local animals. Check out their learning on display outside their classroom.
When I Grow Up Ms Coghill's students have been reflecting on what profession they might want to have when they grow up. They shared this with their teacher and a photo was taken. Check out the beautiful collage that was the result!
Happy Father's Day  Our teachers and support staff have taken some time to help our students create something special for Father's Day again this year. As this day is not always a positive one for all our families, we work to be inclusive and ensure that each child can share a gift or message with someone important in their lives. Check out the fun "handy" portraits that Mrs Manhas' grade 1 students created for their dads!
---
The Week Ahead
Monday-Tuesday, June 17-18  Summer Book Shopping – every student will get to choose a few FREE books to take home for the summer!
Tuesday, June 18  Grade 5s travel to Cultus Lake Waterslides
Wednesday, June 19 –  ACSS Grad Walk – the 2019 ACSS Graduates will walk through our halls with all our students and staff cheering them on! Come join us to support our grades at 1:30.
Friday, June 21 – National Indigenous Peoples Day – be sure to check out ALL our bulletin boards designed in themes of Indigenous traditions and teachings. These are up all month.
Friday, June 21 – Sports Day. We start with our wheels parade at 8:45 and then move to our stations that go until 12:00. Wear your house team colours and have fun! An email was sent to all families with the updated schedule.
---
Updates and Reminders
All library books were due back in the library Friday, June 14th.  Please bring overdue books back ASAP. For any fines for lost books that are outstanding, please talk to Ms. McKay or send the money to the office.
Bus Registration for 2019-20 is now open. Please click here to register.
School Supplies ordering information was sent home last week. We are once again encouraging you to order online through Staples as this ensures quality school supplies are purchased at a discount price. School supply lists will be up on our website soon.
The Langley School District is once again offering FREE Summer Sessions at Parkside for elementary students in the area. You can register for sessions in literacy, numeracy, outdoor ed, and sports. Registration is first come, first served so register this week! More info can be found here. Note that if you do not register soon, there is a risk that some sessions will be cancelled and not available. 
Take care of yourself… take care of your families this summer. Here are some ideas:
Click here to download a PDF of the above checklist of ideas.
---
The Month at a Glance
JUNE
Tuesday, June 25 – Last day for breakfast program, Grade 5 Farewell 1:30pm
Thursday, June 27 – Last day for students, dismissal at 11:25, assembly at 9am
---
Be sure to check out all the local opportunities for students and families on our Community Bulletin Board