Posted: June 12, 2022
Families of Shortreed,
We had a great week last week as we welcomed or future Eagles to our school with our Kindergarten Welcome event and then finished off last week with a bang… or was it a dive??? Our hearts were all so full after seeing so many Shortreed students show their courage and strengths as they went on stage (or up on the screen) as part of our 2022 Shortreed's Got Talent show. From a beatboxer to a Rubik's Cube master to skaters… do dog trainers… to singers and dancers… the show had it all! Be sure to check out social media feeds for the photos along with a few videos,,, including our own Shortreed (not so) Synchronized Swimming Team!
This week, we have our 2022 Sports Day and Wheels Parade on Friday and you are all invited! Most students were told which team (colour) they are on but if your child does not know yet, they will be told tomorrow. Wheels Parade participants are encouraged to decorate their bikes/scooters in their house team colours (get creative if you can!) and have their wheels in the gym by 8:30 on Friday. Please note that our parade is on the field so most scooter riders choose to walk their scooters for the parade (unless they have larger wheels).  For a schedule of Sports Day, click here.
On Friday afternoon, some of our grade 5's will be braving the DUNK TANK! Some lucky students will have a chance to dunk the students (and maybe even some staff) after the Tug of War (approx 1:30-3:00).
School Supply order information and lists will be coming out this week. You will have the option to order online or buy the supplies yourself.
With only 12.5 days of school left for our kids, we are embracing the moments while also doing our best to keep them calm for some learning as things continue to ramp up for the end of the year.
As always, we are honoured to work, learn, and play on the unceded ancestral lands of the Matsqui, Kwantlen, Katzie, and Semiahmoo First Nations. 
We hope you take a few minutes to read up on a few of the good things that have been happening as well as some updates for the week ahead.
---
Good Things to Talk About
HopOn and Ride! Our grade 4 and 5 students had an awesome time learning and honing their cycling skills with the Cycling BC HopOn Biking program. Two instructors brought in 30 bikes and helmets and pushed the students' skillset to learn how to navigate around and up and over ramps and objects. Teachers worked with new cyclists and got many of them to ride a bike for the first time! A huge thank you to PAC for funding this awesome program.
Shortreed's Got TALENT! The students raised the bar once again this year with our first live talent show since 2019! We had close to 40 acts perform with some sending in video performances and others performing live on stage. It takes a ton of courage to get up and perform in front of 400+ people and they all rocked the house with their talents. We all hope students walked out of that gym holding their heads high after their moment to shine. A special thank you to Mrs. Graham, Mrs. Zelter, and Mrs. Fox for organizing the event!
Welcoming Future Eagles – Our 2022 kindergarten students and their families attended our Kindergarten Welcome event and had a chance to do a walk-through tour of our school, get to know the kindergarten team (and beyond!), receive some swag and popcorn, and have some fun! We cannot wait to get to know these future Eagles next year! A huge thank you to our team for all their efforts in making this year's event another success.
A Walk Through A Book – Students enjoyed the latest Story Walk, "The Party", that Mrs. Kirk set out in the field last week. Students got to head outside, read a page on a board and then walk to the next one to continue the story!  Thank you to Div 3 for helping to set it up.
Operation Waterproof – Our grade 5 students travelled to Al Anderson Pool each day last week to participate in the water safety program called Operation Waterproof. Students learned some basic water safety strategies as well as some cool tips on how to use your clothing as a floatation device as well as an introduction to CPR!
A Visit from BGMS – Principal Mr. Harris, Vice-Principal Ms. Burns, and 4 WEB Leaders from BGMS visited our grade 5s last week and took some time to highlight the opportunities available to them at middle school. The students were pumped to hear about all the clubs and athletics and arts opportunities open to them in grades 6-7-8. Next year's grade 6 class will be the first class to not travel to the ACSS campus for explorations; all their classes will be at BGMS so this is a great step for the kids!
The Beauty of Art – Ms. Boehmer has been covering preps on Mondays and Tuesdays and sharing her passion for visual arts with the students. The Grade 4s have been creating some watercolour and pastel vases. The kindergarten classes painted ladybugs (integrating their garden bugs and seasonal changes units) while the Grade 1s made pigs out of modelling clay (integrating a farm unit). The intermediates also made art with bleeding tissue paper, and the Grade 4s and 5s used this material for a turtle scene. Be sure to check out more pictures on our social media!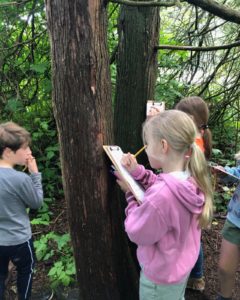 Embracing Change – Ms. Mostat's class spent some time in the forest on Friday observing and making predictions about the seasonal changes of plants and animals. We love learning in the forest!
The Power of Language – Mr. D's class has been talking about the importance of language and how generations of Indigenous Peoples lost their language due to residential schools… AND how so many are working to bring it back! They read "Nimoshom and His Bus" and learned some Cree words from the book.
Calls to Action – Divisions 1 and 2 have been learning about the Truth and Reconciliation Commission's 94 calls to action. They summarized each one and then shared whether it was "not yet started", "in progress", or "completed". Have you taken a look at the 94 calls to action? If not, come and check out the board near our office! To honour National Indigenous History Month, these classes also partnered up to learn and share about many Indigenous Change Makers in Canada. Pop in to see them on display by the library (or online on our Facebook Page).
Harvest Time! Ms. Kaur's class harvested their first round of potatoes that have grown from the Spuds in Tubs program. The students planted these and allowed them to grow in the courtyard over the past few months. Although we have not had a ton of sunshine, the potatoes grew and the students had a chance to dump out the tubs and go through the soil to harvest their first potatoes. The class also had a chance to learn from Ms. Elson about the local traditional local plants and foods…. and then sing a few songs with her!
TIME to Learn – Yes, we have digital clocks everywhere but there is still reason to be able to learn to tell time with an analog clock! Mrs. Tarasoff was working with her class on how to tell time on the analog clocks. Each student had their own clock and had a chance to move the hands around for the stated time.
A Listening Walk – Div.14 took advantage of the gorgeous weather earlier in the week and went on a Listening Walk.  They read the book, "The Listening Walk" and then headed outside to quietly observe. They recorded what they heard using both words and pictures in their journals!
Future's So Bright – After hearing about BGMS, Ms. Bedard's students created an art project of a self-portrait with sunglasses with images of their future! Students had to pick two things they were most excited about and create some imagery to go on the lenses of the glasses.
The Heartbeat of the Earth – As part of National Indigenous History Month, our kindergarten classes are learning about drumming and songs. Ms. Elson joined Mrs. Marno's class in the outdoor classroom last week to teach about the importance of the drum and how it is used in local First Nation culture. All the students had a chance to drum with Ms. Elson and her songs.
Board at School? Mrs. Zelter's class was hard at work on their board game projects last week. They had to create their own games and are looking forward to teaching their families this week during their final board game afternoon.
---
The Week Ahead
All library books are due this week!
Monday – Fire Drill 10:45 (that was rescheduled from last week)
Tuesday – Grade 5 volleyball game at lunch (vs staff!)
Wednesday – PAC Meeting 9:00; Grade 5s visit BGMS at 9:30.
Friday – Sports Day and Wheels Parade in the am, Tug of War and Dunk Tank in the pm.
---
Month at a Glance
Monday, June 20 – ACSS Grad Walk 1:30
Tuesday, June 21 – National Indigenous Peoples Day
Wednesday, June 22 – Grade 5 Waterpark Celebration
Friday, June 24 – PAC Ice Cream Party, Pow Wow Dancing in the gym
Monday, June 27 – Grade 5 Farewell Assembly (1:15 pm)
Wednesday, June 29 – Report Cards and Final Day of School (dismissal at 11:30)
---
Important Updates and Reminders
Transportation Registration 2022-2023  This is a reminder to all families requiring bussing for the 2022-2023 school year to register for transportation. The registration deadline has been extended to Monday, June 13, 2022. Please note the instructions to register are different for each category of rider. To help in our planning and creation of bus routes, registrations must be submitted by the deadline. The District cannot guarantee approval after the deadline. New and existing riders can find instructions and more information on our Transportation Registration webpage here.

Summer PHE Program – We have an exciting new opportunity for a summer PHE program. The program is focused on PHE: Fundamental Movement Skill development, with a specific focus on basketball. The program will run July 4th – 15th from 9:00am-1:00pm at Walnut Grove Secondary. This opportunity is open to all Langley students in grades 4-7.

The goals of the program are to:
· increase the level of confidence and competence of students in their fundamental movement skills
· use physical activity to support student mental well-being
· identify basketball skills that students can improve upon
· learn new skills
· have fun
Please register at https://www.sd35.bc.ca/schools/summer-session/

Juice Boxes – we strongly encourage families to send their children with water (rather than juice). Juice boxes contain a lot of sugar and really attract ants. Thank you for your help with this.
Are you moving or leaving the District? The District is reminding families to ensure they have accurate and updated information in the MyEDBC parent portal. Information such as parent/guardian contact details and home address are examples of data required by staff to plan enrolment, transportation services and other programs. Please contact your school office if you have questions about updating student information. The District appreciates your cooperation as this helps plan the next school year.
A reminder that our parking lot is closed for pickup and dropoffs (except for vehicles with a handicap tag, buses, and those picking up/dropping off for daycares).
Are you interested in some tips for reading at home with your child? Check out our Home Reading Website
Attendance – if your child will be away, please email the attendance email (shortreedabsent@sd35.bc.ca) or call the school. If you do not call, you will receive an automated message at about 9:30am.
---
Community Events
Are you looking for events in our community? Take a look at our District's Community Bulletin Board here for some great opportunities for families.
Be sure to check out Family Smart's website for some excellent opportunities coming up this month.
Summer Youth Group – Summer is almost here and we want to add some opportunities for fun! Join us up to four different times for games, activities, and snacks!
1:00-3:00pm for ages 10-15 years
July 14 – Big Games & Making Snacks
July 28 – Tie Dye & Board Games
Aug 11 – Sports Day
Aug 25 – Camp Out Smores & Hot Dogs
Meet outside the front portable at ACSS (closest to 29 Ave)
Registration required: Summer Youth Days Tickets, Multiple Dates | Eventbrite
Aldergrove Youth Soccer – Evaluations
Aldergrove Youth Soccer – Fall Registration
National Indigenous Peoples Day celebration!