Posted: January 4, 2021
Families of Shortreed,
Happy New Year! We hope you had a wonderful break with your family.
I know that it might be a bit odd for me to share the Good Things when they are from December and we are now in January but there were just so many good things that I feel it is a great way to bring smiles and a positive vibe to the new year!
I want to say a huge thank you to staff and the community for again going above and beyond to make it a December to remember for our students.
Don't forget that you can subscribe to our digital calendar by clicking here.
---
Good Things to Talk About
Like A Bowl Full of Jelly – Well, Shortreed did it… you all brought in WAY more than a sleigh full and that meant that Mr. Touzeau and Mr. Wejr were in for a surprise. The 2 admin found out they had to wear inflatable Christmas suits all day on the Wednesday before the break! Mr. Wejr had to wear a Santa suit and Mr. Touzeau got stuck with being a Christmas tree (with only little eyes to look out that kept fogging up!). Thank you, again, Shortreed for your generous donations to Sources Food Bank!
Stuck Santa – Our students had to get creative to help a stuck Santa! Students from throughout the school came up with ideas (and put them on bricks) about what they would do if Santa got stuck in a chimney. The students eventually filled the entire area with bricks of ideas. Thank you to Mrs. Creech for leading this!!!
Kindness Cocoa Continues! The Kindness Cocoa train continued rolling on as it has moved from Mrs. Graham's class to Ms. McCabe/Mr Touzeau's class and on to Mrs. North's class! Gotta love the smiles that happen with some surprise hot chocolate!
Naturally Beautiful Ornaments – Mrs. Sherwin worked with her Eco-Tigers group to create some ornaments containing pieces of cedar branches and other festive flora. I am sure these looked very festive on the trees of our families!
Venn-derful!  Miss Petersen's class learned about using Venn Diagrams as a visual to compare and contrast items or ideas. They then created one to compare two Gingerbread person stories. They also tried to write in their journals and keep up with their elf, Twinkle, who continued to get into some shenanigans in the classroom.
Get Moving!  The sun peeked out and Mrs. Kirk's class took advantage of this and planned their 5 Finger Circuit! This circuit is a way for the students to use the playground for self-regulation and physical fitness. Students also had a chance to practice their rounding of numbers in math with a "virtual shopping spree" as they looked through newspaper flyers and had to round the prices to the nearest dollar.
Knowing Their Values – Mrs. North's students, with the help of Pete the Cat, had a chance to practice their place value for numeracy. Pete the Cat had numbers around the room and the students had to determine the place values… which is such an important skill in numeracy!
Tickets, Tickets Please – The kindergarten classes were treated to a visit from an engineer… and a very special one… the engineer of the Polar Express! He was able to punch their golden tickets so they could take a trip (with popcorn and a movie) to the North Pole (of course!). Thank you to our K teachers for making this magical day happen again this year.
That's How You Represent! Ms. McCabe's class continued to learn how to represent numbers in multiple ways and practice their skills with less/ more math games. Math games are a great way to increase engagement while still practicing the needed skills.
Grinchy Math – Ms. Bedard's students worked on regrouping with some math puzzles that had to be put together to form the head of Mr. Gringh. Students had to match up the addition questions on one triangle with the sum on another triangle. They also created some massive snowflakes in art… maybe we can thank them for the wonderful white Christmas we had!
Winter Canvas – Ms. Manhas' students painted some beautiful canvas art projects in a winter theme that were later given to parents as Christmas gifts.
Pine Cone Christmas Art – Mrs. Datema's students got creative with some pine cones for their Christmas gift for families. Students decorated pine cones in the design of Rudolph! A perfect personal addition to families' Christmas decor.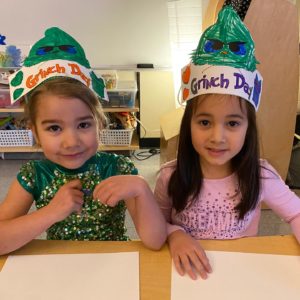 Run, Run Rudolph! Students in Ms. Coghill's class drew some adorable reindeer (Rudolph) art with a directed draw and their own style! Their cohort also celebrated "Grinch Day" on the last day and enjoyed some reading, drawing and video on the theme of the Grinch!
Cohort Collaboration! Mrs. Rafighi and Mrs. Kirk's classes are in the same cohort so they teamed up to create new Shortreed versions of the "12 Days of Christmas". We loved seeing the creative juices flowing as students bounced ideas off of each other for their own versions.
Cohort Read Aloud – Mrs. North and Ms. Bain's classes connect for a cohort read around through Microsoft Teams. Mrs. North first read a Christmas story over video and then in the afternoon, Ms. Bain read one to Mrs. North's class.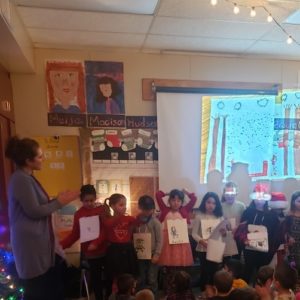 Reindeer Readers' Theatre – Mrs. Creech's class performed their version of a Christmas story to their cohort of Ms. Toby and Ms. Coghill's classes. Students created their own artwork to add to the performance!
Kahoot Carols – Mrs. Parsons had some fun with her class on the day before the break as they played the digital trivia game "Kahoot" with some trivia about Christmas Carols. Students use their iPads to choose the answer and get more points the faster they answer correctly.
Popcorn Friday!  Although we are not able to have "Funtastic Fridays" anymore, Mrs. Barnert and Ms. Macklin came and helped Mrs. Romas to spread some holiday popcorn cheer with popcorn for the whole school!
Gnome Sweet Gnome? Ms. Rafighi's class had the writing prompt of writing a story about their gnome and then the problem it created… and then the solution that involved the gnome. They also created an artistic representation of their gnome.
---
The Week Ahead
Monday – No school
Tuesday – First day back after the break
---
Month at a Glance
Monday, January 11 – Hold and Secure Drill – 10:45
Friday, January 22 – PAC Meeting – 9:00 am (online)
Friday, February 12 – Pro-D Day – no school for students
---
Important Updates and Reminders
If you have any questions about school spirit wear, please email Mr. Wejr.
IMPORTANT SAFETY REMINDER – please do not make any u-turns across the double yellow line along 28th Ave (the road the school is on). Also, please use the crosswalk instead of walking across 28th through traffic. Our kids are watching so please remember to follow pedestrian and driving rules… especially near the school. Also, please avoid U-Turns in the Alderview housing area as many of our kids and families are walking in that lot.
If your child will be absent, please email shortreedabsent@sd35.bc.ca or call the school. Click for Daily Health Check form
Information About School Status During Inclement WeatherSnow closures and power outages are an annual occurrence in Langley School District. So, where do you go to get information about the status of schools during periods of inclement weather? If you are able to access the internet via computer or smartphone, current information about Langley schools can be accessed on all school websites or district website. Updates are also posted to Twitter @LangleySchools and Facebook (Langley School District). If you don't have internet connectivity but your phone is working, call a relative or friend in an area that has not been affected by the storm and ask them to check the district website for you. Local radio stations are also informed of school status in Langley. Tune in to CKWX 1130AM, CKNW 980AM, Country Radio 107.1FM, Pulse 107.7 or CBC 690AM or 88.1FM for updates.Please note that Langley District schools are all considered 'open' until a decision to close is required. Decisions on school closures are usually made by 6:30am. As always, it is a parent's decision whether to send their child to school based on safety and individual circumstances. If you feel it is unsafe for you or your child to travel to or attend an open school for any reason, please keep your child home and report an absence to the school.
Our school parking lot is closed between 8:15-9:00 and 2:00-2:30 (other than daycare, buses, and vehicles for people with a disability). The church across the street generously allows us to use their parking lot so please park there or along 28th Ave. Do not park in the "no parking" (coned) area.
---
Community Events and Information
For some great opportunities in the community, click here.