Posted: January 22, 2023
Families of Shortreed,
Happy Lunar New Year! We are so lucky to have an important population of families in our school who celebrate Lunar New Year… and even better, we continue to learn from them. It is the Year of the Cat in the Vietnamese New Year and the Year of the Rabbit in the Chinese New Year. We spent much of last week focused on learning more about the Lunar New Year celebrations and then held our own celebrations on Friday! See below for some pictures and descriptions.
The School Cash Online link has been updated for Spirit Wear orders so you can now order there more easily. It is still a bit clunky but Mrs. Engele has been working with the district to find the best way to use it for our school gear. Orders are due January 31.
Kindergarten registration continues until March 31. For more info click here.
Friday is another Spirit Day at school as we have our Crazy Headwear Day! Decorate your hair and/or anything that goes on your head!
As always, we want to acknowledge that the important work we do in Langley Schools is done on the unceded ancestral lands of the Matsqui, Kwantlen, Katzie, and Semiahmoo First Nations. 
We hope you take a few minutes to read up on a few of the good things happening at Shortreed, along with some updates and info for the weeks ahead.
---
Good Things to Talk About
Celebrating With a Feast! Our staff was so incredibly honoured and privileged to be treated to a special Vietnamese Lunar New Year feast on Friday. Many of our Vietnamese families worked hard to prepare a dish (or more!) and bring it to the school for our staff to enjoy. We are SO appreciative of the efforts and we are so thankful for this tradition at Shortreed. Chúc mừng năm mới!
Lunar New Year and the Lion Dance – A few of our grade 5s travelled throughout our school to share in the celebration with the Lion Dance. Students dressed as the Lion, along with some who wore the dragon, as they paraded through classrooms with the Lion eating the red envelope hanging from each door. This is a wonderful Lunar New Year tradition at Shortreed!
Traditional Dance in the Gym – Divisions 1, 2, and 3 were completed engaged and had a blast learning and dancing from a guest teacher of traditional Korean Dance. Thank you to Mrs. Choi for helping to make this happen. Their learning continues with another session this week.
Bhangra Time! Ms. Cheema started her Banghra dance group this past week. Some keen students came in early on Wednesday to review some aspects of Bhangra and learn some new moves. Thank you to Ms. Cheema for doing this!
Learning About Tết – Ms. Coghill's class was honoured to have one of their classmate's moms come into the class to teach them all about Tết, the Vietnamese New Year. She brought in some delicious Vietnamese food and shared stories about teachings about Tết. We appreciate all that she did for this class!
Gong xi fa cai! (or Gong hay fat choy!) Earlier in the week, Ms. Cho led the teaching and experience for her class and Division 19 as they learned about Chinese New Year. They learned about traditions and the Chinese Zodiac as well as had a chance to experience some delicious fried rice and wontons! Thank you to Ms. Cho for all her efforts and teachings!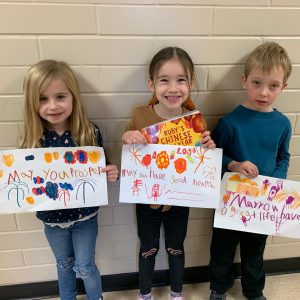 New Year Messages – Mrs. Datema's students read the book "Ruby's Chinese New Year" and then wrote messages to their families, and decorated them with art, to send home to celebrate the new year. We love the colours they and the messages they chose!
New Year Money Bags – Mrs. Choi came into Mrs. Graham's class and taught them about the Korean traditions of Lunar New Year. They made their own "money bags" and wrote their name in Korean. They even ran around at lunch asking their "elders" for coins!
A Festive "Write the Room" – Mrs. Southcott's class did a Lunar New Year version of "write the room" where they had to go around and find words around the room and then read and write them out. All the words were about Lunar New Year. Thank you to her students for wearing their traditional attire too!
She Had a Dream… Shannen Koostachin had a dream for equitable funding and equitable schools for Indigenous students all across Canada. The school she went to was a collection of portables with barely any resources to learn from. Ms. Bedard's class has been learning about Shannen's efforts, the movement she created, and the progress (or lack of) since her dream began. The students created some awesome poetry on the topic as well. One example is pictured but be sure to read more on our social media channels.
A Fun Friday of Learning – Ms. Kaur shared with me some of the learning that her class experienced on Friday. They shared and learned about Lunar New Year and also went on a wonderful community walk in the sunshine! They also learned and practiced with tangrams, which is a great way for students to start to explore fractions and how geometric shapes are related.
The Tarps are Gone! The white shrink wrap that has "decorated" our school for the past 15 months has been taken down as our roof is all sealed up! The construction is in the final stages and the scaffolding will be removed early this week. There are still minor jobs to complete and inspections but the end is in sight!
---
The Week Ahead
Monday – PAC Meeting 6:30pm
Tuesday – Gr. 5 Basketball 7:45, Lockdown Drill 11:30, Gifts and Gatherings 1:00
Wednesday – PAC Popcorn Day
Friday – Crazy Headwear day! Gr. 5 Basketball 7:45, EcoTigers 12:00
---
Month at a Glance
Monday, Jan 30 – Gr. 5 Basketball Game – Team 1 vs Team 2 3:00
Tuesday, Jan 31 – Spirit Wear Orders due
Monday, Feb 6 – Gr. 5 Basketball Game – Team 1 vs Team 2 3:00
Wednesday, Feb 8 – Gr. 5 Basketball Game at Uplands 3:00
Wednesday, Feb 8 – Hot Lunch – A & W
Friday, Feb 10 – Pro-D Day (no school for students)
Monday, Feb 13 – Design and Assessment Day (no school for students)
Tuesday, Feb 14 – Have a Heart Day, Spirit Day – Red/Pink/White Day
Wednesday, Feb 15 – Gr. 5 Basketball hosts Nicomekl 3:00
Friday, Feb 17 – EQ Drill
Monday, Feb 20 – Family Day (schools closed)
Feb 21-24 – Diversity and Respect Week
Tuesday, Feb 21 – Gr 5 Basketball at Douglas Park 3:00
Wednesday, Feb 22 – Pink Shirt Day, Gr. 5 Basketball hosts Parkside 3:00, PAC Popcorn Day
Friday, Feb 24 – Shortreed Spirit Day – Tye Dye and Rainbow Day
---
PAC News
Hot Lunch is up and running and ready for your orders!!!
Returning Parents: Please sign in to your Munch-a-lunch account at https://munchalunch.com/login
New Families: Please go to this link: https://munchalunch.com/schools/Shortreedand click on the "Register Here" button and follow the instructions to create an account.
Wed. Jan. 25 – Popcorn Day (order cut off: Jan. 23)
Wed. Feb. 8 – A&W (order cut off: Jan. 30)
Wed. Feb. 22 – Popcorn Day (order cut off: Feb. 20)
Wed. Mar. 8 – McDonald's (order cut off: Feb. 27)
Wed. Mar. 29 – Tim Bit's Day (order cut off: Mar. 20)
(cash payments for Tim Bit day will be due before spring break)
Payment Options: You can pay online through Munchalunch or you can send in cash or cheques (cheques for orders over $25.00 only) in an envelope with your child's full name and division clearly indicated on the outside.
Late orders cannot be accepted. Extras will be available for purchase on the day of hot lunch/treat days. We cannot guarantee what will be available and cannot hold these items for students.
---
Important Updates and Reminders
Parent/Guardian Information Meeting: Admin Procedure 356

The District invites interested parents/guardians, students, staff, and members of the school community to learn more about Administrative Procedure 356 at an upcoming information meeting. Administrative Procedure 356 is one of many administrative procedures and practices established by the Superintendent of Schools that directs staff on their work. AP 356 was developed to improve the District's "guidance for staff for supporting students who have been suspended as well as developing guidelines for medical exclusions." The meeting is on Monday, January 31, 2023 at 7pm. The location will be communicated to registered attendees prior to the event. To learn more about AP 356 and to attend the meeting, please register by completing an online form on our District website here. See graphic here.

Before/After School Care at Shortreed for 2023!
If your family needs some support for breakfast before school, our breakfast program runs at 8:20 each day. Students must come every day and be on time. Please register here.
Please have your child come prepared for the weather (coats, hood, gloves, boots) as most days are outside days at Shortreed. If you are in need of coats or shoes/boots, come and check out our selection in our Coat/Shoe/Boot exchange!
If your child is sick, please keep them home until the symptoms have improved.
Our school parking lot is closed between 8:15-9:00 and 2:00-2:45 (other than daycare, buses, and vehicles for people with a disability). The church across the street graciously allows us to use their parking lot for pick-up and drop-off so please park there or along 28th Ave. Do not park in the "no parking" (coned) areas along the yellow curbs. No u-turns.
---
Community Events and Information
Check out all the community events and opportunities on the Langley School District Community Bulletin Board by clicking here.
Little Voices at Shortreed
The application portal for the one-time top-up to the Canada Housing Benefit is now open!
The Government of Canada has introduced a new affordability measure to help lower-income renters who are most affected by the rise of inflation and struggling with the cost of rent. The one-time top-up to the Canada Housing Benefit provides eligible applicants with a one-time payment of $500. It is estimated that roughly 1.8 million lower-income renters will be able to benefit from this targeted investment.
How to Apply
Applicants will be able to apply for the one-time top-up to the Canada Housing Benefit on December 12, 2022, up until March 31, 2023, and are encouraged to apply online through CRA My Account, which is the quickest, easiest and most secure way to apply for the benefit. If you don't have a CRA My Account, register now. You do not need to wait for your security code in the mail. You can still access limited services in My Account to apply for this benefit immediately. Applicants can also sign in to their My Service Canada Account to securely access CRA's My Account without having to sign in again or revalidate their identity.
A web form will also be available to submit applications without having to sign in to My Account or My Service Canada Account. Address and direct deposit changes will not be permitted using the web form – if applicants haven't updated their personal and banking information, they should apply through the CRA My Account.
Applicants unable to apply for the benefit online, can call us at 1-800-282-8079 to complete their application with an agent. If you apply through My Account or by phone, and are signed up for direct deposit, you can get your payment within five business days.