Posted: January 15, 2023
Families of Shortreed,
We hope you had a good weekend and took advantage of that Saturday sunshine!
Thank you for sending your child with coats and boots as we do our best to get through the wet weather while also getting some time outside for recess and lunch. Unless it is a downpour, we do head outside for each break.
Construction continues in the final stages of our roof replacement; unfortunately, this means it has been pretty smelly at times so they have made some adjustments to the HVAC so the smells do not come in the school as much. After this week, the shrink wrap should be taken down and the smells will be less of an issue.
We were excited to gather as a school for our January assembly on Friday (our slideshow was emailed out). This Friday, we will celebrate the Lunar New Year with a Lion Dance and other activities throughout the school.
Kindergarten registration across the Langley School District runs from January 16, 2023, thru March 31, 2023. If your child will be five years old by December 31, 2023, you will be able to register through your catchment school. Registration will take place online via email to the school and in-person if you need extra help. Please understand there is no advantage in rushing to register your child in the first few weeks of the registration period. Families have until the end of March to secure a space for their children. For information on what documents you need and instructions on how to register, please visit the District webpage here. To learn more about Kindergarten in the Langley School District, read our brochure here. See the graphic here.
We have figured out our new ordering system for Spirit Wear so watch for this to be sent out soon! You can check out the options here and then watch for the email to order.
As always, we want to acknowledge that we, in the Langley School District, work, learn, and play on the unceded ancestral lands of the Matsqui, Kwantlen, Katzie, and Semiahmoo First Nations. 
We hope you can take a few minutes to read about a few of the good things happening at our school along with some updates for the weeks ahead.
---
Good Things to Talk About
KM Club in the Digital Age – Students were excited to start running in 2023 and this time, recording their laps digitally! Each student has been given a QR code and laminated card so, as they run around the field, they can scan after each lap and it keeps track of their laps, their total km, and the classes' total KM.
Big Feelings! Ms. Cheema's class has some big feelings! They recently read the book, "The Boy With the Big Feelings", discussed emotions and feelings, and then created some awesome self-portraits. Be sure to check them out on display outside their classroom.
Gearing Up for the New Year – Ms. Cho's class has been spending some time diving deeper into traditional Lunar New Year Celebrations. Students learned about the Year of the Rabbit and created important words using traditional Chinese characters.
Big Words – To honour Black Excellence Day (coinciding with Dr. Martin Luther King's Birthday) and talk about their goals for 2023, students in Ms. Kaur's class read "Martin's Big Words" and then came up with their word for 2023. Check their projects out on display outside their classroom.
Polar Bears! Mrs. Rowbotham's class has some fun learning all about polar bears! They then wrote their favourite fact about these massive bears and then created a lovely polar bear art piece that "held" their writing in place. Check them out on the board outside their classroom.
Doing Their Research – To kick their Young Entrepreneur projects into the next gear, Mrs. Parsons' students engaged in some market research with their classmates. They surveyed their peers about colour, size, style, pricing, and other aspects to help create the most effective product.
Written in the Sand – As electricians worked on getting a projector mounted in the classroom, Mrs. Graham took advantage of the sunny weather and headed outside to do some word work practice in the sand! Students practiced various phonics skills using the sand as their paper!
See-Think-Wonder – Mrs. Gandouin's students participated in a See-Think-Wonder thinking routine last week. They looked at a drawing of a child riding a dragon and then took in all the details to answer the questions of what they see (factual), what they think (their ideas), and what they wonder (their questions). They can then use these thoughts as writing prompts too!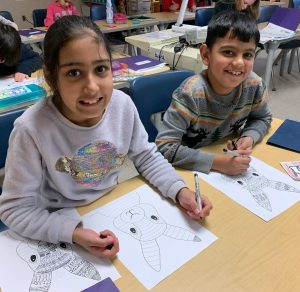 Calming Line Designs – Ms. Johnson featured the year of the rabbit in her student art pieces while also tapping into their learning about lines. Students created rabbit artwork that included sections of different line designs (each section had the same design within it but was different than the other sections). This activity also modelled how artwork and design can be calming for students.
A New Year with New Goals – Ms. Cooper/Loverock's students reflected on some goals they had for 2023. They thought about a word, a place, a quality, and even a song that represents 2023. They put these in a snow globe of sharing and added it to a board outside their classroom that also includes some art of a Happy New Year cat!
A CLIP of Their Learning – Ms. Bedard's students took presenting their learning to a new level recently as they use the Clips app to create projects on the skeletal system. I had a chance to watch a few of them and they are incredible! The students have done a great job making them interesting and factual while showcasing their knowledge of the bones/structure of the human body.
Snowflake Snowmen – Mrs. North's students had some fun creating some wintery scenes that featured a snowman made out of three snowflakes. These colourful winter wonderlands are on display outside their classrooms.
Snowflake Science – In science and math in Miss Petersen's class, they spent some time using loose parts to learn about symmetry and make symmetrical hexagonal snowflakes.
Kicking It Up A Notch – Ms. Mostat's students were loving the sunny January day last week as they headed outside for a fun game of kickball at the diamond near the forest.
---
The Week Ahead
Monday – Kindergarten registration begins (there is no rush to do this right away though)
Tuesday – Gr. 5 Basketball practice 7:45
Friday – Lunar New Year celebrations at Shortreed, Gr. 5 Basketball practice 7:45
---
Month at a Glance
Monday, Jan 23 – PAC Meeting 7pm
Tuesday, Jan 24 – Lockdown Drill 11:30
Wednesday, Feb 25 – Popcorn Day
Friday, Jan 27 – Spirit Day – Crazy Headwear Day
Wednesday, Feb 8 – Hot Lunch – A & W
Friday, Feb 10 – Pro-D Day (no school for students)
Monday, Feb 13 – Design and Assessment Day (no school for students)
Tuesday, Feb 14 – Spirit Day – Red/Pink/White Day
Friday, Feb 17 – EQ Drill
---
Important Updates and Reminders
Free XploreSportZ opportunities are back at Shortreed!
8-Week XploreSportZ – Girls – Aldergrove
When: Tuesdays starting January 17th
Where: Shortreed Community School, Aldergrove
Who: Girls Only | Ages 6-8, 9-12


XploreSportZ Aldergrove – Girls Only | Ages 6-8 – Pacific Sport Fraser Valley




XploreSportZ Aldergrove – Girls Only | Ages 9-12 – Pacific Sport Fraser Valley

8-Week XploreSportZ – All Genders – Aldergrove
When: Wednesdays starting January 18th
Where: Shortreed Community School, Aldergrove
Who: All Genders | Ages 6-8, 9-12


XploreSportZ Aldergrove – All Genders | Ages 6-8 – Pacific Sport Fraser Valley




XploreSportZ Aldergrove – All Genders | Ages 9-12 – Pacific Sport Fraser Valley

Before/After School Care at Shortreed for 2023!
If your family needs some support for breakfast before school, our breakfast program runs at 8:20 each day. Students must come every day and be on time. Please register here.
Please have your child come prepared for the weather (coats, hood, gloves, boots) as most days are outside days at Shortreed. If you are in need of coats or shoes/boots, come and check out our selection in our Coat/Shoe/Boot exchange!
If your child is sick, please keep them home until the symptoms have improved.
Our school parking lot is closed between 8:15-9:00 and 2:00-2:45 (other than daycare, buses, and vehicles for people with a disability). The church across the street graciously allows us to use their parking lot for pick-up and drop-off so please park there or along 28th Ave. Do not park in the "no parking" (coned) areas along the yellow curbs. No u-turns.
---
Community Events and Information
Check out all the community events and opportunities on the Langley School District Community Bulletin Board by clicking here.
Winter Sturgeon Fishing Raffle 2023 
Mai Dreams Realty Group is hosting a raffle to raise funds for Langley School District Foundation and the Food for Thought program. If you like fishing, this is the raffle for you!
Sturgeon Fishing Day Trip
Full day sturgeon fishing trip for you and 3 guests (total of 4 guests) on Francis Mai's personal fishing boat. Fishing trip can be booked for any time of year, the date of the fishing trip is determined by the prize winner. Mai Dreams Group will reach out to book a day with prize winners.
Deadline: Thursday, January 19, 2023 at 11:59 pm
Draw date: Friday, January 20, 2023 at 2:00 pm
2 Winners will be Drawn!
ORDER TICKETS HERE: https://lsdfmaidreamsrealty.rafflenexus.com/
The application portal for the one-time top-up to the Canada Housing Benefit is now open!
The Government of Canada has introduced a new affordability measure to help lower-income renters who are most affected by the rise of inflation and struggling with the cost of rent. The one-time top-up to the Canada Housing Benefit provides eligible applicants with a one-time payment of $500. It is estimated that roughly 1.8 million lower-income renters will be able to benefit from this targeted investment.
How to Apply
Applicants will be able to apply for the one-time top-up to the Canada Housing Benefit on December 12, 2022, up until March 31, 2023, and are encouraged to apply online through CRA My Account, which is the quickest, easiest and most secure way to apply for the benefit. If you don't have a CRA My Account, register now. You do not need to wait for your security code in the mail. You can still access limited services in My Account to apply for this benefit immediately. Applicants can also sign in to their My Service Canada Account to securely access CRA's My Account without having to sign in again or revalidate their identity.
A web form will also be available to submit applications without having to sign in to My Account or My Service Canada Account. Address and direct deposit changes will not be permitted using the web form – if applicants haven't updated their personal and banking information, they should apply through the CRA My Account.
Applicants unable to apply for the benefit online, can call us at 1-800-282-8079 to complete their application with an agent. If you apply through My Account or by phone, and are signed up for direct deposit, you can get your payment within five business days.