Posted: February 5, 2023
Families of Shortreed,
It's been exciting to start to get our school back to its pre-construction state! The scaffolding is down and most of the fencing has been removed. All classes now have access to their exterior doors, making pick-up and drop-off much better!
Although it was a small snowfall this past week, the snow was perfect for packing and creating some snow sculptures on our field! Check out some pictures in the section below.
We got our scooter racks installed! Unfortunately, there was a miscommunication as to what type of racks were ordered so we have to get them shifted (Due to construction, it has been a long time since they were ordered). They will be available soon!
We have some 4-day weeks coming up for students with a Pro-D Day this Friday and a Design and Assessment Day on Monday. Teachers are working hard to teach and assess for term 2 while also starting to prepare for Student Inclusive Conferences that are coming at the end of this month (and early March).
At Shortreed, we take pride in working hard to make sure every child feels like they BELONG at our school. Our teaching staff has been reflecting on the importance of recognizing that we all have different families at our school with various adults embracing the caring parental role in the home. With Family Day coming up on Monday, February 20, it is a great opportunity to be more inclusive and celebrate the diversity of our Shortreed families! As we shift to focusing on celebrating Family Day, we will continue to move away from a class focus on Mother's and Father's Day later in the year. Outside of school, we encourage all families to celebrate in whichever way works for their families; please be mindful and respectful that we have a number of students and families to which some of the traditional parent celebrations do not apply and we want to value, include, and honour ALL our families on Family Day.
We hope you take a few minutes to read about a few of the good things happening in our school these past 2 weeks.
As always, we want to acknowledge that we, in the Langley School District, work, learn, and play on the unceded ancestral lands of the Matsqui, Kwantlen, Katzie, and Semiahmoo First Nations. 
---
Good Things to Talk About
Listening to Learn – In the library with Mrs. Kirk, Grades 3-5 have been listening to the story of Claire and her Grandfather. Claire is learning about her people, the Odawa, from her grandfather who shares about Indigenous contributions. The students are working on listening and recording in pictures and words what they learned from the story.
The arrival of Spring??? Mrs. Rowbotham's class spent Feb 1 talking about Groundhog Day and talking about their preferences for the weeks ahead about if they want more winter or if they prefer spring to come soon. Students drew their groundhogs, shared what they hoped would happen with the seasons, and then backed up their hopes with reasons why they either wanted it to see the shadow or not.
What Are You Up To This Winter? Ms. Kaur's class has been learning about the different ways animals behave to help them get through the cold (and wet) winter months. They have been talking about hibernation, migration, and adaptations and how some animals head into a place to rest, others head to a warmer place, and others change their behaviours. The students each wrote up a summary of their learning and then drew a picture to represent this.
One of the Bravest Little Girls – To honour Black History Month, Ms. Bedard's class has been learning about the impact of courageous individuals like Dr. Martin Luther King Jr. and Ruby Bridges. The students were able to read and reflect on how incredibly brave 6-year-old Ruby was as she faced awful protests being one of the first black students to start to attend a "white school" as schools in the US moved away from segregation.
Little People and Big Words! At Shortreed, we have a goal for all our students to learn all their letter sounds as well as 20 sight words that are common in reading. Each week, Ms. Cheema's class learns a new sight word. They are so proud of their progress in learning to read, spell, and write a few of their kindergarten sight words!
Showing Off Their Number Sense – Mrs. North's students have been practicing how to express numbers in many different ways. When I popped in there on Friday, they were showing. me how to express numbers using tens and ones with addition as well as how to do this using base-10 blocks. This understanding of place value and expression with tens and ones provides a solid platform for continuing to advance their skills with math operations (addition, subtraction, etc).
The Best Part of Me – Ms. Cho's class has been embracing their strengths and writing about the best parts of them. The class read the book "The Best Part of Me" by Wendy Ewald and then chose one body part that represents a strength/gift they have. They wrote some lovely descriptive paragraphs about this; check them out on display in the hallway.
100 Dreams – Mrs. Gandouin's class has started a challenge of writing 100 Dreams for the World. Their class, along with Mrs. Loverock's and Mrs. Graham's, have selected the dreams they have to make the world a better place. They then wrote their ideas on pink hearts and put them on the bulletin boards outside their classroom. They still have a few more to go but the plan is to reach 100 by Valentine's Day.
Some Special Valentine's Cards – Ms. Johnson's students were working on some Valentine's Day cards for some special members of our community. Classes at Shortreed will be continuing the tradition of making cards for the residents of Lion's Grove Estate. We love the connection between our school and local seniors in the community!
Little Label Makers – Mrs. Southcott's students have been learning about labelling and practicing their letter sounds and spelling as they label common items in the class and beyond. The students have been so excited about their new skills! Families can tap into this by helping them label things at home too!
Hitting the Ice – Mrs. Loverock's students travelled to the Aldergrove Arena to hit the ice for a little skating time. The students had a blast either skating or riding around on the seals! We are thankful that we have an arena so close to our school so our kids can experience life on the ice!
Some Proud Writers – Mrs. Datema's crew has come SO far with their writing skills. They recently spent the day working on a writing piece about why they love the snow. They talked about ideas and then got down to writing. They edited and then coloured themselves (even down to the details of their own jackets!) as the person holding the letter that includes their writing. Be sure to check these out on display outside the classroom.
Have A Heart Day – Divisions 1 and 2 have been learning about the inequities of funding between on and off-reserve students in Canada. They also write key thoughts and pieces to their heart puzzle that they put together. They will be sharing some of their learning on February 14 as part of Have a Heart Day. Be sure to check out their deep reflections on display across from the Wolf's Den.
Hello, Salmon! Mr. Davidson's students have been excited to welcome salmon (in the eyed-egg phase) into their class as part of the Salmonids in the Classroom program. Building on this, Mr. D. was teaching the students about the importance of rivers and streams as well as the Riparian Zones around these bodies of water. We look forward to watching the salmon grow as well as the student knowledge of these fish.
Cheerios Matter! Mrs. Zelter's class has been learning about the 3 states of matter in science. To demonstrate their knowledge of the differences between solids, liquids, and gases, students used cheerios to show how the particles appear in each state.
All You Need is a Little Snow! We had some snow that lasted a couple of days… just long enough to build some great snowmen! Some of our primary students created some very "freckly" snowmen as they made them on the woodchips… which mixed in well with the snow to add some real character to their creation!
Buddy Skate – Mrs. Parsons and Ms. Coghill's classes walked over to the arena for some buddy skating last week. It was great to have the older students help with the younger ones as they learn how to navigate this slippery surface with the sharp blades on their feet! Thank you to the parents and staff who helped tie all the skates!
Enter if You Dare – Although we have a "no snowball" rule at Shortreed, it was the perfect snow to have a grade 5 snowball zone. Students had the option to enter and be placed on a team to launch snowballs at each other in a more safe, controlled area.
Simile Stories – Last week, Ms. Mostat's class wrote "Simile Stories" where they used their descriptive and creative writing skills. They also practiced their presenting skills by sharing these stories with their little buddies from Ms. Kaur's class. We loved seeing the interested little buddies with the proud big buddies.
It All Adds Up! Miss Petersen's class has started their addition journey in math! Students created different combinations of paper snowflakes and then added them up for a total to show their new addition skills.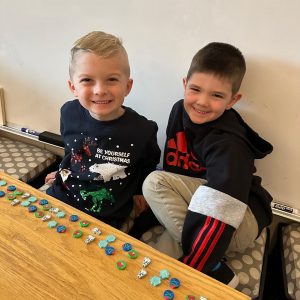 Patterns! Ms. Coghill's students were pumped to show their learning of patterns in the class earlier in the week. Students used all sorts of loose parts to show AB patterns, ABC patterns, and more!
Diving Deeper into Story Writing – Although students often enjoy writing quick stories, Mrs. Graham has been teaching her students about the longer process of story writing. They looked at the story's character development that they worked on from last week and then planned their beginning, middle, and end. We are excited to see the final versions of these stories.
A Movement for Equity – Mrs. Parsons' students have been spending a lot of time learning about Shannen's Dream and the fight for equitable funding for schools across Canada. They shared with me that on-reserve schools across Canada can receive 30-50% LESS per-pupil funding than students in off-reserve schools. Although BC has made gains to make it more equitable, it is still a huge issue in other provinces. Division 1, combined with Division 2, will be making a video about this to share with you as part of Have a Heart Day!
Routines and Repetition – Ms. Anderson has been continuing the focus on phonemic awareness in her class by using the program by Michael Heggerty. Many of our primary classes use this to build skills in the sounds in words and language as this helps with their reading and writing. The daily routine and repetition help to move this learning into long-term memory so they can use it as needed in the days and years to come.
---
The Week Ahead
Monday – Gr. 5 Basketball Game – Team 1 vs Team 2- 2:45-4:00
Wednesday – Hot Lunch, Gr. 5 Basketball Game (Team 2) at Uplands (leave at 2:30)
Friday – Pro-D Day (no school for students)
---
Month at a Glance
Monday, Feb 13 – Design and Assessment Day (no school for students)
Tuesday, Feb 14 – Have a Heart Day, Spirit Day – Red/Pink/White Day
Wednesday, Feb 15 – Gr. 5 Basketball hosts Nicomekl 3:00
Friday, Feb 17 – EQ Drill
Monday, Feb 20 – Family Day (schools closed)
Feb 21-24 – Diversity and Respect Week
Tuesday, Feb 21 – Gr 5 Basketball at Douglas Park 3:00
Wednesday, Feb 22 – Pink Shirt Day, Gr. 5 Basketball hosts Parkside 3:00, PAC Popcorn Day
Friday, Feb 24 – Shortreed Spirit Day – Tye Dye and Rainbow Day
Monday, Feb 27 – Gr. 5 Basketball hosts Simonds
Tuesday, Feb 28 – Gr. 5 Basketball at James Hill
Wednesday, March 1 – Student Inclusive Conference Day/Evening – no school for students (only attend their conference time if it is on this day)
Monday, March 6 – Gr. 5 Basketball Playday (at ACSS)
Tuesday, March 7 – Gr. 5 Young Entrepreneur Fair
Wednesday, March 8 – Hot lunch, Early Dismissal at 1:33
Thursday, March 9 – Early Dismissal at 1:33, last day for Student Inclusive Conferences
Friday, March 10 – Last Day prior to Spring Break
---
PAC News
Most Blueberry Order sheets were sent home last week. Orders are due on Feb 17.
Save the date! Our 2023 Fun Fair is in May 26th from 3:30 to 7:30pm. We have started the planning process and are looking for people who would like to help plan and organize the fair. There are lots of big and small jobs that need to be done before the big day. ( this call out is for volunteer coordinators to help plan the fair. Posts and emails for volunteers to help on the day of the fair will be sent out in April ).
Volunteer coordinator positions that need to be filled:
Each coordinator job has its own detailed TO DO list. This list outlines what needs to be done before the fair, during and after. There will also be a member of our executive team with you ( in most cases) to help. If you are interested please email the PAC at shortreedpac@gmail.com for more information or contact Cashmere Roder.
Hot Lunch is up and running and ready for your orders!!!
Returning Parents: Please sign in to your Munch-a-lunch account at https://munchalunch.com/login
New Families: Please go to this link: https://munchalunch.com/schools/Shortreedand click on the "Register Here" button and follow the instructions to create an account.
Wed. Feb. 8 – A&W (order cut off: Jan. 30)
Wed. Feb. 22 – Popcorn Day (order cut off: Feb. 20)
Wed. Mar. 8 – McDonald's (order cut off: Feb. 27)
Wed. Mar. 29 – Tim Bit's Day (order cut off: Mar. 20)
(cash payments for Tim Bit day will be due before spring break)
Payment Options: You can pay online through Munchalunch or you can send in cash or cheques (cheques for orders over $25.00 only) in an envelope with your child's full name and division clearly indicated on the outside.
Late orders cannot be accepted. Extras will be available for purchase on the day of hot lunch/treat days. We cannot guarantee what will be available and cannot hold these items for students.
---
Important Updates and Reminders
Student Safety and Traffic – please make sure you drive slowly around these school during pick-up and drop-off. With our growing community, more families are dropping off on the blocks around our school community and deriving quickly down streets like 26B Ave. Please be mindful that we have a number of students who walk to/from school so we need to be extra cautious. Also, please pass this info on to those people who pick-up/drop-off but do not receive the newsletters.

Langley Environmental Awareness Program (LEAP) Info Session

Imagine your child's classroom in the open air! Parents/guardians of students wanting to register their child in LEAP (Langley Environmental Awareness Program) for entry into Kindergarten to Grade 4 in September 2024, are required to attend this information session as part of registration. Join us on Tuesday, February 7, 2023 for a LEAP information session. In this session, you will learn more about the program, student and parent/guardian expectations, and have the opportunity to ask staff questions.

Date:       Tuesday, February 7, 2023 

Time:       5:30 pm

Place:      Fort Langley Elementary, School Gym (8877 Bartlett St, Langley)

If you have any questions about the information session or program, please contact Fort Langley Elementary Principal Logan Kitteringham at lkitteringham@sd35.bc.ca  

Parents/guardians with children interested in attending the LEAP program in grades 1 – 4 must apply by contacting the school.

Before/After School Care at Shortreed for 2023!
If your family needs some support for breakfast before school, our breakfast program runs at 8:20 each day. Students must come every day and be on time. Please register here.
Please have your child come prepared for the weather (coats, hood, gloves, boots) as most days are outside days at Shortreed. If you are in need of coats or shoes/boots, come and check out our selection in our Coat/Shoe/Boot exchange!
If your child is sick, please keep them home until the symptoms have improved.
Our school parking lot is closed between 8:15-9:00 and 2:00-2:45 (other than daycare, buses, and vehicles for people with a disability). The church across the street graciously allows us to use their parking lot for pick-up and drop-off so please park there or along 28th Ave. Do not park in the "no parking" (coned) areas along the yellow curbs. No u-turns.
---
Community Events and Information
Check out all the community events and opportunities on the Langley School District Community Bulletin Board by clicking here.
Mary Poppins!
Little Voices at Shortreed