Posted: February 27, 2022
Families of Shortreed,
Can you believe it is already March this week? We had another successful Jump Day on Wednesday! We have had an AWESOME response with all of you raising over $2000 for the Heart and Stroke Foundation!!! There is still time to donate online here.
With the end of term 2 approaching, we have our exciting new journey of Student Inclusive Conferences starting! Some classes have conferences starting tomorrow (Monday) but all classes will be in progress on Tuesday after school. A reminder that school is not in session for students on Wednesday so students, families, and staff can focus on the conferences. If you have booked a conference for Wednesday, your child will come to school for that time. The online signup closes Sunday night at 11:00pm. After that, please contact your child's teacher directly to book an appointment. Please check your email for more info regarding the conferences and the sign-up. I will be popping into a few meetings so I can support the students, families, and staff and get a better understanding of how they are going. A reminder that these conferences are IN PLACE of the traditional term 2 report card so students will not be receiving report cards in March… so be sure to book an appointment for a Student Inclusive Conference!
A question was recently raised by some parents regarding our students' images on social media. The vast majority of families have signed the media release form at the start of the year. This release states that, if agreed, a student's image may be shared in print, online, and through social media (Facebook, Instagram, Twitter, Vimeo, etc). If something is shared on social media, it is a public post and it can be shared by others (to their timeline, in groups, on pages, etc). At Shortreed, we use our newsletters and social media to share positive stories and images of our students (who have media release). If you would like to change your child's media release permission so they are not in our newsletters and on any social media, please contact the school and we will make this change.
Speaking of sharing the positives, our awesome Division 1 News Reporters have created another newscast for you so be sure to watch it below.
As always, we are honoured to work, learn, and play on the unceded ancestral lands of the Matsqui, Kwantlen, Katzie, and Semiahmoo First Nations.  
We hope you take a few minutes to watch and read about some of the good things happening at Shortreed!
---
Good Things to Talk About
Our Latest News Report From Division 1!
Might as Well… JUMP! As shared above, our official Jump Rope for Heart Jump Day was held on Wednesday as classes combined in the gym for jump rope stations as well as many other opportunities to get their heart rates up! Congratulations, Shortreed… you have raised over $2000!!! Incredible! Thank you to Mrs. Fox, Mrs. Zelter, and Mrs. Tarasoff for their help with Jump Day!
Kindness Ninjas – Some sneaky kindness ninjas left these in classrooms for kids to find when they arrived at school yesterday. (Thank you to our student-teacher candidates from the University of the Fraser Valley who did this!!!)
What's On the Inside… Mrs. Kirk is reading the book, "Red – A Crayon's Story" with students in the library and seeing if they can determine the author's message. The crayon's label says red, but it can only colour blue. This student (pictured) nailed it with his message.
Pink Shirt Promise – Some of the students in our ELL program sat down with teachers to talk about a commitment to kindness with a Pink Shirt Promise. Check out their promises on display on the board outside the library (and pictured here).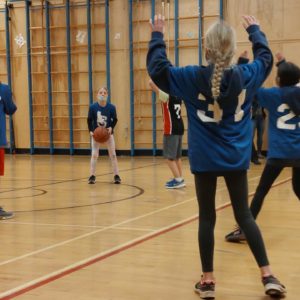 Another Strong Game for the Eagles – Our grade 5 basketball team continued its strong play as Team 2 played their first game of the season against Simonds U-Connect Elementary. With strong defence and some clutch baskets, the Eagles came out with a 26-14 victory. Shortreed's two teams play against each other again this week on Monday after school.
100 Days of Learning! Mrs. Datema's students were so excited for the 100th Day of School! They each brought in 100 items and participated in some counting activities throughout the day… including counting some popcorn kernels to pop and enjoy!
100 Days Brighter – Ms. Kaur's students were donning their "I'm 100 Days Brighter" hats and participating in math activities throughout the day as part of their 100s Day celebrations as well! Students were excited to show me the different items they brought in that counted up to 100!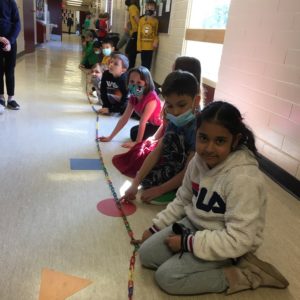 A Chain of Learning! Students made a lengthy chain in Mrs. North's class. Another student asked how long it was… so they jumped at the chance to head to the hallway to estimate and measure it! 9m + 60cm = 900cm + 60cm = 960cm!  On Tuesday, students also have a fun TWOSday as they celebrated 2-22-2022 with some fun math activities.
Hitting the Ice! Ms. Mostat and Mrs. Zelter's classes walked to our local arena last week to have some fun on the ice. Students practiced their skating and pushed each other on the "seals" with huge smiles the entire time!
Sound Hunters! Ms. Cheema's class (A student-teacher with Mrs. Graham/Mrs. Creech) was being long vowel sound hunters as they read passages and had to highlight specific long vowel sounds. They have also been using their "Vowel Valley" soundboards to help with their phonemic awareness and reading skills.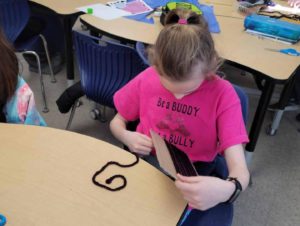 Learning With Looms – Ms. Beadrd's class made their own looms for weaving last week and then had a chance to learn weaving with wool from Ms. Elson. They were SO proud to show me their progress! Students also completed their banners honouring a Black Canadian as part of Black History Month.
Prepping To Share Their Learning – Last week, I popped in to see what Mrs. Parsons' class was up to and the students were all working hard to get ready for their Student Inclusive Conferences. Many said they were excited (and a bit nervous) to show their parents/caregivers all their learning progress! We hope to see all parents/caregivers at the conferences so students can show you their evidence of learning and you can engage in important conversations about where they are at and where they need to go with their learning. Div 1 students also continued their learning of the human body with a tour of the circulatory system.
Taking Their Learning to the Moon! As was shared by our reporters in the video, Ms. Fenech's students were also gearing up for Student Inclusive Conferences and showcasing some of the learning in science about phases of the moon and the effects of these phases. They also were excited to tell me about their new learning on biomes.
The Power of Connection – Mrs. Creech's class participated in an activity earlier this week that showed we are all different but also very connected. Students had to share an idea or feeling and then the other students had to connect to this idea. If they connect, a ball of yarn was passed to them. In the end, a large web of connections was created to show just how connected they are. As you can see from the photo, their pup Rosie was really connected to the activity. 😉
Tic-Tac-Toe-RUN!  Mrs. Fox's students had some fun with a very active version of Tic-Tac-Toe. Students (in 2 teams) had to run (1 at a time) from one end of the gym to the other to place the pinny in their strategic spot to try to get 3 in a row.
Authentic Audience – Oftentimes, knowing that someone other than your teacher will read your writing helps to nudge students to place enhanced effort and care into their work. Ms. Mostat's students have been honing their letter-writing skills by writing to their SD35 Penpals! So much excitement in sending and receiving letters.
In The Zone! Mr. D's students were drawing and sharing their learning with me about Riparian Zones. They were able to draw and tell me the importance of taking care of these zones that exist between lakes/rivers/streams (aquatic areas) and higher dryer habitats.
All in the Family – Miss Bouvier's class (she is a student-teacher in Ms. Coghill's class) started an All About Me unit with Div 17. Last week, they shared members of their family and then created their own class family tree!  Check it out on display across from Mrs. Tarasoff's office.
---
The Week Ahead
Monday – Gr. 5 Basketball 7:45 (practice) and 2:50 (game); some conferences start after school.
Tuesday – Student Inclusive Conferences officially begin school-wide 3:00-7:00 (by appointment)
Wednesday – NO SCHOOL FOR STUDENTS – Student Inclusive Conferences 8:00-4:30
Friday – Gr. 5 Basketball 7:45am
---
Month at a Glance
Tuesday, March 8 – Ready, Set, Learn Gifts and Gatherings (ages 0-5 with parents) 1:00-2:00. See info below; Gr. 5 Basketball Game – Team 2 vs Douglas Park 3:00-4:00
Wednesday, March 9 – early dismissal at 1:33 for PT Conferences (your child's teacher will have a few timeslots available on this day as part of Student Inclusive Conferences)
Thursday, March 10 – early dismissal at 1:33 for PT Conferences (your child's teacher will have a few timeslots available on this day as part of Student Inclusive Conferences); Gr. 5 Basketball Game 1:50-2:50
Friday, March 11 – 'Release the Rhythm' Body Percussion Workshops; last day prior to Spring Break
Monday, March 28 – Schools Re-Open after Spring Break
Wednesday, March 30 – Gr, 5 Basketball Game – Team 1 Vs James Hill 3:00-4:00
---
PAC News
If you ordered Frozen Blueberries, pick up is in the church parking lot tomorrow from 2pm- 2:50pm No Holds. If you can't make it between those times, please contact Jen at shortreedpac@gmail.com Thank You!
---
Important Updates and Reminders
Langley Schools are seeking Homestay Families
With ongoing construction taking place, we have fewer parking spaces for staff and a need for more parking for workers. This means that more parking spaces along the streets around the school will be occupied. The church is still allowing parents to part there for pick up and drop off.
A reminder that our parking lot is closed for pickup and dropoffs (except for vehicles with a handicap tag, buses, and those picking up/dropping off for daycares).
Are you interested in some tips for reading at home with your child? Check out our Home Reading Website here!
Attendance – if your child will be away, please email the attendance email (shortreedabsent@sd35.bc.ca) or call the school. If you do not call, you will receive an automated message at about 9:30am.
---
Community Events
Are you looking for events in our community? Take a look at our District's Community Bulletin Board for some great opportunities for families.
Langley Children's Choir is just starting their second term of singing together and new singers from grades 4 – 7 are welcome to try out the choir.  We meet on Tuesdays from 4:30 – 6 pm at Langley Secondary.  Tuition fee is $100 for the remainder of the year (we will finish in May) Please contact pthorpe@sd35.bc.ca for more information.
In The Know!
Aldergrove Minor Baseball – registration is now open and the season starts in April. Click here to register and read more info.
Langley Thunder Box Lacrosse – registration for the 2022 season is open! Click here for more info.
Aldergrove Youth Soccer – 2022 Spring Season
Ready Set Learn – Gifts and Gatherings – Check out this FREE Ready, Set, Learn opportunity for parents and their children aged 0-5!  Parents and children from Aldergrove and beyond can come to any/all of the sessions. At each session, we will honour a certain age group but the engaging learning activities are designed for all children aged 0-5 (and their parents). Register for one more sessions! Check out the flyer below and register here. 
Note from C. Wejr – I worked with Sam Collie and she is amazing with kids and families so the sessions should be awesome!