Posted: February 26, 2023
Families of Shortreed,
We hope you had a great weekend and enjoyed some time in the snow today!
Last week was Respect and Diversity week in Langley Schools and many of our teachers and staff spent some time reading and discussing ways to understand the importance of kindness, diversity, and inclusion in our school. Diversity is a strength of ours at Shortreed as we strive to always make sure that every child feels they belong here.
A reminder that Student Inclusive Conferences start tomorrow (Monday) and the SIC Day is on Wednesday; this means that students and caregivers ONLY attend during their conference time (if you have booked one during this time). Teachers have been working hard preparing for the conferences so we hope you enjoy the opportunity to hear about and share some reflections, successes, and goals for term 3.
Our Jump Rope For Heart Week is also this week at Shortreed! As was emailed, our fundraiser is online again this year and you can donate to Shortreed's fundraising efforts for the Heart and Stroke Foundation here.
Our seismic construction continues to tick off the boxes of completion. All that is left is some seismic adjustments inside and the flashing around the outside corners of the roof!
We want to recognize that Shortreed learns, works, and plays on the unceded ancestral lands of the Matsqui First Nation. The Langley School District does this on the unceded ancestral lands of the Matsqui, Kwantlen, Katzie, and Semiahmoo First Nations. 
We hope you take a few minutes to read up on what the "odd-numbered" divisions have been up to this week at Shortreed! Below that section, there are a few updates and reminders for the weeks ahead.
---
Good Things to Talk About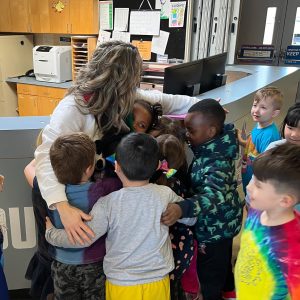 Farewell, Mrs. Engele – Although this is not a "good thing", it was certainly a GREAT thing that we had Mrs. Engele at Shortreed for close to a year. As you can imagine, there was a steady parade of students, staff, and parents/families stopping by to give her a farewell on Friday.
Rainbows and Colours! It was Rainbow and Tie Dye day on Friday and many students brought out their mixtures of colour or tie-dye outfits. A few staff really brought their A-game that day too!
A Win for the Eagles – Our grade 5 basketball team (Team 1) travelled to Douglas Park Elementary last week to play the Dragons. The Eagles played hard, rebounded well, and hit a lot of layups and big shots to come away with the win. Team 2 hosts Simonds after school on Monday while Team 1 travels to James Hill to face the Sea Wolves on Tuesday for the final game of the season. Their year-end playday is next Monday at ACSS.
An Inclusive Library – Mrs. Kirk spent some time exploring inclusion in the Library last week with her students by asking "What tools do we have so that books and stories can be enjoyed by those who can't see?" We actually have a bin of books written in braille and the kids were concentrating hard as they tried to read them!!!
Division 19 – Adding It All Up (to 12) – Ms. Coghill's students' concepts of addition facts are growing and adding up all the way to the number 12! Students used loose parts and put 2 different parts together and then practiced their addition facts up to 12. They are so proud of their skills!
Division 17 – Outdoor Pizza? There were some great shapes for outdoor pizza making in Miss Petersen's class last week! They had everything from the single slice, round, heart, square and rectangular pizzas after discussing the shapes they come in.
Division 15 – A Focused Start – Mrs. Rowbotham's class has been enjoying some calming videos after lunch… including some about dominoes. They used this focused activity as a soft start last week and they loved it!
Division 13 – Happy 100's Day! To celebrate the 100th day of school this year, Mrs. Datema's class spent the day counting items, brainstorming equations that create 100, making 100s Day Hats, and writing about 100. Math, reading, writing, and art – a great way to celebrate the 100th day.
Division 11 – Inspired by Inuit Artists – Mrs. Graham's class create some art pieces Inspired by Inuit artists like Kenojuak Ashevak and others working in Kinngait (Cape Dorset on Baffin Island). On Friday, they tried out some printmaking. They started by making styrofoam blocks which they will later ink with a brayer and press on paper to create their own prints. Students traced their choice of animal (seal or fish, both important staples in an Inuit diet) and etched their images into the foam. It is so great to see these students inspired by Inuit artists!
Division 9 –  The Important Watershed – Mrs. Gandouin's class, and the other grade two classes, thoroughly enjoyed Metro Vancouver's "Watershed and Water Cycle" workshop last week. Students learned from presenters, played games and participated in activities to learn all about water use and important aspects of the sustainability of plants and animals in our environment.
Division 7 – All About the Chopper – Mr. D's students were excited to learn and discuss interesting facts about helicopters in their recent Read then Write activity. Students read about the choppers on the iPads and then practiced their writing skills as they shared what they learned.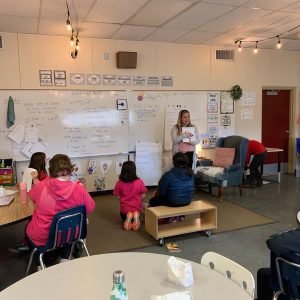 Division 5 – Sprinkling Kindness – Mrs. Loverock's class spent Pink Shirt Day last week brainstorming ideas about how to spread kindness in the school and beyond. Following this, they did a Pink Shirt Day art activity involving designing a shirt about kindness.
Division 3 – An Icy Adventure – Mostat's class headed over to the Aldergrove rink with Mrs. Zelter's class for another icy adventure on skates! We love how close we are to the rink and how we can provide opportunities for so many students to lace them up and hit the ice.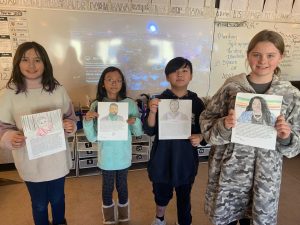 Division 1 – Famous Black Canadians – As part of Black History Month, Mrs. Parsons' students have been learning about important Black Canadians. They each did a project on a person and shared facts about them and why they are important in Canada. They also did some fantastic portraits!
---
The Week Ahead
Mon-Fri – Jump Rope for Heart Week!  Student Inclusive Conferences all week (before and/or after school) 
Monday – Blueberry Order pickup 2-3pm; Gr. 5 Basketball (Team 2) hosts Simonds-U-Connect at 3:00
Tuesday – Gr. 5 Basketball practice at 7:45; Team 1 travels to James Hill at 2:25.
Wednesday – Student Inclusive Conference Day/Night (no school for students – only during their conference if it is on this day)
Friday – Fire Drill at 2:00
---
Month at a Glance
Monday, March 6 – Gr. 5 Basketball Playday (at ACSS)
Tuesday, March 7 – Gr. 5 Young Entrepreneur Fair
Wednesday, March 8 – Hot lunch, Early Dismissal at 1:33
Thursday, March 9 – Early Dismissal at 1:33, last day for Student Inclusive Conferences
Friday, March 10 – Last Day prior to Spring Break
Monday, March 27 – School re-opens
Friday, March 31 – Spirit Day – Mismatched Sock Day
---
PAC News
Blueberry orders will be available for pickup between 2 and 3 at the church parking lot across from the school. There are no holds as we do not have freezer space.
You are invited to participate in Shortreed's Purdy's Easter Chocolate Fundraiser. We are currently fundraising for a new sound system for our gym. Please support this worthy cause by ordering online!
There are 2 ways to get started:
https://fundraising.purdys.com/9102-104781

Enter YOUR email address…… if you are a returning customer, it will take you right in to the main page. If you are a new customer, it will ask you to register, your name, phone number and a password.

https://fundraising.purdys.com/

Join a Campaign
Customer number is 25514
If you are a new customer, it will ask you to fill in your name, phone number, email address, and password.

Once you are in click SHOP ONLINE then add items to your cart.
When you are ready click PROCEED TO CHECKOUT and follow the instructions for payment. Please make sure your phone number is on the order so we can contact you when it arrives.
It is easiest to pay online however we have the following options available: cash, cheque, or email transfer. If paying by cheque, please make it payable to Shortreed PAC. If paying by e-transfer please use the following information email: srpacfundraising@gmail.com password: eagles
Any orders left unpaid as of March 6th at 11:59pm will be deleted.
All orders must be placed ONLINE! If you are needing a paper form, please reach out to PAC.
Orders are due by March 6th. Pick up day will be April 3rd from the PAC room. Please note PAC will not deliver to the students without given permission to. If you wish for us to deliver to the student, please add in the comment section in the online check out "ok to be given to student".
—
Save the date! Our 2023 Fun Fair is in May 26th from 3:30 to 7:30pm. We have started the planning process and are looking for people who would like to help plan and organize the fair. There are lots of big and small jobs that need to be done before the big day. (this call out is for volunteer coordinators to help plan the fair. Posts and emails for volunteers to help on the day of the fair will be sent out in April ).
Volunteer coordinator positions that need to be filled:
Concession
Games
Volunteers
Advertising
Signs and decorations
Jar Game
Cake Walk
Will Call
Face Painting
Each coordinator job has its own detailed TO DO list. This list outlines what needs to be done before the fair, during and after. There will also be a member of our executive team with you ( in most cases) to help. If you are interested please email the PAC at shortreedpac@gmail.com for more information or contact Cashmere Roder.
---
Important Updates and Reminders
Student Safety and Traffic – please make sure you drive slowly around these school during pick-up and drop-off. With our growing community, more families are dropping off on the blocks around our school community and deriving quickly down streets like 26B Ave. Please be mindful that we have a number of students who walk to/from school so we need to be extra cautious. Also, please pass this info on to those people who pick-up/drop-off but do not receive the newsletters.
Before/After School Care at Shortreed for 2023!
If your family needs some support for breakfast before school, our breakfast program runs at 8:20 each day. Students must come every day and be on time. Please register at this link.
Please have your child come prepared for the weather (coats, hood, gloves, boots) as most days are outside days at Shortreed. If you are in need of coats or shoes/boots, come and check out our selection in our Coat/Shoe/Boot exchange!
If your child is sick, please keep them home until the symptoms have improved.
Our school parking lot is closed between 8:15-9:00 and 2:00-2:45 (other than daycare, buses, and vehicles for people with a disability). The church across the street graciously allows us to use their parking lot for pick-up and drop-off so please park there or along 28th Ave. Do not park in the "no parking" (coned) areas along the yellow curbs. No u-turns.
---
Community Events and Information
Check out all the community events and opportunities on the Langley School District Community Bulletin Board.