Posted: February 20, 2023
Families of Shortreed,
We hope you had a lovely Family Day Weekend and spent some extra time with your children and family members.
We had a full week last week (even though it was 4 days with students) as we celebrated Valentine's Day, honoured Have a Heart Day, and prepared Family Day take-home projects for students to share with their families!
Just a reminder that the signups for our Student Inclusive Conferences went out last week so please be sure to check your emails. The signup page is here. Signups close on Wednesday, Feb 22 at 11:00pm. After that, you will need to sign up directly with your child's teacher.
Across the province, Wednesday is Pink Shirt Day. Although many people in our community will be supporting this, we want to make sure that every child and family understands that there should be no pressure to wear pink. We practice and promote kindness each and every day at our school; sometimes, the pressure to wear, find, and/or buy a pink shirt takes away from the entire reason that this movement was started in the first place. If your child would like to wear pink, we encourage this… BUT if your child does not have a pink shirt, we encourage them to come and continue to spread kindness in the many other ways that are possible. We do not want the focus to be on the shirt and not on the meaning behind the original movement to make sure every child feels safe and included in school. Pink shirt or not… YOU BELONG HERE!
Friday is Tie-Dye and Rainbow day so where a tie-dye or rainbow shirt if you have one… or any colourful item of clothing you have!
We have some sad news to share as Mrs. Engele, our beloved and caring admin assistant, has accepted a position in the private sector. The move made a lot of sense for her and her family so we all understand but also know, even after only being here for less than a year, she leaves some big shoes to fill. Her last day is this Friday. We wish her all the best and we will introduce the new admin assistant when the position is filled (the internal posting closes Tuesday/tomorrow).
A reminder that NEXT WEDNESDAY (March 1), there are no classes for students as it is a Student Inclusive Conference Day. Students only come during their conference time if it is scheduled on that day.
We want to acknowledge that we, at Shortreed, work, learn, and play on the unceded, ancestral lands of the Matsqui First Nation and we work together on our journey to better understand what this means to all of us at the school. See below for some learning that our staff participated in to help us move further on our walk to understand.
We hope you can take a few minutes to read about a few of the good things happening in the school and our even-numbered divisions… along with some reminders and info for the weeks ahead.
---
Good Things to Talk About
A Focus on Family Day – As was shared last week, as we move to be more inclusive, we have put more of an emphasis on Family Day this year. Classes read stories and participated in projects that honour a variety of family members and special grownups. In the library, Mrs. Kirk worked with each class to read stories about various important adults in the lives of children and then she had each child share a bit about the special grownup in their lives. By the end of the week, the library was filled with examples of so many different adults who play a key role in the lives of our students.
Have a Heart Day – Students in Div 1 and 2 made this video of their learning and was shared throughout our district. Please take a few minutes to watch.
Have a Heart Day from Shortreed Elementary. 
Learning About Matsqui – At Thursday's staff meeting, Shortreed staff had an incredible afternoon of learning as we were honoured to listen to Melissa Epp (a Shortreed parent and proud Matsqui woman) share the stories of the Matsqui People and Matsqui Territory. As a school, we often acknowledge the unceded ancestral lands of the Matsqui First Nation and Melissa helped us to better understand what this acknowledgment means; she also planted many seeds of learning that will nudge us along our journey of understanding.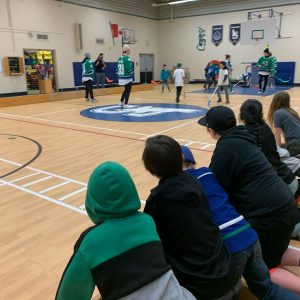 Eagles and CANUCKS! On Friday, our grade 3 students had a blast as they welcomed 4 players from the Abbotsford Canucks professional hockey team into the gym to play some fun games of floor hockey. Interested students were able to play one of 3 – 10 minute games and then all students got to meet the players. A huge thank you to the Canucks players Marc Gatcomb, Wyatt Kalynuk, Chad Nychuk, and Tristen Nielsen for such a memorable afternoon. Another big thank you to Laura Kirk (daughter of Mrs. Kirk) for nominating our school to be part of this visit!
A Flower for a Special Someone – Our PAC once again provided every student in the school with a Valentine's flower to give to a special adult in their lives. This caring and thoughtful tradition continues at Shortreed due to the efforts and care of our PAC!
Eagles Basketball – Our grade 5 basketball team came out of last week with a win and a loss but some great improvements in their game. Team 1 played against Parkside on Tuesday and won a nailbiter that went back and forth all game long. On the next day, Team 2 played a strong team from Nicomekl and played hard but came up short (height-wise and on the scoresheet!). Team 1 travels to Douglas Park to play the Dragons on Tuesday.
Scoot to School! Our scooter racks have been installed! On the east side of the school, between Ms. Kaur and Mrs. Graham's exterior doors, we have installed 2 racks in which students can place their scooters in (upright) and lock them to keep them safe. We encourage our students to find active ways to get to school and this will help those wanting to take their scooters! A reminder to please walk your scooters on school property. A huge thank you to our PAC and the Wheway family for getting these ordered, made, and installed (correctly!). 🙂
Division 2 – Famous Black Canadians – Ms. Bedard's class continued their honouring of Black History Month as they moved into a study of famous Black Canadians. Students selected a Black Canadian and then researched facts about each person, why they were important, and the impact they have had on Canada and beyond.
Division 4 – Arrays of Sunshine! Ms. Cho's students were proud to display and share the Array Cities they created for math. To show their knowledge of multiplication using arrays, students created their own cities made of buildings of multiplication arrays (rectangles on the grid). They also labelled the many sites of their mathematical communities.
Division 6 – Lessons Through Games – Mrs. Zelter's had their second board game afternoon last week and family members were invited in to share in the fun. The focus was to follow the rules of the game, play a game until it ends, and win with humility/lose with grace. These are important skills that transfer well beyond the board games!
Division 8 – Beware of the LOVE Monster!  Valentine's Day is always a chance to give and receive some lovely cards/gifts from friends and classmates. To help with this, Ms. Johnson's class made some Love Monster Bags to eat… I mean… collect all their Valentines!
Division 10 – Estimating Hearts!  Mrs. North's class practiced their estimation skills in a special Valentine's Day activity last week. Students had to estimate the number of hearts on their papers and then count them out to see how close they were to the actual number… which makes me wonder if any of the candies were eaten while counting!!!??? 🙂
Division 12 – A Math Scoot! Ms. Anderson's class participated in a "math scoot" on place value last week. Students each got a clipboard and a recording sheet and then went around the classroom and looked for the corresponding card to go with their recording sheet. They then had to convert the base-10 blocks on the cards to standard form numbers. It was a bit of a mini math scavenger hunt!
Division 14 – Feeling the Love – Ms. Kaur's students talked about the many different ways they sense love all around them – through touch and pressure (ex. hugs), taste, sights, and smells!  Each student shared what brings them love and how they sense this within them. Check their hearts out on display on their board outside their classroom.
Division 16 – Science is Delish!  Mrs. Southcott's students had a fun week as they spent some time with a Valentine science experiment. They tried candy hearts in a variety of liquids (vinegar, water, soda) to observe what happens. They also looked at how ice cream changes state when it is placed in a liquid… like an ice cream float! The best part is when you get to drink the experiment at the end!
Division 18 – We Have Some Writers! Ms. Cheema's class was excited to show me some of their writing routines last week. Ms. Cheema writes a prompt on the board, the class reads the prompt together and then they grab their whiteboards to write out the prompt. They then complete the sentence using their new letter sounds and printing skills!
---
The Week Ahead
Tuesday – Gr. 5 basketball practice at 7:45; Team 1 travels to Douglas Park (leaving at 2:20).
Wednesday – Pink Shirt Day, Popcorn Day, SIC Signups close at 11pm
Friday – Gr. 5 basketball practice at 7:45; Spirit Day – Tie Dye and Rainbow Day
---
Month at a Glance
Monday, Feb 27 – Gr. 5 Basketball hosts Simonds
Tuesday, Feb 28 – Gr. 5 Basketball at James Hill
Wednesday, March 1 – Student Inclusive Conference Day/Evening – no school for students (only attend their conference time if it is on this day)
Monday, March 6 – Gr. 5 Basketball Playday (at ACSS)
Tuesday, March 7 – Gr. 5 Young Entrepreneur Fair
Wednesday, March 8 – Hot lunch, Early Dismissal at 1:33
Thursday, March 9 – Early Dismissal at 1:33, last day for Student Inclusive Conferences
Friday, March 10 – Last Day prior to Spring Break
---
PAC News
You are invited to participate in Shortreed's Purdy's Easter Chocolate Fundraiser. We are currently fundraising for a new sound system for our gym. Please support this worthy cause by ordering online!
There are 2 ways to get started:
https://fundraising.purdys.com/9102-104781

Enter YOUR email address…… if you are a returning customer, it will take you right in to the main page. If you are a new customer, it will ask you to register, your name, phone number and a password.

https://fundraising.purdys.com/

Join a Campaign
Customer number is 25514
If you are a new customer, it will ask you to fill in your name, phone number, email address, and password.

Once you are in click SHOP ONLINE then add items to your cart.
When you are ready click PROCEED TO CHECKOUT and follow the instructions for payment. Please make sure your phone number is on the order so we can contact you when it arrives.
It is easiest to pay online however we have the following options available: cash, cheque, or email transfer. If paying by cheque, please make it payable to Shortreed PAC. If paying by e-transfer please use the following information email: srpacfundraising@gmail.com password: eagles
Any orders left unpaid as of March 6th at 11:59pm will be deleted.
All orders must be placed ONLINE! If you are needing a paper form, please reach out to PAC.
Orders are due by March 6th. Pick up day will be April 3rd from the PAC room. Please note PAC will not deliver to the students without given permission to. If you wish for us to deliver to the student, please add in the comment section in the online check out "ok to be given to student".
—
Save the date! Our 2023 Fun Fair is in May 26th from 3:30 to 7:30pm. We have started the planning process and are looking for people who would like to help plan and organize the fair. There are lots of big and small jobs that need to be done before the big day. (this call out is for volunteer coordinators to help plan the fair. Posts and emails for volunteers to help on the day of the fair will be sent out in April ).
Volunteer coordinator positions that need to be filled:
Concession
Games
Volunteers
Advertising
Signs and decorations
Jar Game
Cake Walk
Will Call
Face Painting
Each coordinator job has its own detailed TO DO list. This list outlines what needs to be done before the fair, during and after. There will also be a member of our executive team with you ( in most cases) to help. If you are interested please email the PAC at shortreedpac@gmail.com for more information or contact Cashmere Roder.
HOT LUNCH
Returning Parents: Please sign in to your Munch-a-lunch account at https://munchalunch.com/login
New Families: Please go to this link: https://munchalunch.com/schools/Shortreedand click on the "Register Here" button and follow the instructions to create an account.
---
Important Updates and Reminders
U-Connect Explores Full-Time Online Learning Program – Grades 1-7

Is your child in need of an education program that offers more flexibility and continues to meet their educational needs? U-Connect is inviting students and families to see if a full-time, home-based online learning program for students in grades 1-7 is right for them. U-Connect is gathering feedback to explore the potential of a new program that is 100 percent home-based and online, offering a more flexible schedule and environment that is tailored to a student's learning style, and allowing more time for their extracurricular passions. Interested students and their families are encouraged to complete an Expression of Interest online form here. To learn more, visit this webpage here.

Celebrating Mother Language Day and Literacy in Langley Schools
The District is recognizing the United Nation's International Mother Language Day (February 21st) by sharing helpful resources with students and their families. As part of the District's ongoing goal to celebrate diversity and inclusion, we are sharing these online resources with families to help promote literacy at home, no matter what language is spoken.Unite for Literacy provides free digital access to picture books, narrated in many languages. Watch an instructional video here.Storybooks Canada is a free open educational resource that promotes literacy and language learning in homes, schools, and communities. Watch an instructional video here.For more information, please visit the District webpage here.
Student Safety and Traffic – please make sure you drive slowly around these school during pick-up and drop-off. With our growing community, more families are dropping off on the blocks around our school community and deriving quickly down streets like 26B Ave. Please be mindful that we have a number of students who walk to/from school so we need to be extra cautious. Also, please pass this info on to those people who pick-up/drop-off but do not receive the newsletters.
Before/After School Care at Shortreed for 2023!
If your family needs some support for breakfast before school, our breakfast program runs at 8:20 each day. Students must come every day and be on time. Please register at this link.
Please have your child come prepared for the weather (coats, hood, gloves, boots) as most days are outside days at Shortreed. If you are in need of coats or shoes/boots, come and check out our selection in our Coat/Shoe/Boot exchange!
If your child is sick, please keep them home until the symptoms have improved.
Our school parking lot is closed between 8:15-9:00 and 2:00-2:45 (other than daycare, buses, and vehicles for people with a disability). The church across the street graciously allows us to use their parking lot for pick-up and drop-off so please park there or along 28th Ave. Do not park in the "no parking" (coned) areas along the yellow curbs. No u-turns.
---
Community Events and Information
Check out all the community events and opportunities on the Langley School District Community Bulletin Board.