Posted: December 1, 2019
Families of Shortreed,
Happy December! As term 1 comes to a close, staff have had a chance to reflect with students on goals and achievements from the last few months. A reminder that Term 1 Report Cards come home on Friday.
Don't forget about the annual Shortreed Santa Breakfast this Friday between 7:00-8:30am.  More details are in the Week Ahead section below.
Please take a read of our Good Things to Talk about as this is your chance to move from asking your child, "what did you do at school today" to "tell me more about…". You can also find news and updates for the week and month ahead below.
Our News Crew this week was Sally, Millianna and Tia!
---
Good Things to Talk About
Selflessly Serving Shortreed – SEVA BC is once again committed to supporting our community in their quest to selflessly serve others. They recently brought in enough pizza to feed our entire school community! This generous organization provides lunch for our school a few times a year and they also will offer after-school mentorship programs in the new year. Thank you to Cor's Pizza for providing a significant discount on the pizzas.
Help Along the Way – Mr Touzeau and Mrs Sherwin took some time to meet with grade 4/5 students who are interested in helping out being a crossing guard this year. If your child is interested, please check their backpack for a permission and availability form.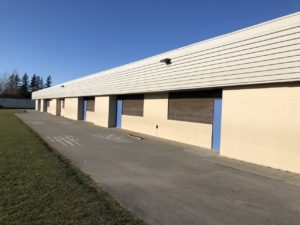 Always Prepared – Our students practised their lockdown procedures this past week. Although it is never something that is easy to discuss with children, we do our best to talk about the importance of staying safe. This is one of the many emergency drills that take place each year.
Div 15 – Forts in the Forest –  Ms Coghill's class has continued to learn about and spend time in the forest. They have been using the resources in the forest to build cool sculptures such as houses and forts and have also been using logs in the forest to make music. They also used their apples they collected at the farm to make some apple muffins!
Div 14 – Their Names in Lights – Some people always dream of having their "name in lights". Miss Petersen's class used this term to inspire a festive letter recognition activity as they created their name using letters in Christmas lights. They also continued their work with patterns in math.
Div 13 – We Have Writers!  Mrs Kelly/Mrs Vleeming's students were so excited to share with the news crew that they had started writing real words (and even statements) in their journals! This is the start of a writing journey as they shift from a focus on pictures to a focus on words.
Div 12 – Where'd They Go?  Mrs Datema's students have been learning about the theories of the reasons dinosaurs went extinct. They also have been keeping their math routine of "number of the day", developing a deeper understanding of numbers, and learning some really interesting things! 
Div 11 – One Double-Double? Mrs Manhas' students have been spending time learning and practising their doubles in math and played rolled the dice with a partner. They also moved to the next part of the book, Sophie's Heart, where they met the "friendly fish" and discussed how she felt alone.  The students coloured and predicted what they thought would happen and then discussed how to get along with others. 
Div 10 – Knowing Their Place – Ms Bain's grade 1 students were also practising their doubles in math by playing some engaging math games to help master their doubles facts. The grade 2 students in the class recently began learning and exploring the concept of place value.
Div 9 – Beetle-mania!  This week, Mrs Zelter's students had some excitement as their superworms have finally started turning from pupae into beetles… the final stage of development. Their classroom is also ready for Christmas thanks to the patterned Christmas chains that the students all made.  
Div 8 – The Importance of Listening – Mrs North's students have been taking advantage of their "show and tell" time to practice speaking and listening. As the special helper shares and practices speaking, students have to use their eyes, body and ears to listen; the special helper has to do the same when others are asking questions. They have also started making their banner to go up in the gym for the Santa Breakfast and Christmas concerts. 
Div 7 – Money, Money, Money, Money!  Mr D's students have been counting coins and learning how to use and add up the different denominations from nickels to twoonies. For science, they have continued their learning of energy transfer as they learned that metal feels colder than other materials at room temperature because it transfers heat quicker. Be sure to also check out their beautiful artwork inspired by BC artist Roy Henry Vickers. 
Div 6 – The Power of Understanding – Ms Rafighi's students have been on a quest to build a deeper understanding of traditions that might be different from ours. Last week they learned about a First Nation tradition called smudging that is used by Indigenous Peoples for cleansing the body spirit or place. By seeking to understand others' (and our own) traditions and practices, we can gain a better perspective of those around us. 
Div 5 – Game On!  Yes, games can be fun and engaging… but they can also be a time to teach important skills. Ms Holmes and Mr Touzeau's students have been using cooperative games to learn more about and practice collaboration, cooperation, and critical thinking skills.
Div 4 – The Value in Numbers – Students in Ms Fenech's class finished their unit on place value in math so they are now masters in the 1s, 10s, 100s, and 1000s columns! They also spent time doing some beautiful art for their Christmas banners that will go up in the gym. 
Div 3 – Natural Learners – Mrs Kirk's class continued their learning about how First Nations Peoples learned about animals. The students discovered that Indigenous Peoples have such knowledge about animals because they used to live so close to nature and respected and lived alongside all the plants and animals in the lands around them. 
Div 2 – Do You Want to Build a Snowman? Well, we don't have the snow to BUILD snowmen but Ms Bedard's students took some time to create their own snowmen through some visual arts. They also created some lovely snowflakes and completed their Global Read Aloud with the book, Front Desk.
Div 1 – An Artistic Week! Mrs Parsons students had a week full of art this past week. They created their banner for the Santa Breakfast and Christmas Concerts; they also created festive snowman snowglobes using a mix of art materials (chalk and paint). 
Music – Blending Voices – This week in music class, the grade four and five students talked about how to blend their voices when we are singing in a choir.  They talked about listening carefully to those around you and making sure that your voice doesn't stick out so that the choir as a whole sounds like one unified voice. We are looking forward to hearing this at the concerts on the 17th!
Self-Regulation Hunters!  For the October 18 Design and Assessment Day, Mr Touzeau and Mr Wejr created a fun video to encourage staff to reflect on and discuss the many tools and strategies that are used for Self-Regulation for Shortreed. It has been an incredible journey at this school… check it out! (note: the admin team apologize in advance for their pathetic attempt at Australian (Scotstralian?) accents!).
---
The Week Ahead
Tuesday, December 3 – Fire Drill #3 – 10:05am
Tuesday, December 4 – K-3 Parent Literacy Night at Parkside – 6:30pm

Friday, December 6 – Santa Breakfast! – We invite you and your family to stop by between 7:00 and 8:30am.  Staff will be in early to cook up some fluffy pancakes and yummy sausages to serve you all. Santa will be arriving for 7:00 so you can come and visit him and then get some breakfast or get some breakfast first and then have a moment with the jolly old elf.  We will be collecting money and non-perishable, non-expired food items for our local food bank as well. If you are able to donate, it would be greatly appreciated. Note that all students should be supervised by an adult. There are no dropoffs for this event. If your child is part of the breakfast program, they can be dropped off there and then the staff will bring them to the gym. We encourage you to wear some festive hats/sweaters and we hope to see you and your family here on Friday.
Friday, December 6 – Report Cards posted online and sent home.
---
Important Reminders and Updates
Christmas Concert Updates: Christmas Concerts are on Tuesday, December 17th at 1:00 and 6:30 pm.  All students in the school are performing and are expected to be at both performances.  Students that cannot attend need to have a note or phone call from a parent into the school.  Students should plan to arrive at the school at 6 pm for the evening performance and go to their classrooms.  Students should dress in their nicest clothes for both performances.
Free Counselling – Langley Community Services offers FREE counselling for a variety of needs. Please click here for more info (updated, correct link).
Lost and Found – Our lost and found is overflowing with jackets and clothing. Please come by (on the ramp near the gym) and see if your child has left anything there.
Coat and Boot/Shoe Exchange – Are you in need of a coat? Boots? Shoes? Come and check out our exchange by the office. There are a number of quality pieces of clothing there to take for free (or donate for someone to make good use of it).
Information About School Status During Inclement Weather Snow closures and power outages are an annual occurrence in Langley School District. So where do you go to get information about the status of schools during periods of inclement weather? If you are able to access the internet via computer or smartphone, current information about Langley schools can be accessed on all school websites or www.sd35.bc.ca. Updates are also posted to Twitter @LangleySchools and Facebook at www.facebook.com/langleyschooldistrict. If you don't have internet connectivity but your phone is working, call a relative or friend in an area that has not been affected by the storm and ask them to check the district website for you. Local radio stations are also informed of school status in Langley. Tune in to CKWX 1130AM, CKNW 980AM, Country Radio 107.1FM, Pulse 107.7 or CBC 690AM or 88.1FM for updates.Please note that Langley District schools are all considered 'open' until a decision to close is required. Decisions on school closures are usually made by 6:30am. As always, it is a parent's decision whether to send their child to school based on safety and individual circumstances. If you feel it is unsafe for you or your child to travel to or attend an open school for any reason, please keep your child home and report an absence to the school.
Home Reading Website – be sure to check out our website designed to support families in home reading.
Parking – Our parking lot is closed from 8:15-8:45 and from 2:15-2:45. We only have enough space for our staff and drivers with a disability. The parking area is only open for staff, school district buses, and daycare transportation during these times. Please park along 28th Ave or in the Catholic Church across the street who have once again graciously donated their lot to us.
---
PAC Information
Thank you to everyone who came out to Movie Night!
Minutes from the November PAC Meeting can be found here.
Otter Co-op Receipts – If you have receipts from Otter Co-op that you no longer need, please bring them in and drop them off in our box in the office. A portion of all these proofs of purchases comes back to our school in the form of gift cards!
---
Month at a Glance
Wednesday, December 11 – Hot Lunch
Tuesday, December 17 – Christmas Concerts – 1:00 and 6:30
Friday, December 20 – Last Day before Winter Break.
Monday, January 6 – Schools Re-Open
---
Community News and Events
Childcare BC Survey
Childcare BC invites parents to complete an anonymous survey about child care programs and services offered throughout the province. The survey will be open until January 17.
Complete the survey:
Learn more about Childcare BC:
Training and Education Grant: RESP Opportunity for Students
Please see the letter from the Ministry of Education regarding a Training and Education Savings Grant available for students born between 2010 and 2014.
Click here to view some awesome opportunities for kids and families in our community.