Posted: December 13, 2020
Families of Shortreed,
Well, we have entered the FINAL week of school for the year 2020… and what a year it has been. Thank you so much for your continued care, support, kindness, empathy, and generosity. 2020 has really shown us all the incredible community we have at Shortreed!
You should have received your child's report card in their backpack (and/or online) on Friday. Teachers spend 20-40 hours preparing for and writing these reports so please take some time to go through the assessments and the comments to gain a snapshot of where your child is at for Term 1.
Please check your email on Tuesday evening as we will be sending out recordings of the Christmas concerts. A reminder that these CANNOT be shared on social media.
Christmas at Shortreed is such a wonderful time of the year. We hope you enjoy some of the activities and capture moments in this week's Good Things to Talk About!
As always, we want to acknowledge that all of us in the Langley School District work, learn, and play in the unceded ancestral lands of the Matsqui, Kwantlen, Katzie and Semiahmoo First Nations.  
---
Good Things to Talk About
3 Sleighs Full!  You did it, Shortreed!!! Not only did you fill the sleigh with food and household items for Sources Food Bank, but you also filled the entire front foyer! This means that people in the community will continue to be supported; it also means that Mr. Touzeau and Mr. Wejr will have to do something very silly on Wednesday… stay tuned to find out! (or you can ask your kids because apparently, they know but we don't!!!).
A Concert to Remember – It was definitely different for our students to perform in an empty gym but they did their best knowing it was being recorded and sent to families to watch. A HUGE thank you to Mrs. Muller who found a way to put on the concert in a safe manner while also creating special moments for our students and families. Also, thank you to Mr. Touzeau who recorded the performances and then spent the weekend editing them to be sent out this week.
A Fine Looking Bunch!  Our grade 5's sure dressed well last week as they received their grade 5 hoodies. These hoodies are a tradition at many schools and students proudly wear them to acknowledged their final year at elementary school. Thank you to Mrs. Parsons for ordering and organizing!
Beading and Bracelets – The Kindergarten students in Mrs. Dhaliwal's class had an Aboriginal cultural presentation last week from Auntie Helen and Carla Carr. They used their knowledge of patterns to make bead and leather bracelets!
Kindness Ninjas  Mrs. Creech's class started a kindness "hot chocolate train last week! They secretly brought hot chocolate to Ms. Coghill's class and left a note for them to pay it forward… and Ms. Coghill's class paid it forward to Ms. Bain's class who then paid it forward to Mrs. Graham's class! Where will it go next???
A Balloon That Won't Pop?  Students in Ms. Rafighi's class were recently using their powers of prediction and their knowledge about transferring thermal energy. In a demo, one balloon was held above the flame and popped. The next balloon was filled with water and held above the flame and on the flame but it didn't pop. Whaaat??? Students got together in groups to discuss whether it was convection or conduction that was causing the balloon to not pop.
Stuck in a Snowglobe! Ms. Fenech's students have been working on writing adventure stories about if they woke up one day and they were trapped in a snow globe! They then had to draw their snow globe with a scene from their story.  They also did a strengths-based writing activity in which they had to shared their strengths with Santa as part of their application to be an elf.
Sharing Support and Care  Our classes all created Christmas cards for local seniors this past week. They were delivered on Thursday and Ms. Toby's class added a special gift as they created "pet rocks" to also share with residents of Jackman Manor to help bring a smile to their faces.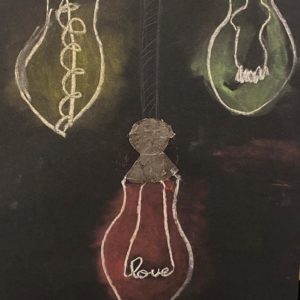 Lit WIth Holiday Messages  Mrs. Parsons' class was feeling "lit" with holiday messages this past week. They created light bulb artwork that had holiday messages written in the filament portion of the bulb. They have also been working through their 14 Days of Kindness as they spread positivity and care throughout the school. In language arts, they spent some time learning and practicing the skill of inferring when reading.
Santa's Wish List – Many students have been making their own letters and wish lists to send to Santa about what they would like for Christmas. Mrs. North's students took a different angle as they shared a wishlist of what they would love to GIVE to Santa! The lists included things like new gloves, an air suit, a trip to Hawaii to relax, and (of course) lots of hand sanitizer! They also worked on repeating patterns this week with some festive manipulatives.
Keeping Him in the Loop – Ms. Manhas' students created some awesome reindeer artwork last week and then wrote a letter to Santa… and in these letters, they were sure to keep Santa in the loop and share how their siblings were doing with their behaviour. Some may have shared a bit too much about how they felt their siblings were doing… not sure if they were trying to get them on the naughty list or not! 😉
Supporting Local Businesses – Our local businesses have been through a LOT this year and we figured they needed a smile. The cards that were written by our students were delivered to seniors AND local businesses along Fraser Highway. Students in Mrs. Creech and Mrs. Kirk's class were the lucky ones who got to deliver the cards (and some poinsettias from our PAC) and see the smiles on the owner's and employee's faces. Starbucks even gave 30 cookies to Mrs. Kirk's class (pictured above)! Small acts can have a large impact!
Over the Hills We Go…  Mr. Davidson's students created some beautiful winter pastel artwork last week that showed a snowman in front of a snow-covered hill and a lovely sky. Students showed the power of colour and depth in their artwork.
Let Me Explain…  Students in Ms. Bedard's class had to be a character on the naughty list and write Santa a letter explaining why they should be moved to the nice list.  Students chose an "evil" or "bad" character (evil queen, grinch, etc) and shared what they had done to change their attitude and behaviour.
Some Frosty Writing  Mrs. Graham's students shared their own Snowman stories about how they came to life and what happened to them. These stories also inspired some fantastic snowman artwork!
The Adventures of Twinkle – Miss Petersen's classroom elf, Twinkle, is always getting into no good. However, his adventures have inspired the class to do some great writing as they share in their journals all about his activities!
Magic Food!  Thank you so much to our amazing PAC for volunteering their time to prepare packages of sparkling reindeer food for all our students and helping to put some extra magic into our homes this Christmas. Be sure to help your kids spread this out near your homes on Christmas Eve!
---
The Week Ahead
Tuesday – Classes watch the Christmas concert videos in the afternoon. They will be sent to parents after school.
Thursday – Cohort Christmas Story Read Alouds in the morning.  A Christmas Caroling Roadshow (Part 1) by some staff in the afternoon (coming to a classroom near you!).
Friday – Last day before Christmas break. PAC Meeting online at 9am. A Christmas Caroling Roadshow (Part 2) by some staff continues in the afternoon.
---
Month at A Glance
Monday, December 21 – January 4 – Winter Break (schools reopen on Tuesday, January 5)
Monday, January 11 – Hold and Secure Drill 10:45am.
Friday, January 22 – PAC Meeting 9:00am
---
PAC News
Hope to see you online for the PAC meeting on Friday at 9am. A Zoom link will be posted and sent out before then.
---
Important Updates and Reminders
The lights at 272 and 28 are almost finished! Note that the flashing pedestrian lights will not be functioning on Monday and Tuesday so flaggers will be there. Thank you to Cashmere Roder for ensuring that flaggers will be there BEFORE school!
If you ordered school spirit wear, it should be arriving on Wednesday so will be sent home on Thursday/Friday.
IMPORTANT SAFETY REMINDER – please do not make any u-turns across the double yellow line along 28th Ave (the road the school is on). Also, please use the crosswalk instead of walking across 28th through traffic. Our kids are watching so please remember to follow pedestrian and driving rules… especially near the school. Also, please avoid U-Turns in the Alderview housing area as many of our kids and families are walking in that lot.

Student Safety Around Schools – Weather With the days growing shorter and the weather changing to rain, fog, and frost, Shortreed is reminding all our students to take extra precautions when walking to and from school. Please be aware of your surroundings, walk on the sidewalk and with someone whenever possible, and avoid wearing headphones. We also ask drivers in our school community to be vigilant on our roads. Student safety is our priority. Thank you for your cooperation and support in keeping everyone safe.

If your child will be absent, please email shortreedabsent@sd35.bc.ca or call the school. Click for Daily Health Check form
Information About School Status During Inclement WeatherSnow closures and power outages are an annual occurrence in Langley School District. So, where do you go to get information about the status of schools during periods of inclement weather? If you are able to access the internet via computer or smartphone, current information about Langley schools can be accessed on all school websites or district website. Updates are also posted to Twitter @LangleySchools and Facebook (Langley School District). If you don't have internet connectivity but your phone is working, call a relative or friend in an area that has not been affected by the storm and ask them to check the district website for you. Local radio stations are also informed of school status in Langley. Tune in to CKWX 1130AM, CKNW 980AM, Country Radio 107.1FM, Pulse 107.7 or CBC 690AM or 88.1FM for updates.Please note that Langley District schools are all considered 'open' until a decision to close is required. Decisions on school closures are usually made by 6:30am. As always, it is a parent's decision whether to send their child to school based on safety and individual circumstances. If you feel it is unsafe for you or your child to travel to or attend an open school for any reason, please keep your child home and report an absence to the school.
Our school parking lot is closed between 8:15-9:00 and 2:00-2:30 (other than daycare, buses, and vehicles for people with a disability). The church across the street generously allows us to use their parking lot so please park there or along 28th Ave. Do not park in the "no parking" (coned) area.
---
Community Events and Information
For some great opportunities in the community, click here.