Posted: December 12, 2021
Families of Shortreed,
Well… here we are… the final week of 2021! We all thought the start of the 2021-2022 year would be much different and a bit more typical but it has certainly come with more challenges as we all have tried to cope with further Covid protocols, floods, and the mental and emotional fatigue that has come with all of this. Because of all these challenges, we have tried to make December about care, connection, calm, and joy. I hope the Santa Breakfast and the Elf Hunt brought some smiles… we have a few more things in store for this week with the Christmas concert (online) and other fun stuff!
It was so wonderful to see so many of you at the parade on Saturday. I believe this was the first time Shortreed has ever had an entry into the parade and we are hoping this is a new Christmas tradition for our school.
Report cards were sent home and published to the Parent Portal on Friday. If your child did not have theirs sent home or were absent on Friday, they will receive it tomorrow.
Christmas concert rehearsals take place tomorrow with the concert happening on Tuesday. A reminder to please send your child dressed in some "nicer than everyday clothes". The performances will be recorded and sent out before Christmas for you to watch at home as a family.
A reminder to FILL THE SLEIGH on Monday and Tuesday by bringing in non-perishable food and household items to the class or the office. If we fill the sleigh, Mrs. Tarasoff will have to wear that "lovely" blow-up Christmas Tree costume!
As always, we are honoured to work, learn, and play on the unceded ancestral lands of the Matsqui, Kwantlen, Katzie, and Semiahmoo First Nations.
We hope you take a few minutes to read up about a few good things happening at Shortreed as well as some info for the week ahead.
---
Good Things to Talk About
Santa Claus Came To Town!  We had our annual Santa Breakfast on Wednesday and it was another huge success. Staff came in between 6 and 7am and started cooking some flap-jacks and sausages for the entire school! Students enjoyed breakfast in their classrooms and then had a chance to spend about 10 minutes in our courtyard with Santa! A huge thank you to Shortreed staff for making this happen once again this year. You can read the article about us in the Langley Advance-Times here.
Shhhh…. We're Elf Hunting!  To add some smiles and fun to a Friday in December, 12 Shortreed staff members dressed as elves and were "hidden" all around the outside of the school before the bell. Students had to go around and find the elves and were then entered for some prizes. Congrats to Aeson T. and Kenrick H. who were the lucky winners of the Toy Central gift certificates. Thank you to all those staff members who stayed still or danced in the cold!
Elfing Around in the Parade! We had about 50 Shortreed family members and 12 staff members represent our school in the Aldergrove Christmas Parade on Saturday. We all dressed up as elves and had a blast dancing and giving out candy canes at this annual event. We are hoping this is a new Shortreed tradition! A huge thank you to Gail, Dean, and Misty Macklin for all their efforts with the float and to Mrs. Datema who also braved the cold downpour to decorate.
Reindeer or Elf? Mrs. Creech and Mrs. Tarasoff's class played a little "Would You Rather" game and had to decide if they would rather be an elf or a reindeer. They then shared and wrote about their decisions and then supported their answer. They also coloured their own elf/reindeer for the background of their writing.
Penguin Life – Ms. Holmes' class has been learning all about life as penguins. They spent time discussing and sharing the habitats and adaptations of these amazing birds. They also created some great pastel artwork of their own penguin.
10-Up? I am sure many of you have played the card game "7-Up"… well, Mrs. Fox and her class were practicing their counting and number sense with a variation of this called 10-Up. Shhh… don't tell the kids they were actually practicing math and weren't just playing cards!
It's The Climb – Last week, Division 5 stepped out of their comfort zone and tried a new type of physical literacy. They focused on bravery, safety and fun. Many students had never been rock climbing before and they did so well. From helpful parent volunteers, respectful and courageous students and amazing workers at Project Climbing Centre – Mrs. Zelter said the day was a 10/10.
Sew… a Needle Pulling Thread – Mrs. Parsons' class has been learning to sew as they are making their own little stockings. Sewing is great for creativity and also can be very calming (as long as you don't poke yourself with a needle!). They also created some beautiful winter community artwork of colourful buildings drawn and coloured with chalk pastels. Check out our social media for some pictures.
Dear Santa…  Ms. Kaur's class practiced their writing skills with letters to Santa. As new writers, writing almost a full-page letter is no easy task so it is great to see their perseverance with this!
…Go Down in History – Ms. Bedard's class recently completed a directed drawing of Rudolph the Red-Nosed Reindeer. Students then used pastels to colour and design their own versions. In math, students are continuing to practice their multiplication facts and have done much of this with a Christmas flare as they work through some Christmas multiplication challenges.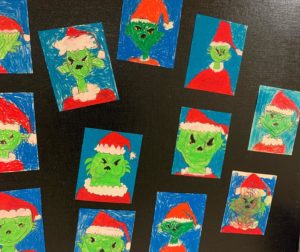 As Charming as an Eel – Mrs. North's class also did a directed drawing but they selected one of the Grinch! Their festive green-faced masterpieces are on display outside of their classroom and each shows a little unique touch of the grinch's crooked smile.
Metis Mittens – Ms. Elson read the book, "The Métis Mittens" to Mr. D's class in the library last week; the story shares the generosity of the Metis people and how they often made mittens to share with friends and family as presents. The students then followed up in class with designing their own mittens.
Santa's (Writing) Workshop – Last week, Div 4 spent a morning writing letters to Santa and then in the afternoon crafted giant Santas to go with the letter. It was a fun day practicing writing in Ms. Fenech's workshop!
Minding Their Manners – Ms. Mostat's class created and performed some skits to model how the use of manners and respect can change a situation and its outcome. These skills make a difference in the playground, in the classroom… and in life beyond school!
Hula! Students in Mrs. Dhaliwal's class learned some hula dancing from Ms. Albano (one of the parents in the class). They learned a few different moves and were able to put them together in a couple of different routines. Check out a video of this on our social media channels. Students also had a chance to meet Mrs. Marno this week; she will be taking over for Mrs. Dhaliwal when she starts her maternity leave in January.
Wishes for the World – Mrs. Kirk created a space in the library for students to write their wishes for the world. Students wrote on sticky notes their wishes… wishes that money cannot buy. Our hearts are full after reading so many thoughtful ideas!
VP for the Day – Miss S. helped Mrs. Tarasoff out last week as she was Vice-Principal for the Day! She helped with supervision and completed a number of tasks while also helping out in some classrooms. She even got to head out for lunch with a friend and Mrs. T!  Miss S won this chance at a raffle at the back-to-school BBQ back in the early fall.
Santa Letters – Mrs. Datema's students showcased their incredible growth in their writing with their letters to Santa. They took great pride in their work as they produced their final drafts to go on display in the hallway. Check out our social media channels for a few examples.
Let it Snow! We had our first snowfall of the year and the students had a blast outside building forts, snowmen, and participating in the great grade 4/5 snowball fight! It was a beautiful morning and just what we needed to start the week!
Class of '22 – Our grade 5s were proudly wearing their "Class of 2022" hoodies last week! These hoodies are an annual tradition and students are always so excited to receive them. Thank you to Mrs. Parsons for ordering.
---
The Week Ahead
Monday – Christmas concert rehearsals
Tuesday – Christmas concert (am), Photo Retake orders due
Wednesday – Pyjama Day, PAC Milk 'n Cookies Day
Friday – students watch the Christmas concert in class, PAC Meeting 9am, Last day before Winter Break
---
Month at a Glance
January 4 – Schools Reopen
January 7 – Running into 2022 – Community Run
January 10 – Earthquake Drill
January 21 – PAC Meeting 9am
---
Updates and Reminders
SchoolMessenger Text Message Alerts The District and schools use SchoolMessenger to communicate with families. It is a notification service for parental outreach, emergency broadcasts, school information, student attendance alerts, secure file delivery, and other communications for education. If your family's contact information is up to date in MyEDBC you will automatically receive emails. If you want to take advantage of the text message notification service (optional), please follow the instructions here. An infographic about the tool is here. If you have any questions, please contact the school.
BCCDC Vaccination for Children Aged 5-11 The COVID-19 vaccination is now authorized by Health Canada for children five and older. Getting young people vaccinated helps protect them and the people around them. The Langley Schools District is supporting the efforts of public health and is sharing this resource from the BC Centre for Disease Control COVID-19 Vaccination for children 5-11 years old here. You can also review an Immunize BC FAQ resource here.  Parents can register their child in the Get Vaccinated System to be notified of when their child can get vaccinated. The vaccines are free and children do not need BC Care Cards to receive them. If you have any questions about your child's health, please contact public health or your medical provider.
Langley School District Foundation 50/50 draw! (funds go to support Langley students and families)
Information About School Status During Inclement Weather –Snow closures and power outages are an annual occurrence in Langley School District. So, where do you go to get information about the status of schools during periods of inclement weather? If you are able to access the internet via computer or smartphone, current information about Langley schools can be accessed on all school websites or the district site. Updates are also posted to Twitter @LangleySchools and Facebook. If you don't have internet connectivity but your phone is working, call a relative or friend in an area that has not been affected by the storm and ask them to check the district website for you. Local radio stations are also informed of school status in Langley. Tune in to CKWX 1130AM, CKNW 980AM, Country Radio 107.1FM, Pulse 107.7 or CBC 690AM or 88.1FM for updates. Please note that Langley District schools are all considered 'open' until a decision to close is required. Decisions on school closures are usually made by 6:30am. As always, it is a parent's decision whether to send their child to school based on safety and individual circumstances. If you feel it is unsafe for you or your child to travel to or attend an open school for any reason, please keep your child home and report an absence to the school.
PLEASE USE THE CROSSWALK – We understand that parking is an issue at our school; however, we have seen some scary close calls with children and adults crossing the street away from the crosswalk. It does take an extra minute but it can save a life! Please use the crosswalk to go across 28th Ave.
Our school parking lot is closed between 8:15-9:00 and 2:00-2:45 (other than daycare, buses, and vehicles for people with a disability). The church across the street graciously allows us to use their parking lot so please park there or along 28th Ave. Do not park in the "no parking" (coned) areas along the yellow curbs.
West Coast Recess – As we have done over the past few years, every day is an outside day at Shortreed. Unless there is a severe rainstorm (or snowstorm), we will be heading outside. As the forecast this week calls for rain this week, please make sure your child has a coat to wear outside. We have a good selection of coats in our FREE Coat Exchange near the office so come on by and check them out.
If your child will be absent, please call the school at 604-856-4167 or email shortreedabsent@sd35.bc.ca.
---
Community Events
Are you looking for events in our community? Take a look at our District's Community Bulletin Board here for some great opportunities for families.
Langley Christmas Bureau 2021
Help fulfill a Christmas wish this holiday season! The Langley Christmas Bureau is once again offering its services to Langley families. Learn how you can help provide a festive dinner or gifts for children in our community by clicking on the QR code on this poster here. If your family is in need of support this year, review the details in this poster here. This initiative is open to families with children from newborn to grade 12. For more information, please visit: langleychristmasbureau.com