Posted: April 3, 2022
Families of Shortreed,
This past weekend marked the start of Ramadan so, to all our Muslim families, we say Ramadan Mubarak and Ramadan Kareem!
It took some time for students to settle back into the school routines but they did just in time for us to play a few pranks on them on Friday! Mrs. Parsons/Ms. Graham did some word work with some very creative words (that don't even exist!); Mrs. Fox/Ms. Chisholm had the tables upside down; Mrs. North trapped a little creature under a cup (which turned out to be a plastic hippo) and gave a word search that included zero words, and there was no shortage of brownies (ok, Brown E's) floating around the school. As a school, check out below what how we were able to get them this year!
With masks now being a choice, it was so nice to see more faces at the school. We had conversations in our classes to make sure that we all respected everyone's decision to wear or not wear a mask.
Phase 2 and 3 of our Seismic upgrade are almost complete so Mr. D, Ms. Holmes, and Ms. Kaur's classes were able to move back into their classrooms. We are now almost halfway to completion and the next phase will include the west side of our school (where our student support rooms are) along with the classrooms that are empty. A bug shoutout out to the crew of Kinetic Construction as they continue to be awesome to work with during this challenging project.
We have some exciting things happening at our school through term 3 with athletics, PAC events, and schoolwide events so make sure you stay updated!
As always, we are honoured to work, learn, and play on the unceded ancestral lands of the Matsqui, Kwantlen, Katzie, and Semiahmoo First Nations. 
Please take a few minutes to watch our latest Shortreed News video below along with reading about a few of the good things that have been happening at our school!
---
Good Things to Talk About
Shortreed News Report! Our grade 5s in Division 1 continue to improve on their reporting and editing skills. Check out their latest report!
A Gas Problem? On April 1, students were told that they were still having issues with the gas lines to the portables (we did actually have issues before spring break and the lines were shut off) and therefore, we needed to close off the playground, gaga pit and soccer field. We also told them that because they needed to be in a small area and we needed to maintain space (Covid) between classes, they had a (VERY) small area to play in for recess. It was hilarious seeing kids talking and debating whether this was real or not… we even had the health and safety crew from Kinetic construction helping us out! After a few minutes of the students following instructions and playing with their classmates in these very small areas, we told them they had finished the test and they could play wherever they wanted on the playground. Thank you to all their staff for their help with this and to the students for their willingness to participate in yet another April prank at Shortreed!
Electric Whiteboards? – Prior to the gas line testing, we announced that due to construction, they had to turn off a few circuits in the school so the power to the whiteboards would be interrupted. Teachers all had a pen that was dried out so just prior to the whiteboard announcement, they used a pen that worked fine… and then after the announcement, they quickly started using a different pen that didn't work… and then resumed using a pen that worked after the "power is back on" announcement. Some of the older kids figured it out but it was sure fun watching their thoughts spinning in their brains.
Eagles With the Win! Team 1 of our grade 5 basketball team closed out their season with their best game and a 42-28 win against the James Hill Sea Wolves! Ms. Mostat and Mr. Wejr are so proud of how far this team has come and how hard they have worked to get there. Their season finishes this week with a playday at ACSS after school on Tuesday.
An Outdoor Storybook Experience – Mrs. Kirk and Ms. Watson helped to bring another outdoor Story Walk to our school this past week. Students had a chance to walk around our courtyard and enjoy pages of the book, I Got The Rhythm, spread out throughout the space. It was a great chance to get outside and take in a wonderful story.
Go (Abby) Canucks Go! The Abbotsford Canucks hosted a teacher appreciation game on Saturday so a few Shortreed teachers took the opportunity to watch some AHL action! Mrs. North, Mrs. Graham, Mrs. Fox, and Mrs. Zelter looked like they had a blast cheering the local team on!
Using Their WITS – Ms. McFarland's students took some time to learn and practice a process to solve little problems at school. They learned to Walk away – Ignore – Tell someone – Seek help (WITS). Some of our other classes (like Mr. D's) also promote this process as an easy way for kids to remember how to try to solve the smaller issues that come up at school.
Teachers for the Day – Five students in division 5 pooled their class money and bought teachers for the day! They planned the day, ran the activities, managed the class and even got to call Mrs. Zelter by her first name! Their leadership and communication skills were put to the test and they did an excellent job.
Getting a Kick Out of School – Ms. Mostat's students have been learning kicking and catching skills and they put these to the test with some kickball in the lovely spring weather! Students also had to learn (or re-learn) some of the baseball rules involved in kickball.
Learning Routines – Kindergarten is often about learning new school routines… but it is also so important for our students that our K classrooms have learning routines built into their day. Routines such as Word Work help to ensure our students get that daily practice of letters, sounds, and words every single day. Mrs. Marno's students continued with their literacy routines as they practices the sounds and words of the Letter E when I stopped in the classroom. The kids were so excited to show their reading skills!
Building and Baking – Mrs. Creech has been filling in for Mrs. Muller (who is off on medical leave for a few more weeks) on Thursdays. This past week, some students had a chance to design and build their own structures while others had a chance to bake some muffins (and even do the taste test!) in class. Thank you to Mrs. Creech for helping us out on Thursdays.
The Power of Sounds – Learning the sounds letters make together is such an important skill in learning to read and spell. Mrs. Graham and Ms. Cheema's class participated in their spelling routines the other day as they practiced the -ou and -ow sounds to make words like cloud and crowd (when two letters come together to make one sound, this is called a digraph).
Inspired By the North – Mrs. Parsons' class has some beautiful artwork on display in the hallway that was inspired by Canadian artist Ted Harrison. His love of Northern Canada (particularly the Yukon) is brought out in the cool and contrasting colours he uses in his style of artwork.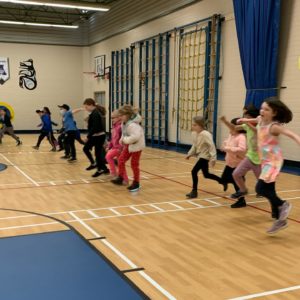 Warming Up in Style! Ms. Holmes' students also have a learning routine in PE as they use a dynamic warmup to get the muscles moving while also working on movement skills like skipping, crossing over, jumping, moving sideways, and running. By doing this a few times a week at the start of their class, you develop the important skills that help with any activity.
Sports Opportunities – Starting next week, our grade 4s will have a chance to play soccer Mondays and Tuesdays after school with Ms. Mostat, Mrs. Zelter, and Mrs. Littlejohn. Our grade 5s will have a chance to play some volleyball with Mrs. Tarasoff this week at lunch on Tuesdays. Stay tuned for info on track and field practices that will be starting next week for students in grades 3-5.
---
The Week Ahead
Monday – Grade 5 basketball practice at 7:45
Tuesday – Gr. 5 Volleyball practice at lunch (all are welcome); Gr. 5 basketball playday at ACSS 3-5pm
Wednesday – Fire Drill 2:00
Friday – Community Run (weather permitting) 1:45
---
Month at a Glance
Monday, April 11 – Purdy's Orders PickUp, Gr. 4 soccer starts after school
Tuesday, April 12 – Young Entrepreneur Show – all day
Friday, April 15 – Good Friday – no school
Monday, April 18 – Easter Monday – no school
Friday, April 22 – Earthquake Drill 10:45; PAC Dollar Sale 1:00-6:00; Clearview Garden orders (paper) due
Sunday, April 24 – Clearview Garden (online) orders due
Mon-Thurs April 25-28 – Scholastic Book Fair
Thursday, April 28 – Gifts and Gathering (more info below) 1:00
Friday, April 29 – Class Photos
Monday, May 2 – Fire Drill at 10:45
---
PAC News
PAC Dollar Sale is BACK!
Our School Dollar Sale is back on Friday, April 22nd from 1pm until 6pm!
We appreciate all the help as every dollar goes to our kids. If you haven't heard about our dollar sale here is how it all works. Our school collects donations from the community and we turn our gym into a big sale. Starting at 1pm every item is $1 ( you read that right! EVERYTHING IS $1), then at 4pm it goes down to 4 things for a $1, then at 5pm it goes to 10 things for $1. We have some fantastic things that are donated each year. Please come and see what treasures you can find. In years past we have seen some very generous donations from our Aldergrove Community such as a new vacuum, strollers and designer clothes. Please invite your family and friends to come shop or ask them if they have any donations they would like to give.
We will be accepting donations until April 21st the day before the sale, please drop off your donations at the PAC office ( near the School's front office) during the school hours 9am to 2pm, starting THIS WEEK. If you have lots to donate please contact the PAC to arrange for a drop-off time at shortreedpac@gmail.com or send us a message.
We have limited storage and volunteers so please only donate usable items. Many hours are spent organizing and sorting donations and unfortunately, we end up with items that can not be sold or donated again due to their condition. This includes used candles, used bath products, dirty/stained clothing ( we do not expect clothing to be folded but clean would be nice, if possible tie shoes together), broken toys and other broken/damaged items. Our volunteers would so appreciate it!!! With everyone's help, we can make this another great fundraiser for our kids and the Aldergrove Community. Please no large items such as large furniture or mattresses.
Thank you again for supporting our school!!!
Hanging Baskets!
Spring has sprung and it's that time of year when many of us want to add some colour along our fences or patios. Once again, PAC is doing a hanging basket fundraiser through Clearview Garden Center here in Aldergrove. You can choose from an assortment of 12″ baskets, and $7 from each purchase will go towards our playground enhancements. Paper order forms will be on the wall by the front door and they are due back on Friday April 22 9am. Cash or cheques payment made out to Shortreed PAC. Also, please make sure your child's name and division is on the form. Vouchers will be sent home with your child by May 3, which you can then use at Clearview to redeem your hanging baskets until May 31. If you choose to order online by debit or credit card, please follow this link. Online orders are due Sunday, April 24.
Scholastic Book Fair
The book fair is coming April 25-28. Stay tuned for more info!
---
Important Updates and Reminders
Lessons Learned from COVID-19: Survey

The province has launched an independent review and public consultation on the government's operational response to the COVID-19 pandemic to improve future preparations and responses to emergencies. The goal is to learn about how government agencies worked together to address the effects of COVID-19 that affected everyone and changed rapidly. To provide feedback, you are encouraged to complete an online survey here which is available in multiple languages versions. This survey will remain open until April 20, 2022 at 4:00pm. You can find more information here.

Daily Health Check and What to Do When Sick

A friendly reminder to our students and visitors to complete a daily health check prior to boarding a bus or entering a school or District site such as the School Board Office. To help support families in doing their part to keep everyone safe, please review the Daily Health Check and What to Do When Sick guide here. This contains a list of COVID-19 symptoms and guidance on what to do if you become ill. As always, the District is encouraging everyone to continue practice proper handwashing and staying home when sick.

Langley Schools are seeking Homestay Families
With ongoing construction taking place, we have fewer parking spaces for staff and a need for more parking for workers. This means that more parking spaces along the streets around the school will be occupied. The church is still allowing parents to part there for pick up and drop off.
A reminder that our parking lot is closed for pickup and dropoffs (except for vehicles with a handicap tag, buses, and those picking up/dropping off for daycares).
Are you interested in some tips for reading at home with your child? Check out our Home Reading Website!
Attendance – if your child will be away, please email the attendance email (shortreedabsent@sd35.bc.ca) or call the school. If you do not call, you will receive an automated message at about 9:30am.
---
Community Events
Are you looking for events in our community? Take a look at our District's Community Bulletin Board here for some great opportunities for families.
Happy April from your Community School Coordinator I hope you all had a great break. April's newsletter is ready to read! Check it out for information about a Food Hub, afterschool programs, and more! https://sway.office.com/adjfNcwFgotNfS8G?ref=Link
Langley Mustangs Track and Field
Langley Children's Choir is just starting their second term of singing together and new singers from grades 4 – 7 are welcome to try out the choir.  We meet on Tuesdays from 4:30 – 6 pm at Langley Secondary.  Tuition fee is $100 for the remainder of the year (we will finish in May) Please contact pthorpe@sd35.bc.ca for more information.
Ready Set Learn – Gifts and Gatherings – Check out this FREE Ready, Set, Learn opportunity for parents and their children aged 0-5!  Parents and children from Aldergrove and beyond can come to any/all of the sessions. At each session, we will honour a certain age group but the engaging learning activities are designed for all children aged 0-5 (and their parents). Register for one more sessions! Check out the flyer below and register here. 
Note from C. Wejr – I worked with Sam Collie and she is amazing with kids and families so the sessions should be awesome!