Posted: April 18, 2022
Families of Shortreed,
We hope you have had a lovely long weekend! It was a weekend jam-packed with different celebrations as families in our community celebrated Ramadan, Vaisakhi, Passover and Easter.
Students were sent home with their Term 2 Communicating Student Learning document that provided a snapshot of their learning from term 2 as well as some notes from the student inclusive conferences.
Thank you so much to all those families who were able to send some money with their children or come in at the end of the day to support our grade 5 Young Entrepreneur Show! A reminder that we have our PAC Dollar Sale happening this Friday so it is a great opportunity to come in and do some shopping and support our PAC (note that students are not permitted to shop without adult supervision and will not be going during class time). Don't forget to bring in your Club Wednesday forms tomorrow!!
Division 1 was busy with their entrepreneur show this week so their newscast will continue next weekend.
As always, we are honoured to work, learn, and play on the unceded ancestral lands of the Matsqui, Kwantlen, Katzie, and Semiahmoo First Nations. 
We hope you take a few minutes to read up on a few of the good things happening at our school (along with some reminders for the week and month ahead).
---
Good Things to Talk About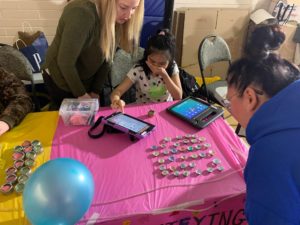 Making the Sale! Our grade 5s did an incredible job of creating, marketing, and selling their own products at the 2022 Young Entrepreneur Show this past week. This year's show had a great selection of high-quality products with many students reaching their sales goals. 10% of the profits are going to the Indian Residential School Survivors Society. A huge thank you to Mrs. Parson and Ms. Bedard for their help with preparing and organizing this year's event.
Stepping on the Pitch! Ms. Mostat, along with Mrs. Zelter, Mrs. Littlejohn, Mrs. Baker, and Ms, Randhawa, led the grade 4's out onto the soccer pitch on the backfield for some drills and small games to learn and hone their skills! This group is practicing every Monday and Tuesday after school.
Happy Vaisakhi! We honoured and learned about the Sikh celebration of Vaisakhi in classrooms last week. Staff also got together for a feast of Indian food at lunch!
Swinging in the 'Tree' – Our students enjoyed another week of gymnastics opportunities with the district's Trestle Tree equipment. Students rotated through 4-5 stations to work on their balance, strength, and flexibility.
Creating Keychains – Miss Graham (student-teacher with Mrs. Parsons) once again worked with her grade 5 lunchtime Macrame club and this time, they learned how to create some very cool keychains!
Eggs-ellent Artwork – Ms. Kaur's class created their own unique Easter eggs and put them up in the hallways to wish everyone a Happy Easter.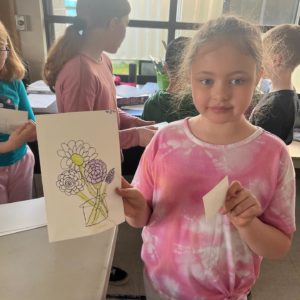 Inspired by Local Flowers – Mrs. Creech was covering for Mrs. Muller last Thursday and decided to focus on visual arts. She used some flower arrangements brought in by a local florist (and Shortreed family), Elia Flower Farms, to inspire creative drawing and watercolour painting with the students. There were definitely some framers produced by the students!
Confident Readers – Students in Mrs. Marno's class were participating in their learning routine of Word Works Daily when I popped in there last week. This daily focus on phonological awareness like letter sounds, rhyme, beginning sounds, ending sounds, counting words, etc has really helped build confidence with our newest readers!
The Not-So-Quiet Library! The multi-talented Mrs. Kirk changed things up in the library with some of her students last week and taught some music! K Students had a chance to do some freeze dancing and then learned a little bit about reading music. With Mrs. Muller being off and the school not having another music teacher, Mrs. Kirk is working to fill a little bit of the music gap with the kindies.
Bunny Bags! Mrs. Datema's students did a directed draw and then worked their artistic magic to create their own bunny bags for Easter! Something crazy happened later in the day and they were filled with treats… not sure who did this but the kids had some ideas!
Gone Fishin' – Miss Cheema (Mrs. Graham's class) has been teaching the students about salmon – their habitats, life cycles, and importance to Indigenous Peoples. They created their own salmon that are on display in the hallway.
Not Losing Their Marbles – Ms. Bedard's class has been earning some marbles over the past few months. When they reached 200 marbles, they earned themselves a pyjama, pizza, and movie day that happened on Thursday! A big shoutout to Choice Pizza (a Shortreed family business) for a great deal on some delicious pizza!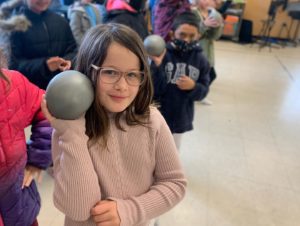 Gearing Up for Track! Mr. Wejr covered a few music classes on Tuesday and instead of teaching music, he taught the students some running and throwing techniques as well as some shotput with Div 7. Our grade 3-5 track meet is coming up on May 12!
Home Design in K – Ms. McFarland's class was challenged with designing and building a house for the Easter Bunny last week. Students had to work cooperatively with classmates with the supplies provided to create their bunny home.
---
The Week Ahead
Monday, April 18 – Easter Monday – no school
Tuesday, April 18 – Gr. 4 soccer after school, Club Wednesday Forms due, First hot lunch order due
Wednesday, April 19 – PAC Meeting (Zoom), 9:00
Friday, April 22 – Earthquake Drill 10:45; PAC Dollar Sale 1:00-6:00; Clearview Garden orders (paper) due
---
Month at a Glance
Sunday, April 24 – Clearview Garden (online) orders due
Mon-Thurs April 25-28 – Scholastic Book Fair
Thursday, April 28 – Gifts and Gathering (more info below) 1:00
Friday, April 29 – Class Photos
Monday, May 2 – Fire Drill at 10:45
Wednesday, May 4 – Star Wars Day! Club Wednesdays start
Tuesday, May 10 – Neufeld Orders due 
Thursday, May 12 – Shortreed Grade 3-5 Track Meet
Tuesday, May 17 – BGMS gr. 6 band performs for grades 3-5
Thursday, May 19 – Neufeld orders delivered
Friday, May 20 – Pro-D Day
---
PAC News
PAC Dollar Sale is BACK!
Our School Dollar Sale is back on Friday, April 22nd from 1pm until 6pm!
We appreciate all the help as every dollar goes to our kids. If you haven't heard about our dollar sale here is how it all works. Our school collects donations from the community and we turn our gym into a big sale. Starting at 1pm every item is $1 ( you read that right! EVERYTHING IS $1), then at 4pm it goes down to 4 things for a $1, then at 5pm it goes to 10 things for $1. We have some fantastic things that are donated each year. Please come and see what treasures you can find. In years past we have seen some very generous donations from our Aldergrove Community such as a new vacuum, strollers and designer clothes. Please invite your family and friends to come shop or ask them if they have any donations they would like to give.
We will be accepting donations until April 21st the day before the sale, please drop off your donations at the PAC office ( near the School's front office) during the school hours 9am to 2pm, starting THIS WEEK. If you have lots to donate please contact the PAC to arrange for a drop-off time at shortreedpac@gmail.com or send us a message.
We have limited storage and volunteers so please only donate usable items. Many hours are spent organizing and sorting donations and unfortunately, we end up with items that can not be sold or donated again due to their condition. This includes used candles, used bath products, dirty/stained clothing ( we do not expect clothing to be folded but clean would be nice, if possible tie shoes together), broken toys and other broken/damaged items. Our volunteers would so appreciate it!!! With everyone's help, we can make this another great fundraiser for our kids and the Aldergrove Community. Please no large items such as large furniture or mattresses.
Thank you again for supporting our school!!!
Hanging Baskets!
Spring has sprung and it's that time of year when many of us want to add some colour along our fences or patios. Once again, PAC is doing a hanging basket fundraiser through Clearview Garden Center here in Aldergrove. You can choose from an assortment of 12″ baskets, and $7 from each purchase will go towards our playground enhancements. Paper order forms will be on the wall by the front door and they are due back on Friday April 22 9am. Cash or cheques payment made out to Shortreed PAC. Also, please make sure your child's name and division is on the form. Vouchers will be sent home with your child by May 3, which you can then use at Clearview to redeem your hanging baskets until May 31. If you choose to order online by debit or credit card, please follow this link. Online orders are due Sunday, April 24.
Scholastic Book Fair
The book fair is coming April 25-28. Stay tuned for more info!
Neufeld Farms Fundraiser
Neufeld Farms Fundraising ordering is only going to be online using this link.
Payment is going to be Pre-Authorized Debit, Cash or Cheque Payable to Shortreed PAC.
Details are online. Please, when handing in payment, include your name, student's name, phone number and order number on a piece of paper so we know how to keep track. Also, if you're emailing the link to others, they click "Customer write in seller" after placing an order. Seller should be the child's full name. Orders are due Tuesday, May 10 and delivery is Thursday, May 19 at 2:30 at the school.
---
Important Updates and Reminders
Daily Health Check and What to Do When Sick – A friendly reminder to our students and visitors to complete a daily health check prior to boarding a bus or entering a school or District site such as the School Board Office. To help support families in doing their part to keep everyone safe, please review the Daily Health Check and What to Do When Sick guide here. This contains a list of COVID-19 symptoms and guidance on what to do if you become ill. As always, the District is encouraging everyone to continue practice proper handwashing and staying home when sick.
Langley Schools are seeking Homestay Families
With ongoing construction taking place, we have fewer parking spaces for staff and a need for more parking for workers. This means that more parking spaces along the streets around the school will be occupied. The church is still allowing parents to part there for pick up and drop off.
A reminder that our parking lot is closed for pickup and dropoffs (except for vehicles with a handicap tag, buses, and those picking up/dropping off for daycares).
Are you interested in some tips for reading at home with your child? Check out our Home Reading Website!
Attendance – if your child will be away, please email the attendance email (shortreedabsent@sd35.bc.ca) or call the school. If you do not call, you will receive an automated message at about 9:30am.
---
Community Events
Are you looking for events in our community? Take a look at our District's Community Bulletin Board here for some great opportunities for families.
Langley Mustangs Track and Field
The Royal Soccer Club, a registered non-profit community organization, is proud to host their 30th annual popular grassroots summer soccer day camps.  The program is designed to promote personal development, team building and of course, FUN!  Offering full day and morning sessions to all children aged 5 to 13, the program runs all weeks in July and August.  The Langley location is at HD Stafford Middle school field, 20441 Grade Crescent (site details available by clicking here or visiting the LOCATIONS page on our website royalsoccerclub.com.   To register or for more information, visit royalsoccerclub.com or call 1-800-427-0536.
Ready Set Learn – Gifts and Gatherings – Check out this FREE Ready, Set, Learn opportunity for parents and their children aged 0-5!  Parents and children from Aldergrove and beyond can come to any/all of the sessions. At each session, we will honour a certain age group but the engaging learning activities are designed for all children aged 0-5 (and their parents). Register for one more sessions! Check out the flyer below and register here. 
Note from C. Wejr – I worked with Sam Collie and she is amazing with kids and families so the sessions should be awesome!