Posted: June 27, 2021
Families of Shortreed,
Just when we think we have made it through the most challenging school year… we get yet another curveball with a school closure due to heat!  We hope you are finding ways to stay cool during this unprecedented heatwave.
With tomorrow being a school closure, the hope is that we will all be back at school for Tuesday. We will be able to gather virtually as a school to watch some slideshows and say farewell to staff as they move on to different schools. Dismissal on Tuesday will be at 11:30.
I have to say that last week was pretty EPIC! We had so much fun with our amazing PAC Fun Day, plenty of water fights, and an awesome afternoon with our grade 5s to have some fun in their last full week at our school. We also took time to honour and celebrate National Indigenous Peoples Day on Monday. In addition to this, we were thrilled to announce and welcome a brand new piano to our school for Mrs. Muller to use in music!!!
As always, we want to acknowledge that we do our important work and learning on the unceded ancestral lands of the Matsqui, Kwantlen, Katzie, and Semiahmoo First Nations. 
Please take a moment to read about a few of the good things that have been happening at our school!
Good Things to Talk About
We Will Miss You, Mr. T!  Everyone knows Mr. T's love for music and how he uses this to spread joy throughout our community. We wanted to do something special for him so we surprised him with his own song which we all sang together on the backfield! Thank you to Mrs. Zelter for writing the lyrics. Check out the video below.
Thank YOU for the Music!  Mrs. Muller got to play one of her favourite songs on a brand new Yamaha piano at the school! Ms. McKay shared our need with Shelley at Thank You for the Music Society and they were able to run a fundraiser that raised enough to buy our school a brand new piano! Mrs. Muller was able to bring Ms. Bain and Mrs. North's class into the library for the big reveal! This is so exciting for our students and kids. A huge thank you to Shelley at TYFTM Society and Ms. McKay for initiating this.
Bouncing into the End of the Year!  On Friday, since we could not hold a Fun Fair, our amazing PAC executive decided to rent some incredible bouncy castles and let our kids loose on them!  There were 6 giant bouncy castles/centres so each cohort got to use 2 of them for one hour in the day.  What an awesome opportunity… thank you so much to our PAC!
Celebrating NIPD! Classes throughout the school spent parts of Monday celebrating and honouring Indigenous teachings and people as part of National Indigenous Peoples Day. While classes were doing this, our wonderful Aboriginal Support Worker, Mrs. Elson, made delicious bannock for the entire school!
Shortreed's DEFINITELY Got Talent! Many classes watched the awesome strengths and skills of some of our students in this year's edition of "Shortreed's Got Talent". Thank you to all those who submitted their videos and to Mr. T and Mrs. Brake for their directing and editing. A private link will be sent home ASAP for all to watch.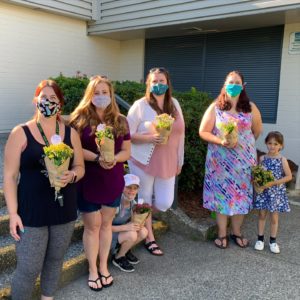 Feelin' the love! When we arrived at school earlier in the week, all our staff were treated to a lovely gift from our Shortreed PAC executive. Each staff received a plant with a wonderful message of gratitude on it. What an awesome way to start our week!
Grade 5 Fun Afternoon! Our grade 5s usually get to go to the waterslides each year in June but they were not able to do that this year. Instead, our grade 5 team brought the water to them in the form of a crazy "Colour Me Rad" style water fight! Students started with a chance to make their own Class of 2021 shirts, then ate a pizza lunch, had a water fight followed by a coloured powder fight, and finished it off with some yummy sno-cones and a dance party.
Water Fight! Not to be outdone, other classes had water fights outside including Mrs. Graham, Ms. McCabe, Ms. Toby, and Ms. Coghill's classes. Mrs. Creech has introduced us to the knitted water bombs that can be reused for a cool, fun event!
The Art of Drum Making – Ms. Rafighi's class, along with some students in Mrs. Kirk's class, were honoured to learn from Darren Charlie of Sts'ailes on the art of drum making. Darren was able to provide them with some teachings as well as the tools to each make a hand drum! These drums will stay in our school for future students to learn with. A huge thank you to Ms. Rafighi for organizing this and to the PAC and the district Aboriginal Program for helping with funds.
Spindle Whorl Artwork – Ms. Fenech's class (along with Div 4 and 5) has been learning about the SPindle Whole through the teachings and writings of Susan Point. Last week, Ms. Fenech's class coloured a template of a Spindle Whorl in ways that had meaning to them.
Inspired By a Kwantlen Artist – DIvisions 1 and 2 learned the story of Elinor Atkins, an artist from Kwantlen First Nation and a graduate of Langley Fine Arts, and were so inspired by her beautiful artwork, they created their own! Her traditional name is Miməwqθelət which is Halq'emeylem for "the first bird to sing in the morning".
What a Pickle! Mrs. Dhaliwal's class had a chance to work with our Youth Care Worker, Mrs. Romas, to use all sorts of snacks and pickles to make their own Pickle People. They made all sorts of pickle people creations and were so excited to show me when I popped in to check them out!
Looking Forward and Reflecting Back – Mr. D's class talked about personal identity and reflected back on their strengths and interests from this year. They also shared what they hoped to do this summer. They took these two ideas and made them into an art project with images in sunglasses.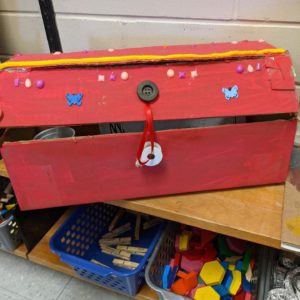 It's Not a Box! Mrs. Graham's class read the book "It's Not a Box" and were inspired to create their own designs with cardboard boxes. Students made all sorts of creations like laptops, games, kitchen appliances, Pokemon creatures that they can fit in, helmets, dragons, treasure chests, playgrounds, and much more! Check out the photos on our social media.
Div 12, Meet Jack.  Each year, Mrs. Datema's class gets to go to the Datema farm at the end of the year. They weren't able to do this so Mr. Datema brought a small part of the farm to them… in the form of Jack the donkey! Students got to meet Jack up close and learn all about him and his life on the farm. Other classes were also able to meet him too!
Team Manhas! Ms. Manhas' class all had a chance to decorate their team shirts last week as a fun year-end activity. Students were given plain white shirts and then got to decorate it and all sign each other's shirts. A great way to remember the year. They also read Roy Henry Vickers' book "Raven Brings the Light" and were inspired to create their own artwork based on the art in the book.
Gratitude Galleries – Mrs. Kirk's students went outside to enjoy some time at the new outdoor classroom last week. While they were there, they got to look back on what they are thankful for by creating their own Gratitude Galleries. In the galleries, they had to reflect upon happy moments, friendships, places, foods and other parts of their past year.
Bubblicious! Mrs. North's students were learning about bubbles and had a chance to make some of their own and explore the fascinating characteristics. I always love how bubbles can bring so many smiles to children and adults.
Traditional Tools – Students in Division 7 were fortunate enough to have cultural presenter, Karen Gabriel, teach them about traditional tools used by the Sto:lo People. After an awesome presentation, the kids were challenged to recreate one of the tools they learned about using recycled materials. The kids had loads of fun learning and creating!
Flying Lines of Symmetry –  What do you do when you are learning about butterflies in science and symmetry in math? If you are in Miss Petersen's class, you combine them to create beautiful symmetrical butterfly designs!
---
The Week Ahead
Monday – school closure. Grade 5 walk and farewell event postponed (Wednesday or possibly Tuesday)
Tuesday – year-end assembly, report cards home, dismissal at 11:30
Wednesday – admin day, school not in session
---
Updates and Reminders
School Supplies – You can now order supplies online and/or download the lists and shop on your own. All the info is here.
Summer Sessions in Langley Schools – SD35 is offering its Summer Sessions again this summer. Registration started on Monday, May 10 so be sure to register early. You will need your child's Personal Education Number and this can be found on the Report Card or MyEDBC Portal. More info on the Summer Session is here.
---
Community Events and Information